Fall is a busy time of year with all the back-to-school activities, fall decorating tasks, upcoming holidays and of course, the end of the garden season for many, not to mention fall garden tasks!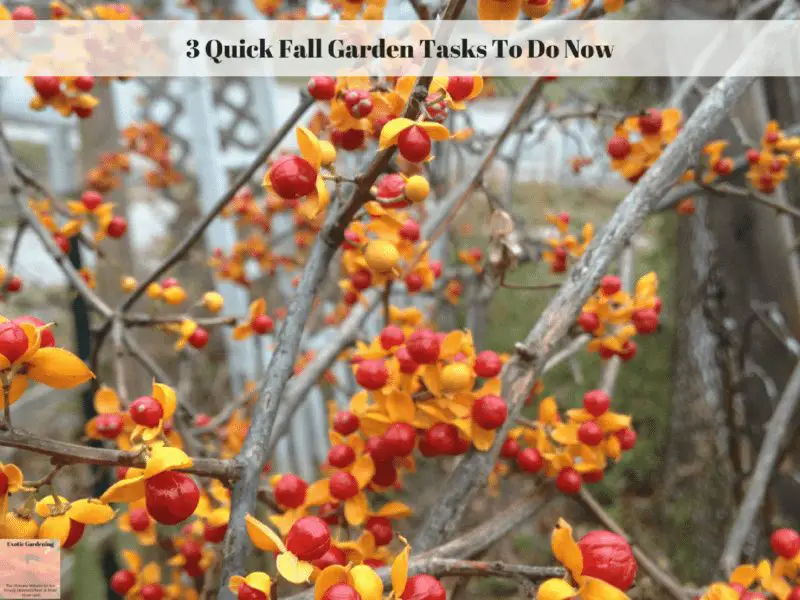 There are three quick fall garden tasks you can do now while the weather is still nice enough for you to comfortably work in the garden.
These tasks are going to make starting the garden in spring much easier.
Don't worry about completing each task in its entirety, instead do a little at a time – each day – so you don't feel like you are spending hours on each task and missing out on all the other fun fall activities.
There are also links to products I recommend from companies I have a referral relationship with. I will be compensated if you make a purchase after clicking on my links.
Task #1 – Plant Bulbs
Fall is the perfect time to plant bulbs that are hardy in your area.
Most of the perennials are still alive so you can see where those are planted.
Those of us – like me – with older gardens might have a hard time remembering exactly where the spring bulbs are already planted.
Painting the soil in the spring with the proper type of paint or using stakes to mark out the area is a good idea but if you did not get that done, you can always look at pictures you took or just go on memory.
It is ok to continue to plant bulbs as long as you can dig in the ground.
In the event you dig up any previously planted bulbs, just re-plant them.
This is also a great time to dig and divided perennials or bulbs that are overcrowded.
[amazon_link asins='1985451778,1479129887,B07BCMJQ5F,B00O08RML8′ template='ProductGrid' store='exoticgardeni-20′ marketplace='US' link_id='666ab232-48bc-11e8-8c7b-7b730ae74851′]
Task #2 – Empty Flower Pots
Once frost hits your area many flowers grown in containers are killed.
Once this happens, go ahead and remove the dead plant material then empty the soil out of the containers.  
Compost the soil and plant material as long as the plant was not diseased.
The reason for doing this is many times even pots that are "frost-proof" are not "freeze-proof" and will burst over the winter.
It also allows you to continue on to task #3 and get those flower pots ready for spring.
Task #3 – Clean, Stack And Store Empty Pots
Once the flower pots are empty, it is a good idea to wash them out with hot, soapy water.
This removes any dirt, bits of root or other stuff that may be climbing to your flower pot – inside or out.
I then rinse my flower pots in hot water and give them a good spray with hydrogen peroxide.
You can rinse the hydrogen peroxide off if you wish – and I usually do.
I prefer using hydrogen peroxide instead of bleach because if there are any traces left in the pot, the hydrogen peroxide won't hurt the plants.
Bleach on the other hand could kill a plant.
Once the flower pots are clean and dry, go ahead and stack them according to size.
This makes them easy to store inside a building for winter – and easy for you to quickly find the right size pot once the spring planting season rolls around again.
I highly recommend the following articles:
Use the buttons on the right hand side of the screen to share this article with friends or family who might find it useful. Pin the picture below to your pinboard on Pinterest for future reference.