Night blooming plants are a great way to add that extra spooky touch to your Halloween festivities.
The flowers will last from one evening to the next morning and appear to glow in the dark, which makes them perfect for Halloween decorations.
Night blooming plants are beautiful, but some of them have an interesting secret.
They have a way of absorbing light during the day and then releasing it at night to attract pollinators.
It is not just the flowers that are glowing, the leaves are too!
Plants produce their own form of bioluminescence.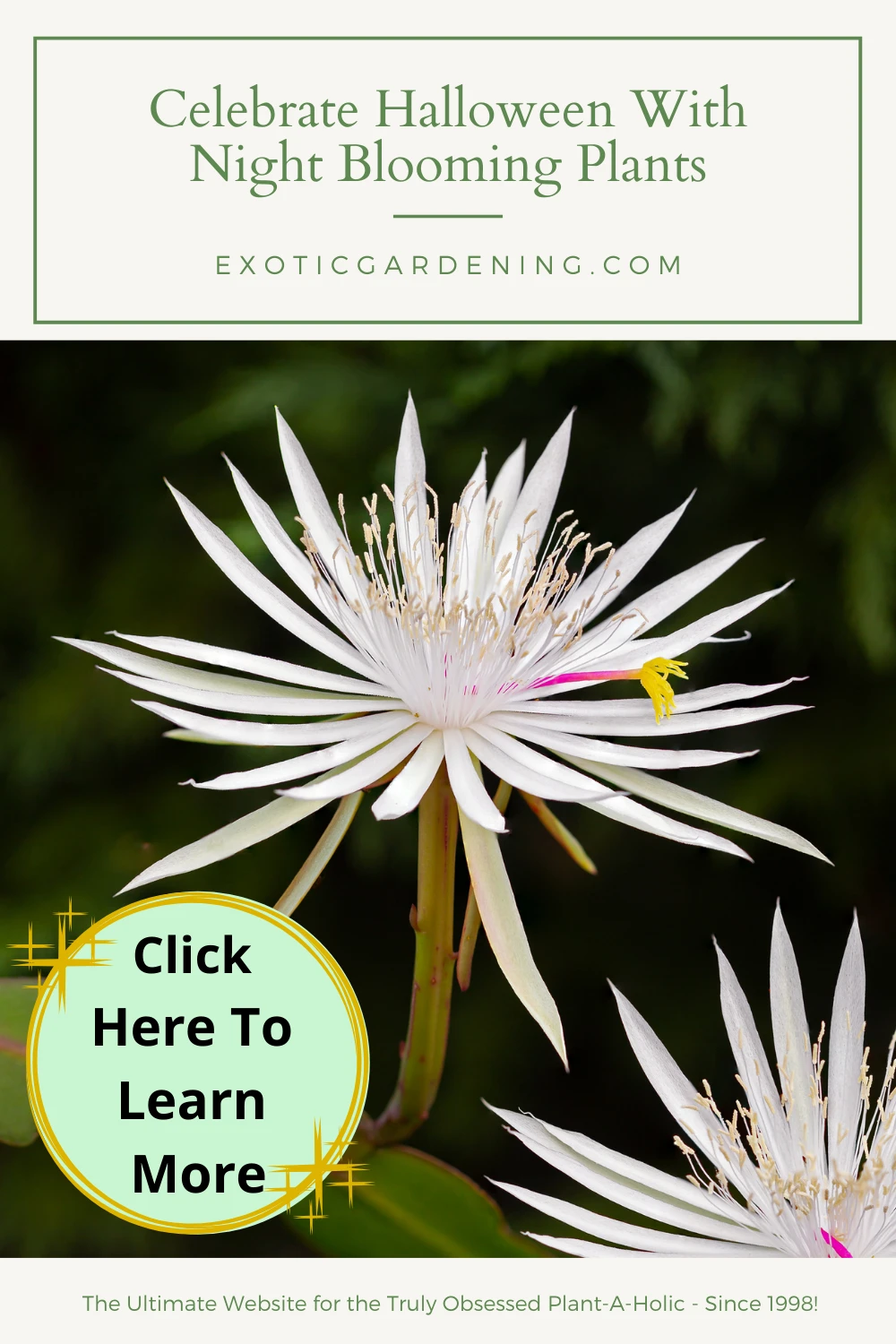 The Idea To Celebrate Halloween With Night Blooming Plants
Up until a couple of years ago, I assumed that all plants bloomed in the day.
What a suprise it was for me one morning to open my door and discovered a bloom on my Angel Trumpet.
Later in the day, I noticed the bloom was gone.
Again, wrongly, I assumed that I had missed the bloom the day before.
Needless to say, it took me quite a while to figure out that these beauties only bloom after sundown, and that their bloom would fade every morning.
So, I decided there must be more of these tropical night bloomers out there somewhere just waiting to be discovered, and brought home to my garden.
I knew these night blooming beauties would also be ideal for Halloween decorating.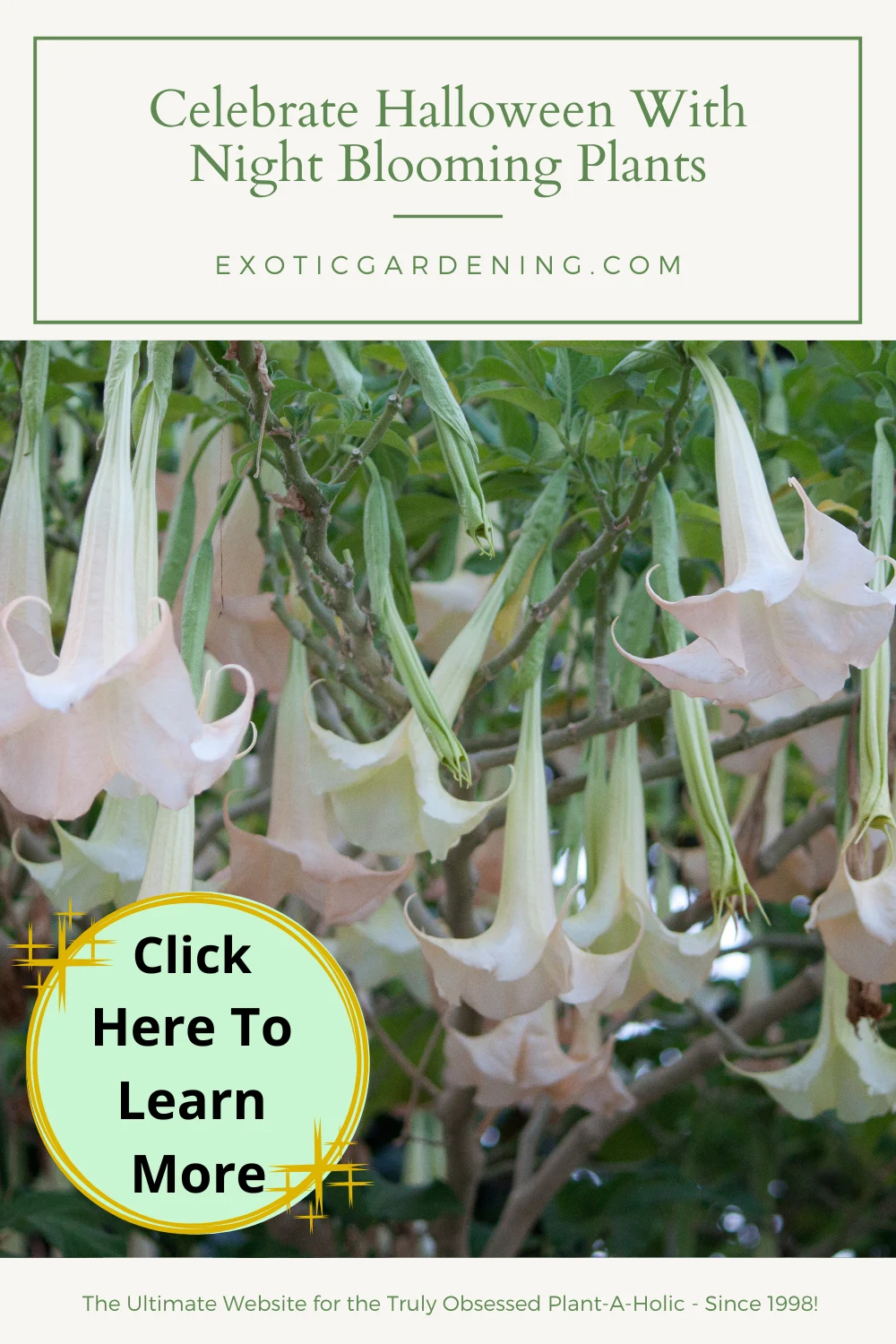 Benefits Of Night Blooming Plants
Night blooming plants are a type of plant that typically flowers only at night, so they are a great addition to the garden for those who spend time outdoors in the evening.
These plants are also great for attracting nocturnal animals to your garden.
Some of the benefits of these plants include:
Aromatic flowers that fill the air with fragrance.
Flowers that provide nectar for bats and moths which then pollinate your other plants.
The evening garden is a great place to unwind and relax after a long day at work and a wonderful way to enjoy the animals you might not see during the day.
Here are a few night blooming plants I recommend.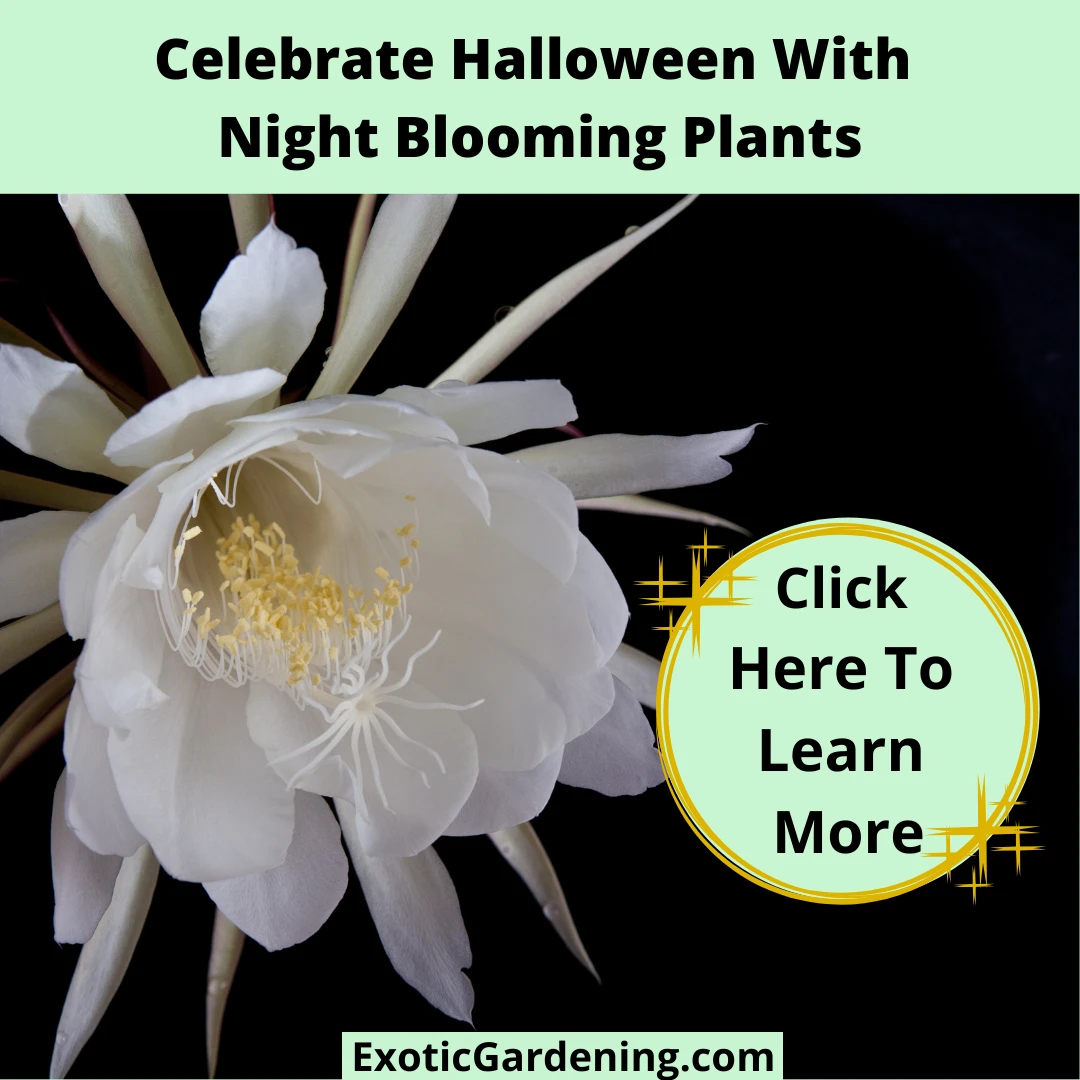 Queen Of The Night
The next night blooming plant that I came across was from the Cactus family.
To be more exact, the night blooming Cereus.
I never quite got mine to bloom, but none the less, it boasts a beautiful bloom once it does.
Also, in the cactus family is the night blooming "Queen Of The Night," as it is commonly called from the cacti genus Selenicereus, whose flowers open from 9pm to 3am, quite an odd time to catch it in bloom unless of course you're a bat – and since bats go so well with Halloween décor – well, you get the idea.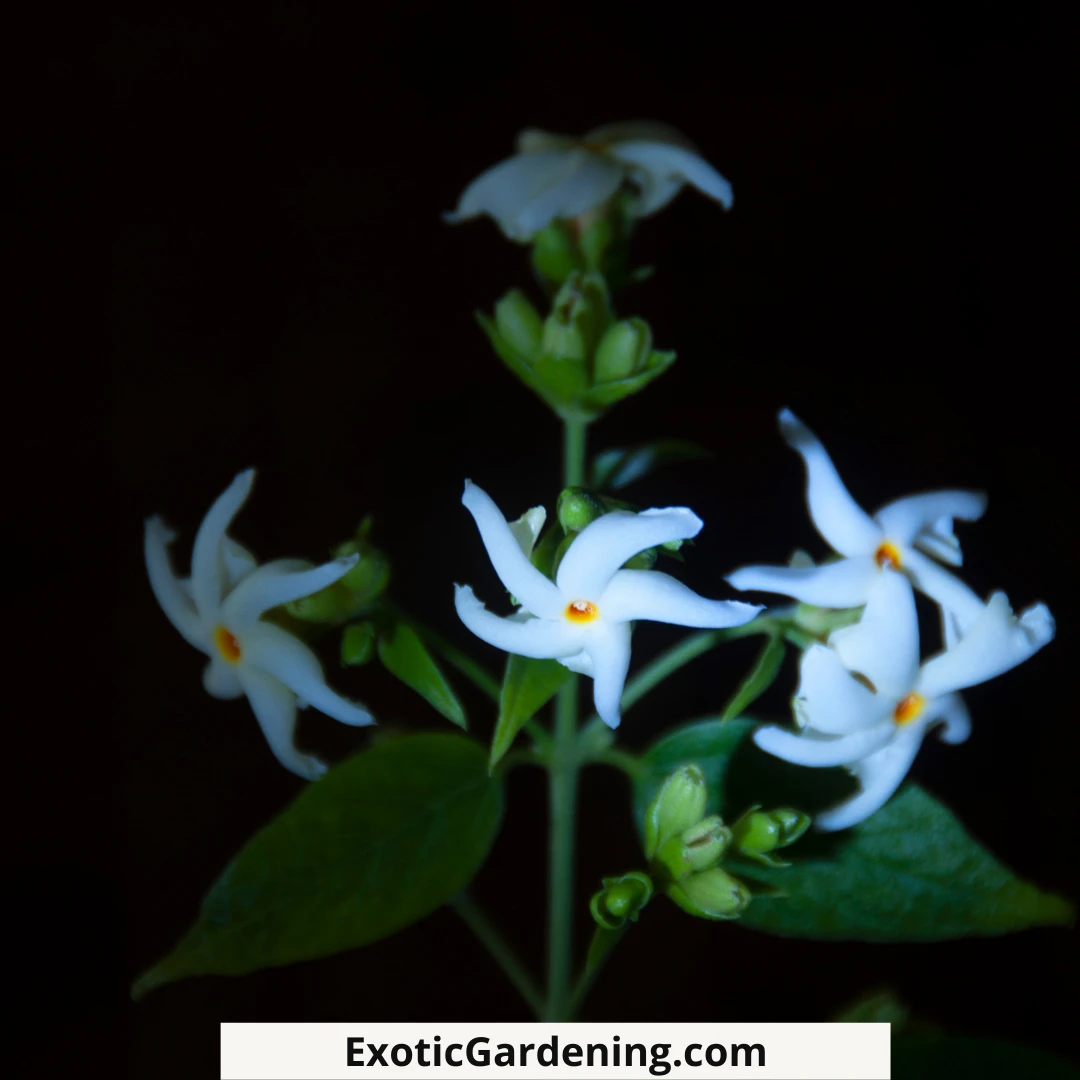 Night Blooming Jasmine
Another choice in fragrant night blooming plants is the night blooming Jasmine, Cestrum Nocturnum.
Although these are quite similar to the day blooming Jasmines, the difference is you will see these blooms under the starry skies. 
When I first wrote this article, I had never seen this plant, but I was sure it would make a spectacular addition to any night blooming or scented garden.
Eventually I was able to grow some from seed.
The flowers are very fragrant given their small size.
However the flowers bloom in small clusters thus creating an almost overpowering scent if you are growing the plant indoors.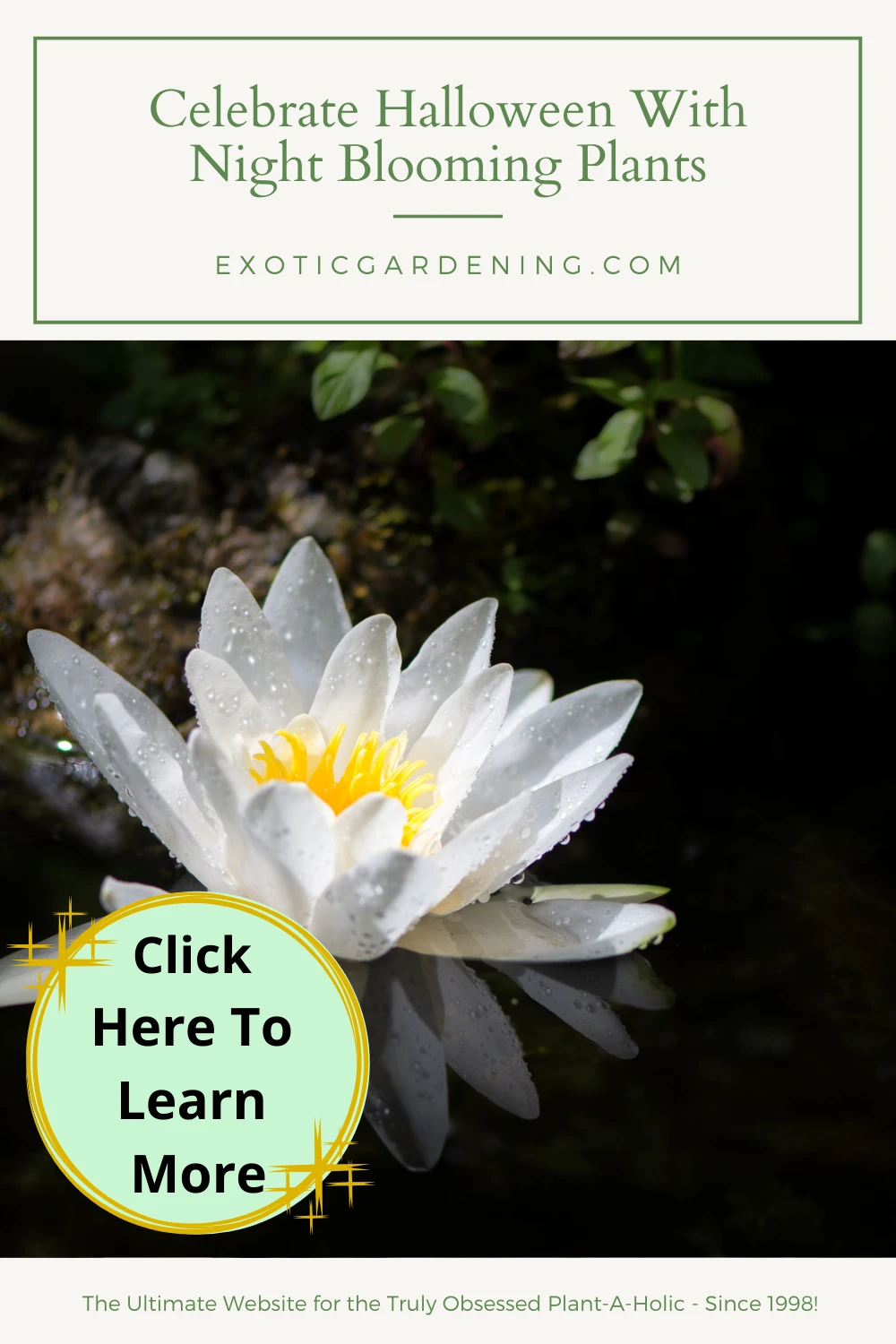 Night Blooming Water Lilies
If you have a water garden, then certainly include water plants in your moonlight garden?
Tropical night blooming water lilies come in white (of course), but also in red, blue and pink.
With the addition of pond lights, this could add some color to your night!
Don't forget to add a pond fogger as well.
You can find floating pond foggers with LED lights.
That is what I have and I love it.
Then, there are the common plants that work well at night as fill-ins to your tropicals.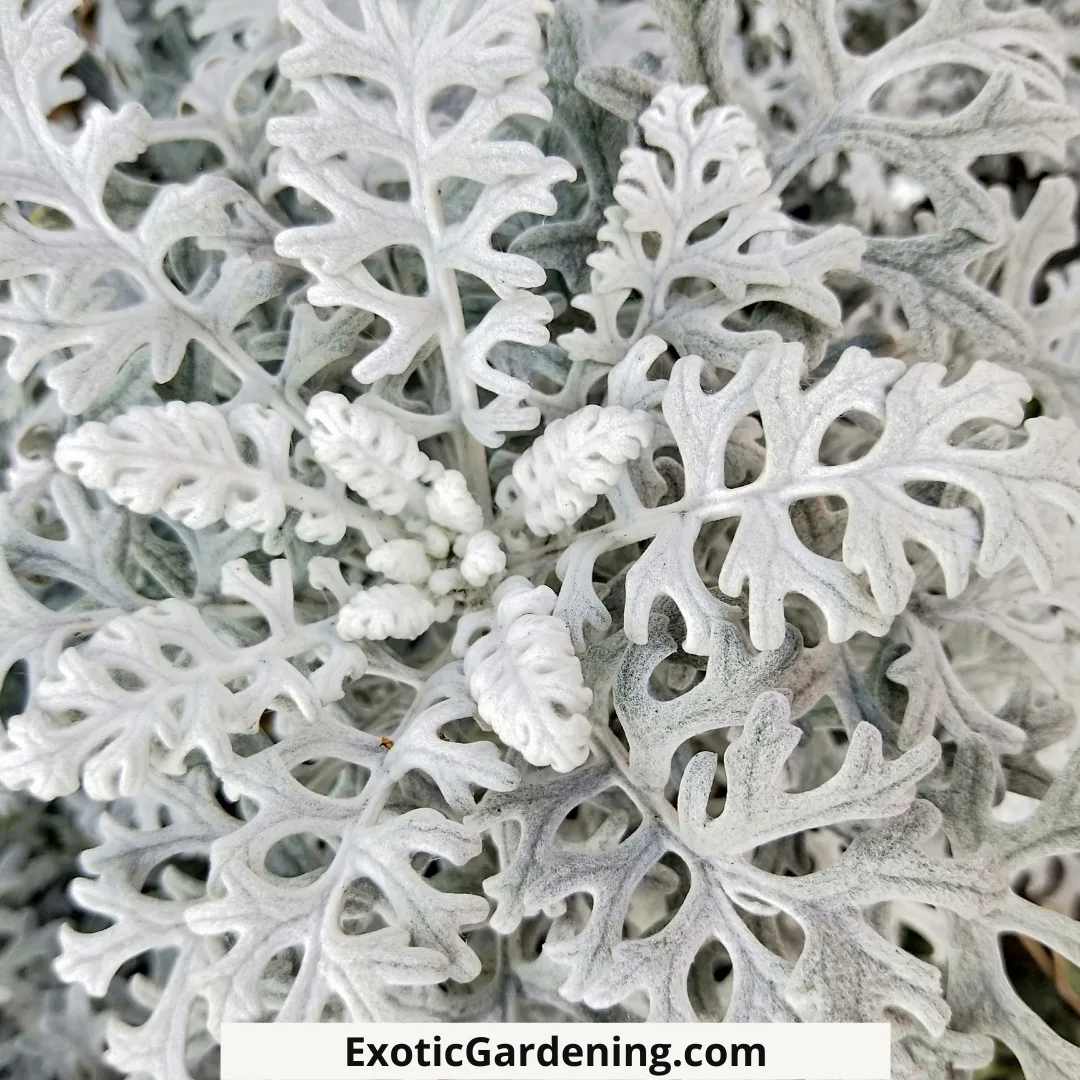 Plants With White Or Silver Foliage
Almost any white colored or silver colored plant that keeps its blooms open or has white or silver foliage during the night will reflect the moonlight and make a perfect garden walk-way marker.
One such plant is the common Dusty Miller.
The silver leaves reflect the moonlight so well, and they are also small enough to use as an edge plant.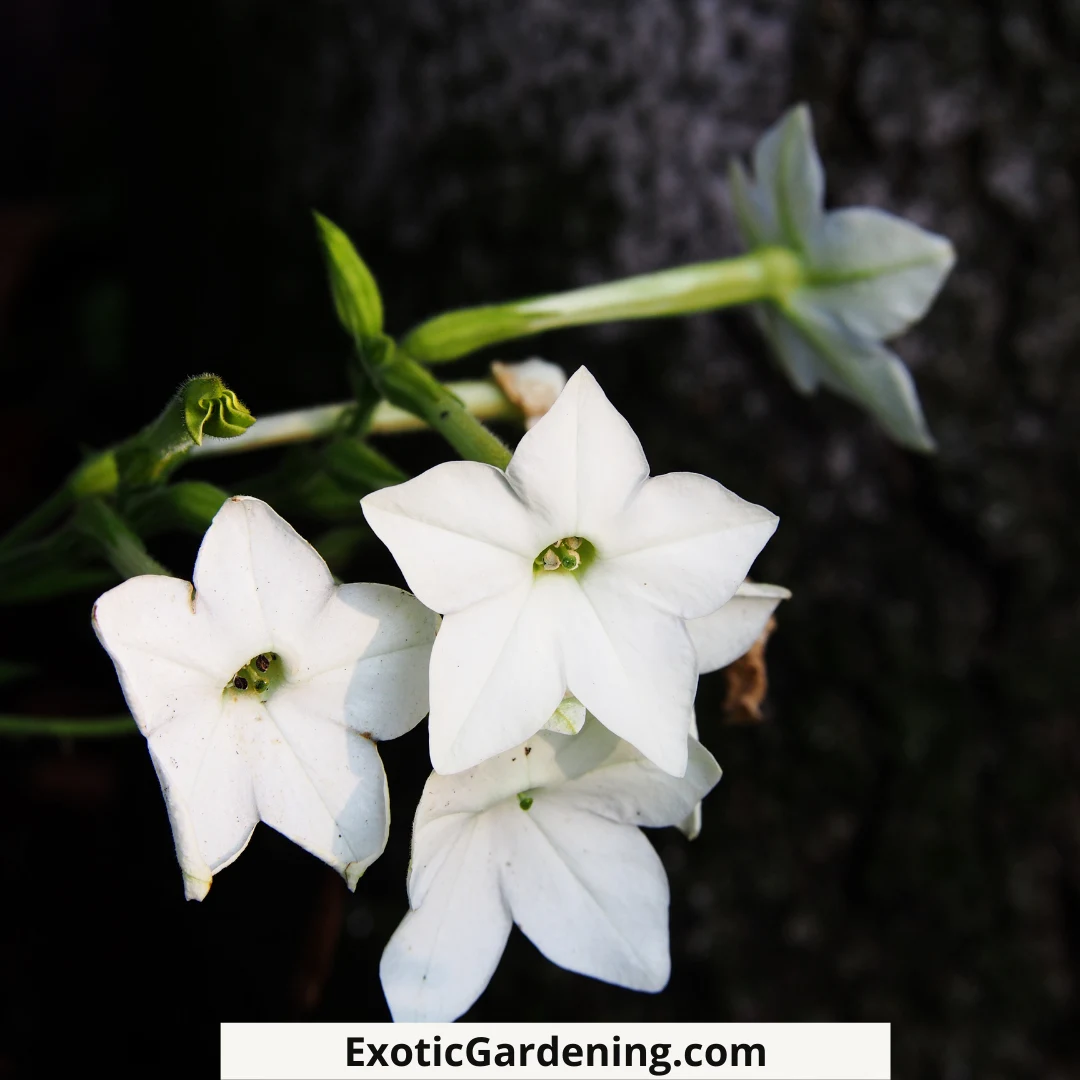 Light Colored Flowers
Mix in a few brightly colored impatients, and a few white ones for the moonlight effect and you have a perfect border day or night.
A lovely white night blooming shrub from the tropics, Boovardia Longiflora, is an ideal addition to late fall, early winter night blooming gardens.
Of course, since it is a tropical plant, this one is more suited to either indoor gardening or greenhouse gardening, unless you have warm fall evenings!
Other similar tropical night blooming plants include Heliotrope Valeriana, Nicotiana Alata, and Bavardia Gardenia Radicands.
So, even though fall is here for most of us, why not go ahead and get a big pot and start your tropical night blooming garden!
What could make more of a Halloween surprise than flowers that glow in the dark!
Flowering Tropical Plants