There are many tropical looking plants that will thrive in U.S. Department of Agricultural hardiness zones 6 through 8.
Plants will adapt to the climate they are grown in. By using minimal winter protection, such as a cold frame, it is possible to raise the temperature around the plant and get it to survive the winter.
A cold frame is a box-like structure with a clear glass or plastic top.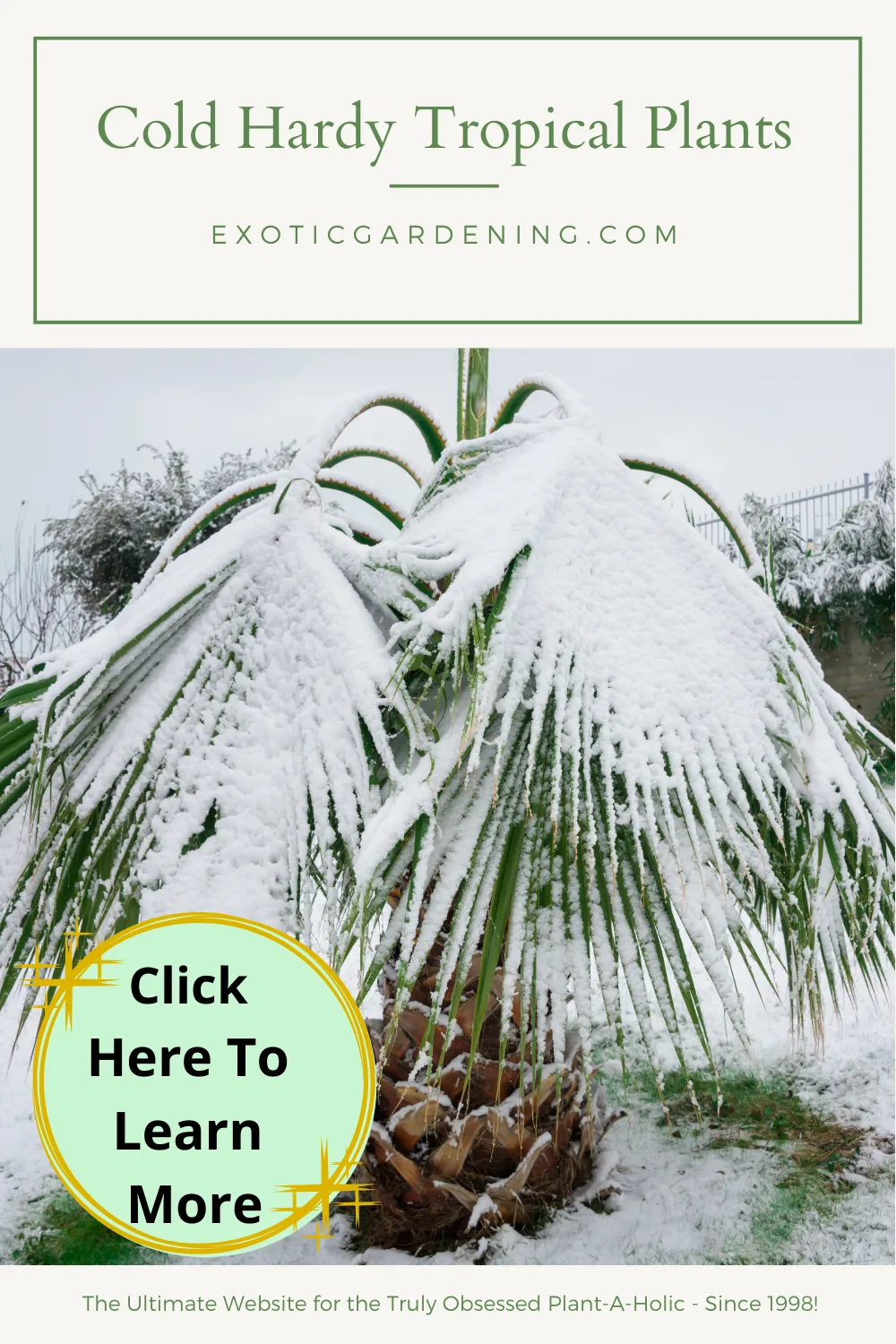 Cold Hardy Palm Trees
You simply can't get a plant that looks more tropical than a palm tree.
The good news is there are many palm trees that will easily survive temperatures below freezing.
In fact many palm trees will survive temperatures as low as 0 degrees Fahrenheit, making them ideal candidates for USDA hardiness zones 6 through 8.
Here are just a few of the cold hardy palm trees.
Needle palm (Rhapidophyllum hystrix)
blue needle palm (Trithrinax campestris)
dwarf palmetto (Sabal minor)
Florida coontie palm (Zamia pumila)
saw palmetto (Serenoa repens)
mazari palm (Nannorhops ritchiana)
sago palm (Cycas revoluta)
Chinese fan palm (Livistona chinensis)
Chinese cycad (Cycas panzhihuaensis)
dwarf bamboo palm (Chamaedorea radicalis)
emperor sago (Cycas taitungensis) 
Chinese windmill palm (Trachycarpus fortune) 

Broadleaved Evergreen Trees And Shrubs
Evergreen trees and shrubs are something that is rarely seen in the colder climates, but these beauties are indeed the heart and soul of tropical climates.
Southern magnolia (Magnolia grandiflora)
Japanese aucuba (Aucuba japonica)
cape jasmine (Gardenia jasminoides)
cold hardy Camellias (Camellia japonica)
winter jasmine (Jasminum nudiflorum)
several species of eucalyptus (Eucalyptus gunnii, Eucalyptus niphohila and Eucalyptus neglecta)
trifoliate orange (Poncirus trifoliata)
All of the plants mentioned above will thrive in USDA hardiness zones 6 through 8.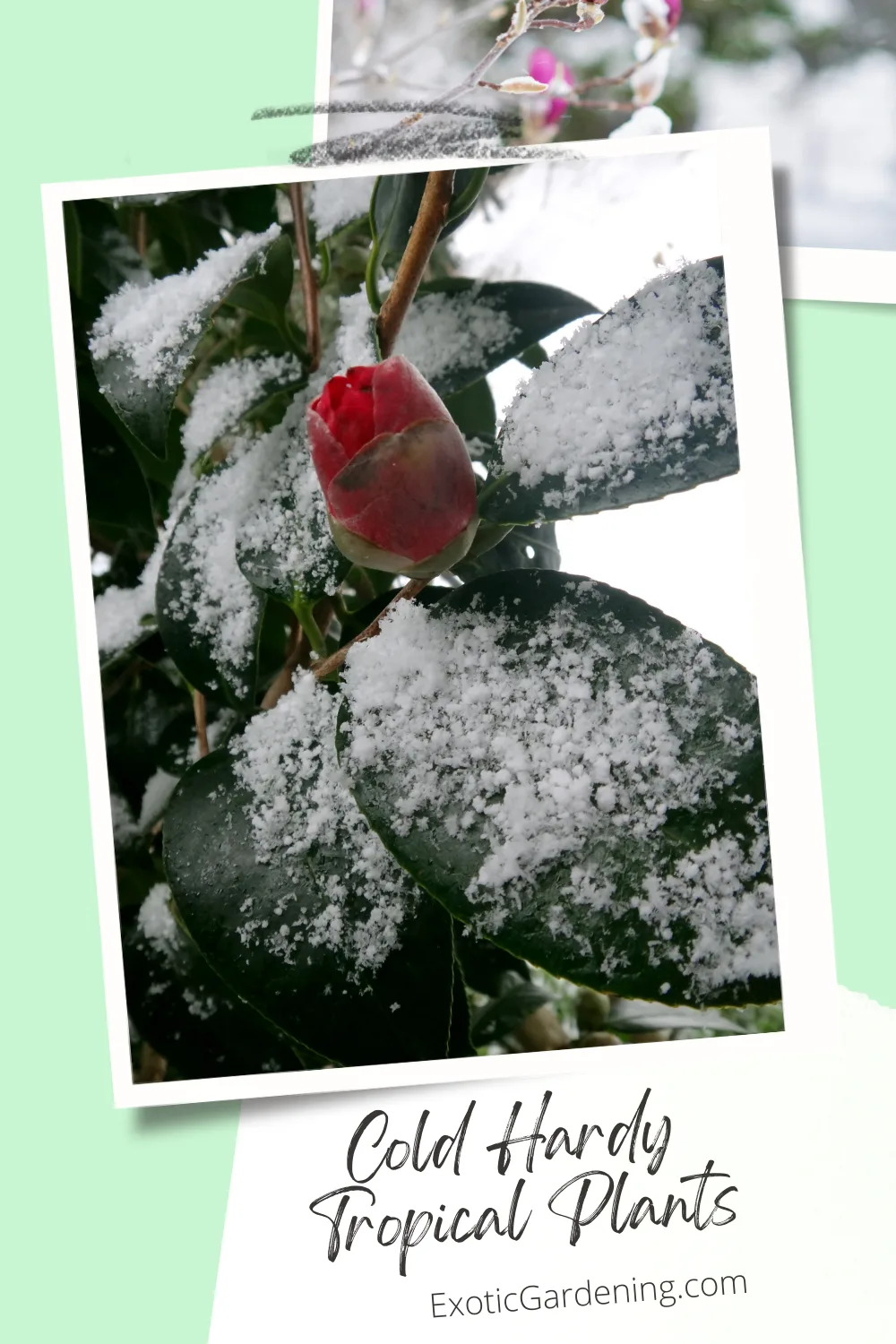 Deciduous Trees And Shrubs
Gardeners in USDA hardiness zones 6 through 8 are used to seeing deciduous trees and shrubs in the landscape during the winter months.
These are the plants that lose their leaves.
However, many tropical looking plants also lose their leaves during the winter.
Here is a listing of some of these plants.
Crepe myrtle (Lagerstroemia indica)
common fig (Ficus carica)
silk tree (Albizia julibrissin)
Franklin tree (Franklinia alatamaha)
empress tree (Paulownia tomentosa)
Plus there are several varieties of oak trees will add a tropical look to the temperate landscape.

Cold Hardy Exotic Plants
The best way to create a true tropical looking garden is to plant cold-hardy exotic plants.
There is a large selection of bamboos and yuccas that are completely hardy in USDA hardiness zones 6 through 8.
Musa basjoo, the Japanese fiber banana, is also hardy in these zones.
Other banana plants that will survive, with winter protection, include:
Musa sikkimensis
Musa parasisiaca
Musa lasiocarpa
Musa mysore
Musa acuminata Rajapuri
Musa velutina
Musa dwarf orinoco
Flowering Tropical Plants