I admit it – the gardening bug is biting me a bit early this year, so I pulled out this Burpee Eco-Friendly Greenhouse Kit I bought on clearance sale last year.
Now mind you, not if I was winter seed sowing  because that date began on December 21.
However, I was so busy preparing for my wedding on December 22 that the date came and went without my cold frames being put up or a single seed sown.
Since the wedding there has been a flurry of activity – people to visit for the holidays, posts to get written and rearranging of the house which included taking the Christmas tree down.
Tonight was the first time I have had a chance to sit down and really think about starting seeds.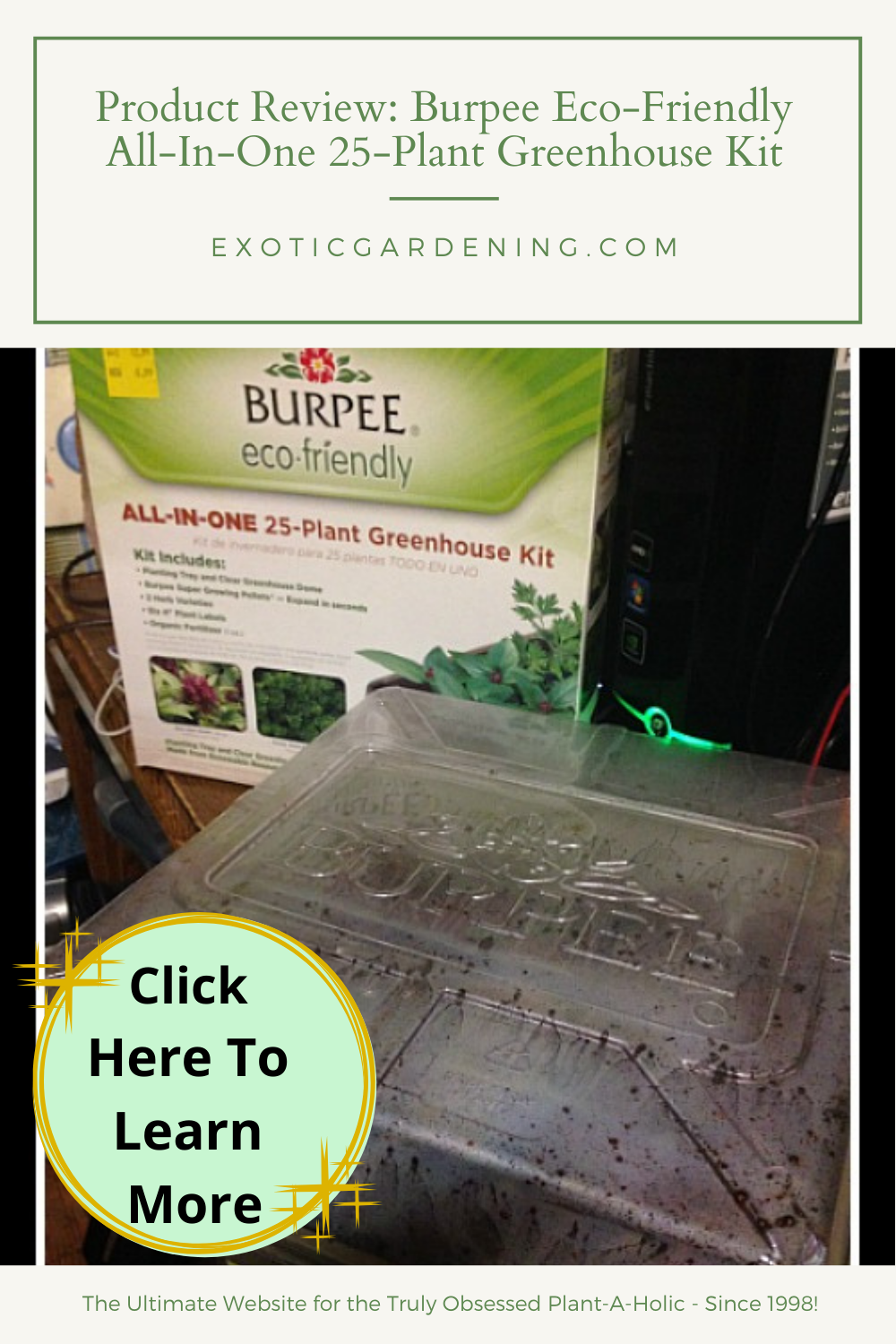 Reasons Why You Need This Burpee Eco-Friendly Greenhouse Kit
The number one reason you need this, is because you want to start seeds indoors.
The greenhouse kits are nice all-in-one ways to simply add water, add seeds and grow.
They are a little bit pricy in comparison to using soil blocks or even newspaper or toilet paper roll seed starter pots.
However, if you are only starting a few seeds or you simply want to convince, these are the way to go.
If you pick them up at the end-of-the-season clearance events most big box stores have, you can get them for really cheap and then you save money in the long run.
Order Seeds Online If They Aren't In Stores
If you're looking in the stores for seeds or seed starting products to buy, it is too soon.
I bought mine last year during the clearance sales.
Of course, you can order seeds and supplies online.
I've already ordered some black Incan corn seeds from Baker Creek Heirloom Seeds and they sent me a free pack of melon seeds.
I love their seeds because they are non-GMO and they have some very unusual varieties.
Some of my other favorite places to order seeds is J.L. Hudson Seeds, Bountiful Gardens and Trade Winds Fruit.
Preparing The Growing Pellets Is The First Step
Anyway, back to the seed starting. I bought a couple of the Burpee eco-friendly All-In-One 25-Plant Greenhouse Kit last fall.
It came with some herb seeds, but I had some seeds of my own I wanted to plant, so I set the seeds that came with it aside.
The first step was to hydrate the growing pellets in the kit.
I used two large cups (about 4 3/4 cups) of hot water to do this with, then I put the lid on and set it aside for  a few minutes so the pellets would absorb all the water.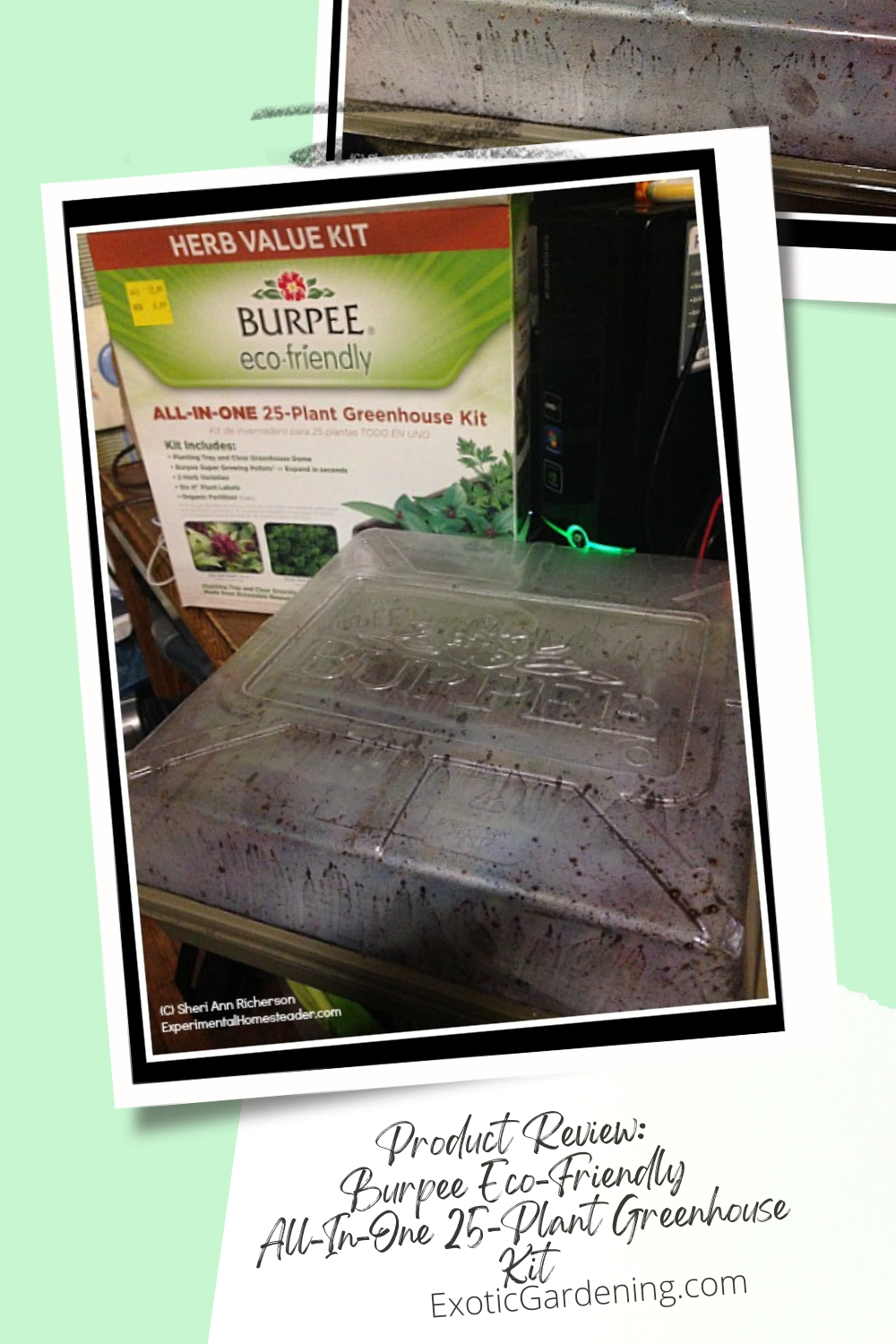 Once The Pellets Expand You Can Plant The Seeds
Once the pellets expanded, it was time to plant the seeds.
I simply laid the seeds in the pre-made holes.
For the smaller seeds, I pushed some of the soil around to fill the holes in and laid the seed on top.
The smaller seeds I will not cover.
The larger ones get covered with a light layer of vermiculite.
I put the plant markers in, filled out the Burpee Plant-O-Gram and put the clear plastic lid on, then set the whole flat in a warm place.
Now I wait until the seeds begin to sprout – and as soon as they do, I remove the clear plastic lid.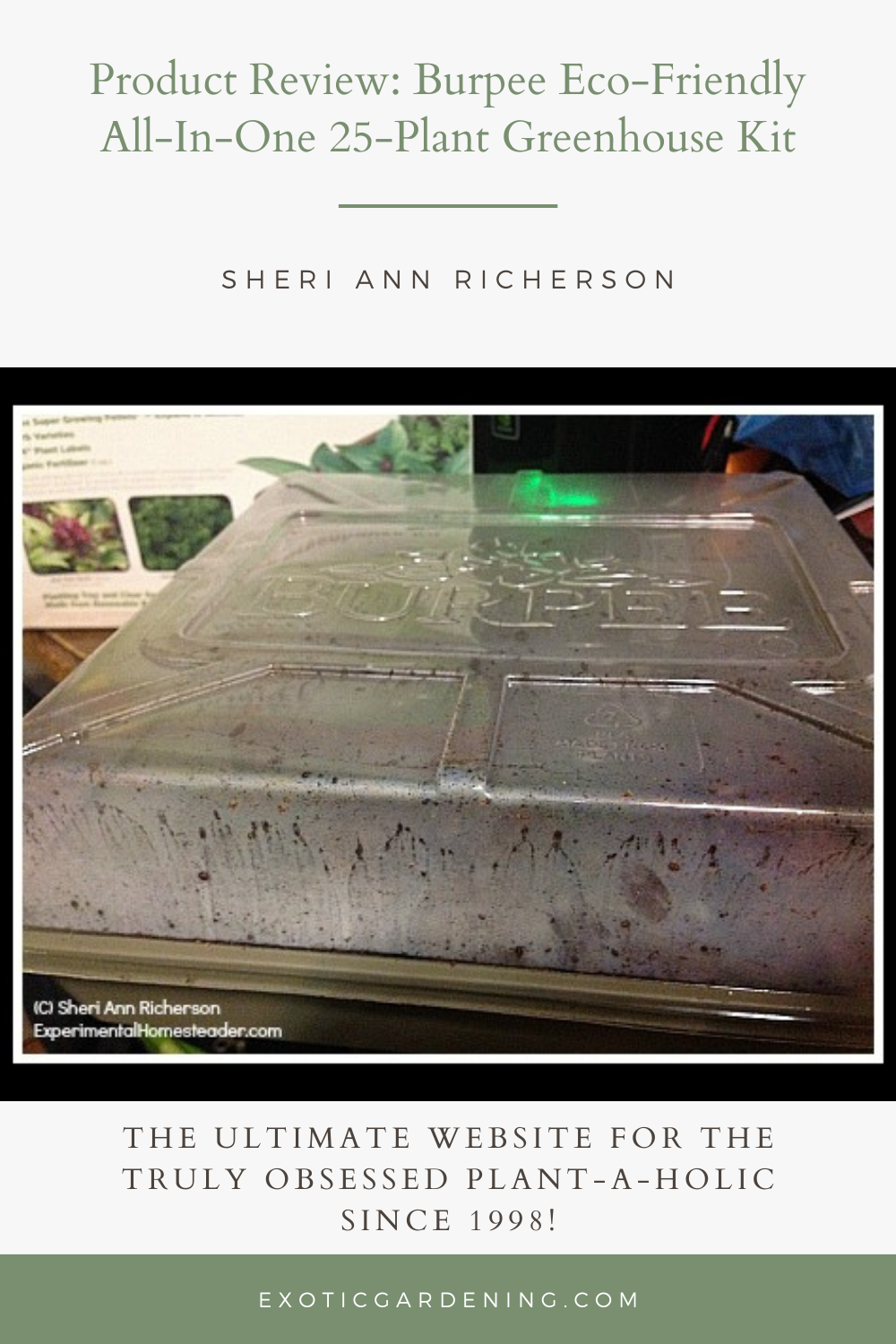 Contents Of The Burpee Eco-Friendly All-In-One 25-Plant Greenhouse Kit
This kit comes with plant markers plus the handy paper Burpee Plant-O-Gram.
I liked this because as we all know, plant markers sometimes get moved on accident.
What was really neat about the Burpee Plant-O-Gram was the fact that the seed flat had letters on it and so did the paper – so no matter what direction your seed flat gets turned you can look for those embossed letters and figure out what's growing.
I really like this feature.
I can't tell you how many times I've planted something, marked it well (or so I thought) and then ended up with missing tags and no way to tell what was growing until it sprouted and grew big enough – and sometimes that meant letting it flower.
Yes, I am guilty of planting lots of the same plants with different colored flowers in the same flat.
What I Planted In The Burpee Eco-Friendly All-In-One 25-Plant Greenhouse Kit
By now you may be wondering what I planted. Here is my list –
Sapindus saponaria (soapberry)
Honey date palm (thanks Jacinda!)
Dianthus superbus (a very unusual form of this plant)
Mentzelia decapetala (Giant Evening Star)
Asclepias sublata (rush milkweed)

My Thoughts On The Burpee Eco-Friendly All-In-One 25-Plant Greenhouse Kit
I liked this kit, but I do like most of these all-in-one greenhouse kits.
I thought the coconut coir pellets expanded easily enough but when it came time to transplant the seedlings, the pellets wanted to fall apart which left me handling the seedlings roots.
I honestly don't feel the coconut coir pellets are as good as the peat pellets, but that could be personal preference.
I was able to get the seeds to germinate and the plants to grow, so the greenhouse kit did work.
I felt it was well made and the lid fit the base well – at least on the one I got.
The greenhouse lid and base were PLA which is degradable and I love that the whole kit was eco-friendly.
The biggest downside to me was this kit only has room for 25 plants.
So for the home gardener that doesn't want to start a lot of plants, it's great, but for those of use who start hundreds of plants every spring, it's not very economical.
Alternative Seed Starting Greenhouse Kits
When I went online to make sure this particular eco-friendly greenhouse kit was still available, it shows it as unavailable, so I wanted to leave you with a few other options that I recommend.
The 72-cell greenhouse seed starter kits have always been one of my go to choices when starting seeds.
I love that I can start 72 plants in a small, compact area and that I can choose my own potting mix to put into the little trays.
I typically do not choose the self-watering seed starting kit option, but that's just personal preference.
I go with the the standard 72-cell greenhouse seed starter kit.
For those wanting a smaller seed starting kit, Burpee offers several options:
I normally make my own seed starting mix, but if you like coconut coil for seed starting, try the Burpee 8 quart compressed seed starting brick.