When it comes to seed starting, snapdragon seeds are one that many people choose because of its light frost tolerance and ability to be direct seeded into the garden.
While many people consider snapdragon to be a spring flower, it also does well in the fall garden.
Snapdragon seeds are ideal for winter sowing.
If you live in an area with a mild winter, they can self-seed in the garden.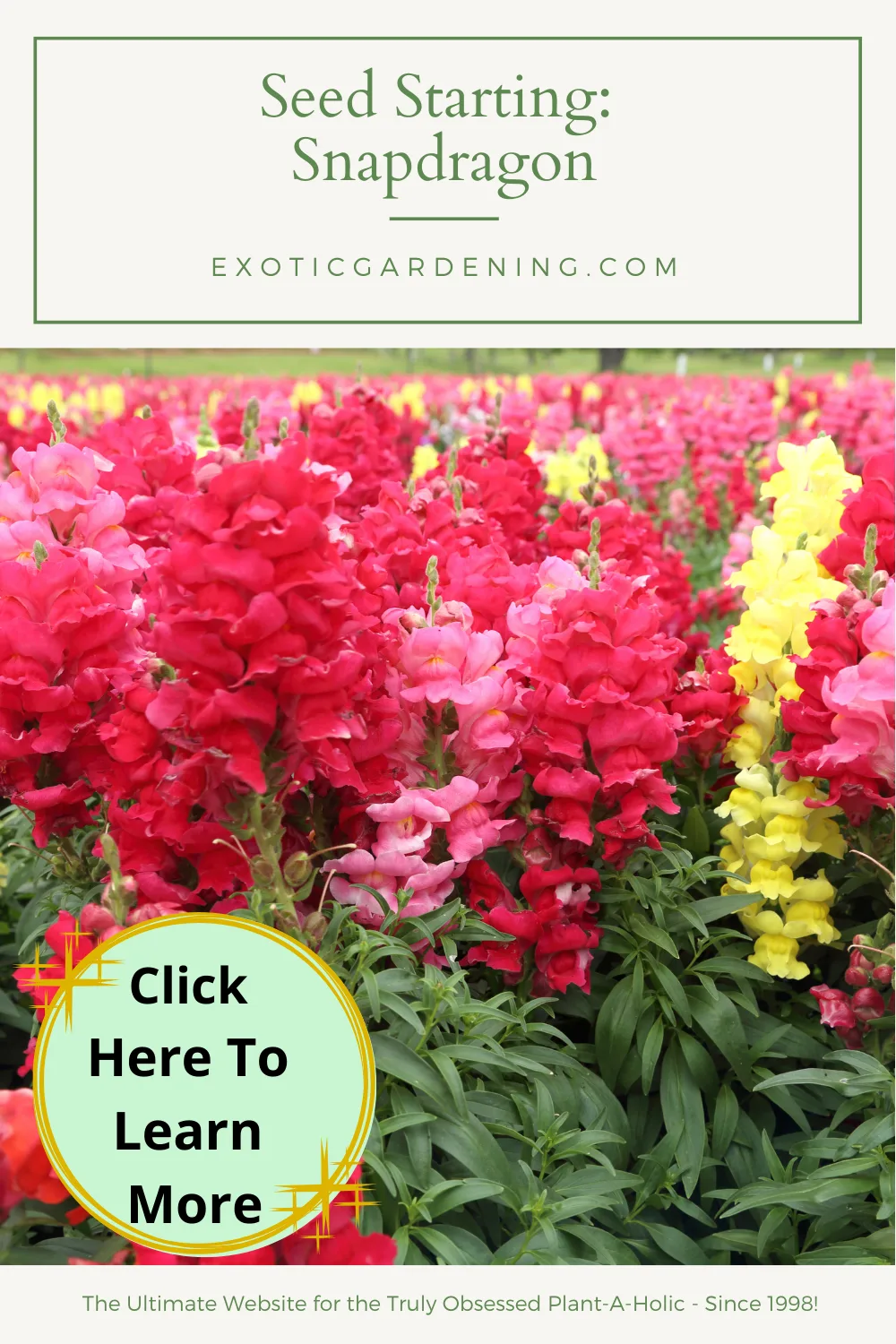 Snapdragons Are A Delightful Spring Or Fall Flower
Snapdragon is botanically known as Antirrhinum.
It is an early spring flower that will tolerate light frost and keep on blooming.
Snapdragons are a common flower, but one sure to delight the little ones in your life if they are allowed to play with some of the blooms which look like the top and bottom of a dragons head – use your imagination.
Little ones delight in moving the flower heads together making the dragon talk – or eat bugs as the case may be.
Snapdragons come in all colors and sizes from short to tall.
There are even double-flowered varieties which are my personal favorite.
The taller ones are ideal for cut flowers.
They are annual plants which means they just grow, bloom, set seed and die – however sometimes – depending on where you live, the seeds that fall to ground germinate the following spring.
I have had that happen here in Indiana, USDA Hardiness Zone 5 and 6.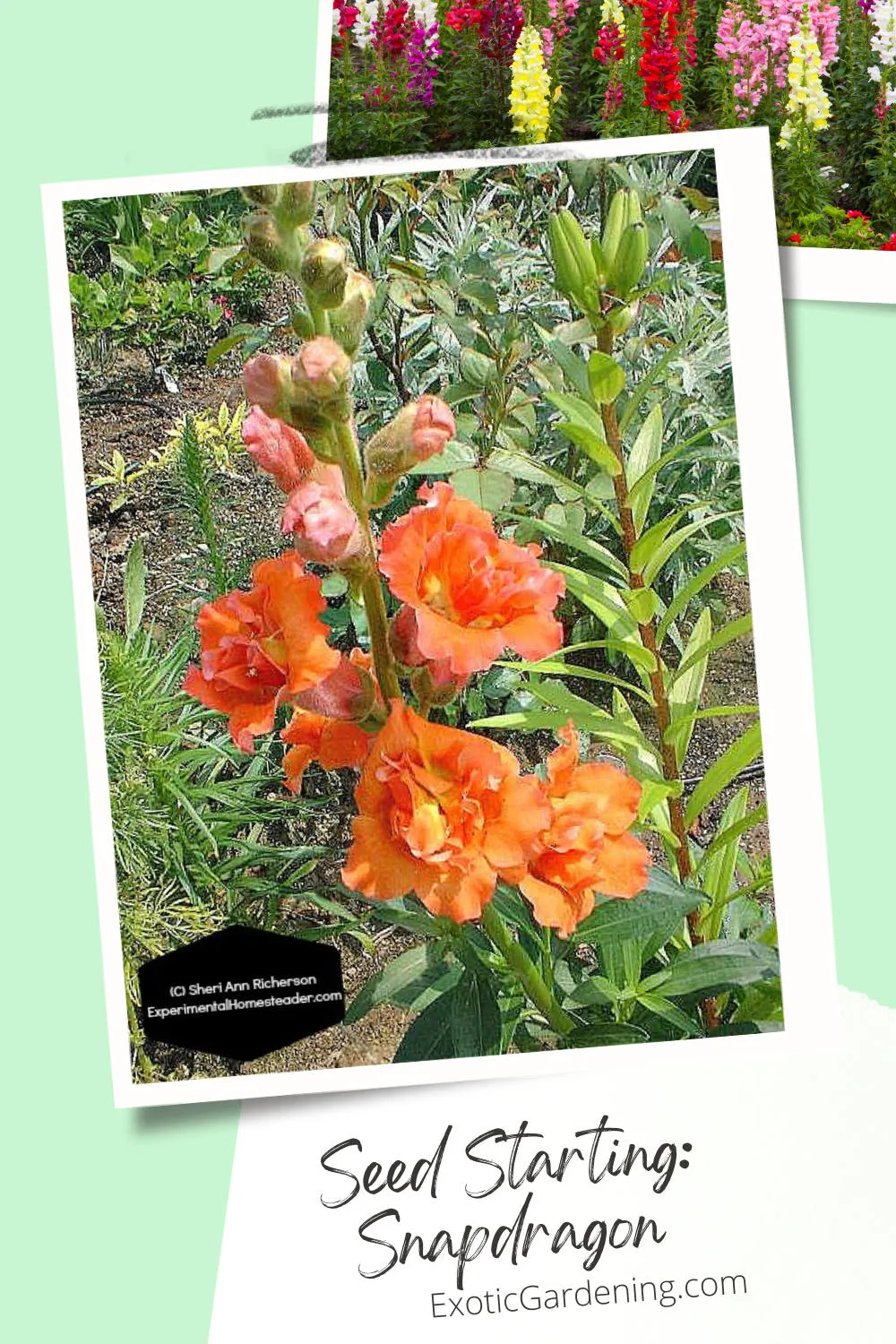 How To Grow Snapdragons From Seed
Typically I start my snapdragon seeds on January 3.
I want them to have plenty of time to germinate and grow before it is time to plant them outdoors – and I know if I see them in bloom before the ones I grew from seed begin to bloom, I'll end up buying a flat or two.
After all, one simply cannot have too many early spring blooming plants that can survive light frost.
The seeds require light to germinate, so sow them directly on top of your preferred seed starting medium, press them lightly into the top of the pre-moistened soil and always water the containers of seeds or seedlings from the bottom.
You do not want to disturb the tiny seedlings root system.
I prefer to sow my seeds right on top of pre-moistened vermiculite because I find this helps prevent dampening off.
The seeds also need cool temperatures in order to germinate.
For those of you who use the winter sowing method of seed starting, snapdragons are an ideal candidate.  
The average germination time is between 10 to 21 days based on my own personal experience.
Here are the two varieties I am growing this year along with a little bit of information about each variety.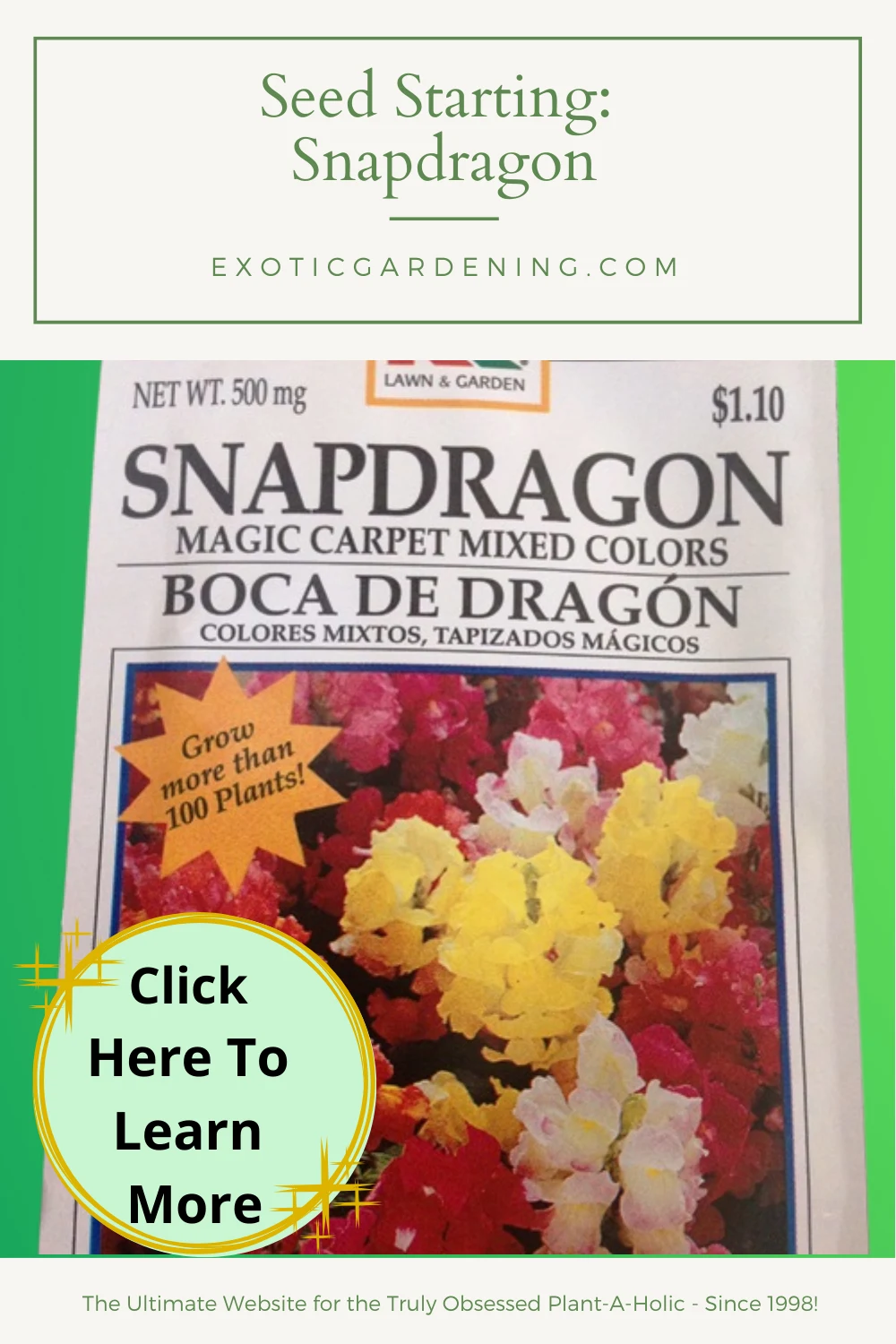 Magic Carpet Mixed Colors Snapdragon
The Snapdragon 'Magic Carpet Mix' variety is free-flowering and compact, reaching a mature height of just six inches.
The flowers are full size.
Deadheading – or cutting off the faded flowers , encourages the plant to keep producing new flower spikes.
The seeds take 10 to 15 days to germinate.
Plant seedlings 10 to 12 inches apart in the garden.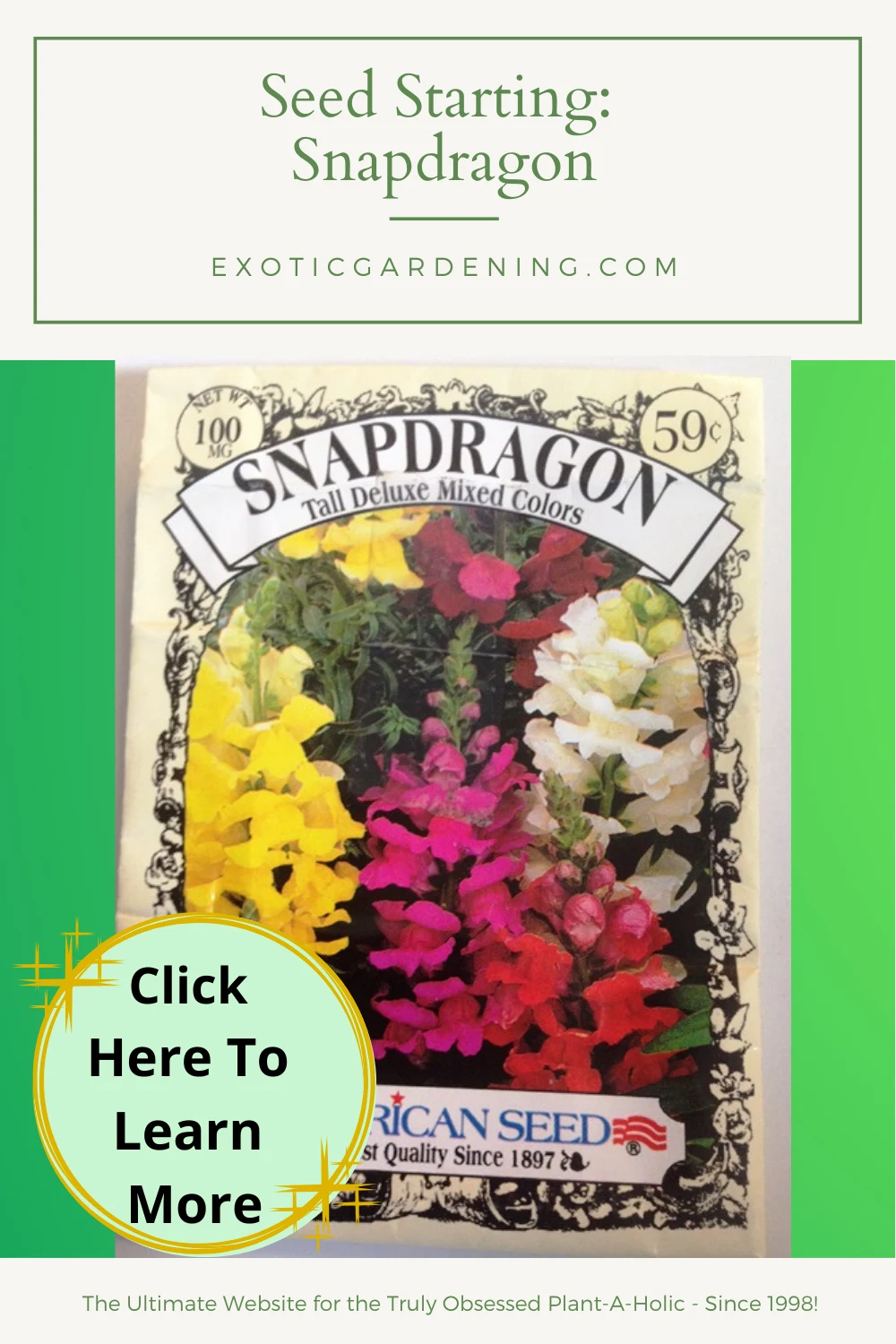 Tall Deluxe Mixed Colors Snapdragon
This is a good choice if you are growing snapdragons for cut flowers because the plants reach a height of 3 1/2 feet.
It is ideal for the back of the border and is a very vigorous variety.
Expect a flush of blooms in early summer.
Deadhead the spent blooms and the plants will produce a second flush of blooms in the fall.
The seeds germinate in 10 to 14 days.
Space plants 10 inches apart in the garden.
Other varieties of snapdragons I have grown in the past include:
Snapdragon  mix- open-pollinated seed from the garden
Snapdragon mix – large and small
Snapdragon – T & M new 2004
Snapdragon 'Azalea White'
Snapdragon 'Bells Pink'
Snapdragon 'Chimes Bronze'
Snapdragon 'Cinderella Mix'
Snapdragon 'Cinnamon Bronze'
Snapdragon 'Double Azalea Flowered Mix'
Snapdragon 'Fancy Mix'
Snapdragon 'Frosty Lavender Bells'
Snapdragon 'Gum Drops Mix'
Snapdragon 'La Bella Mixture'
Snapdragon 'La Bella Rose'
Snapdragon 'Liberty Classic White'
Snapdragon 'Maximum Mixture'
Snapdragon 'Ribbon Light Pink'
Snapdragon 'Ribbon Purple'
Snapdragon 'Select Dragon Pink'
Snapdragon 'Tall Rust Resistant Mixed Colors'
Snapdragon 'Yellow Chimes'

Learn More About Seed Saving And Starting
Are you interested in knowing even more about seed saving and starting?
Check out my book The Complete Idiot's Guide To Seed Saving & Starting!