Disclaimer: I did receive these plants for free in exchange for my honest review. All opinions are my own.
One of the most colorful plant combinations that I have found in recent years is the daylily and geranium.
While these two plants are not my favorites and in fact, I most likely would not have bought them, they do look beautiful when grown together.
I am very pleased I was sent these plants to trial because they are a game changer and gave me a new outlook on a plant I truly felt I did not really want in my garden.
These two plants, Daylily 'Going Bananas' and Geranium 'Blushing Turtle,' made me take a more serious look at the various daylily and geranium plants currently being sold.
In fact, since trialing these two plants, I have added many more perennial geraniums and daylilies to my garden.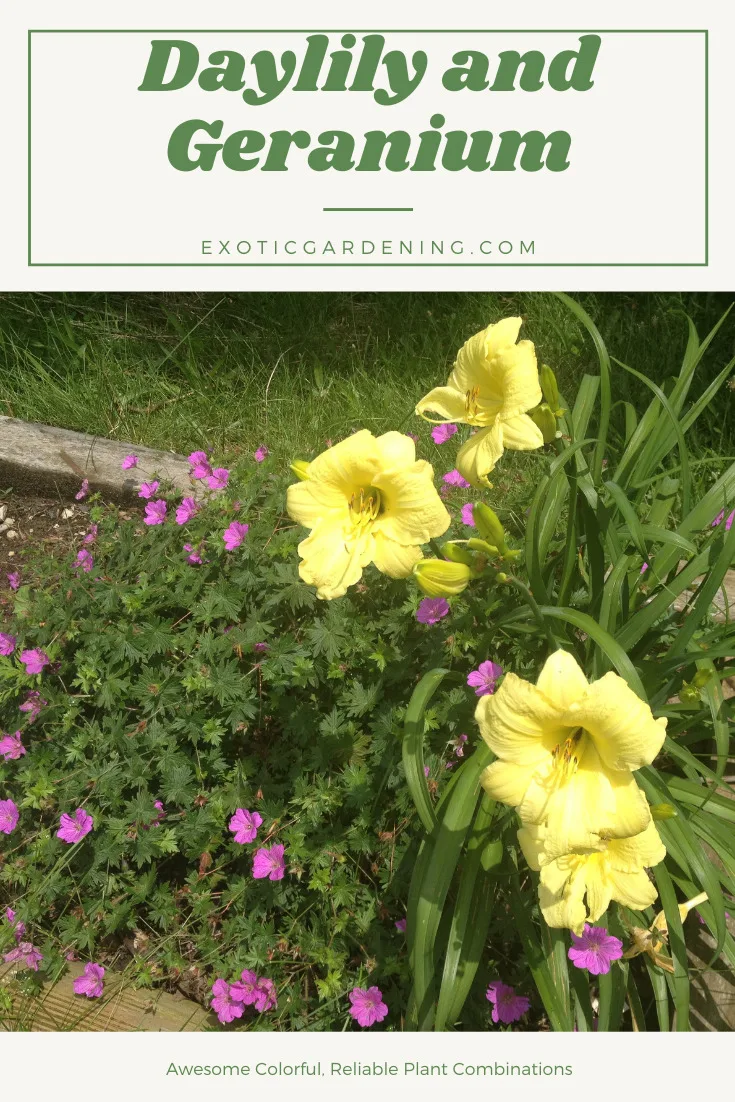 Daylilies Are Resilient And Reliable
Daylily – ugh – the word makes me cringe but I have to tell you about this awesome plant combination of daylilies and geraniums.
I live in a town where daylilies and hosta are all the rage.
Let's face it, common plants are not my thing.
I do have both in my garden because – well – people expect to see them when they come to look at my garden however I truly seek unusual ones or ones that really stand out.
I think people like daylilies so much because they are so easy to grow and they multiply rather rapidly compared to other types of plants.
Even if you neglect them, they tend to thrive!
The foliage does arch and has sort of a grassy look, but still who wants all green in their garden most of the summer?
Not me.
I have found some good uses for daylilies however – like around the base of a tree.
The foliage chokes the weeds out which means less trimming work for me and daylilies will bloom in shade – although they prefer full sun.
They do multiply even around tree roots which is wonderful because as we all know that area is quite dry.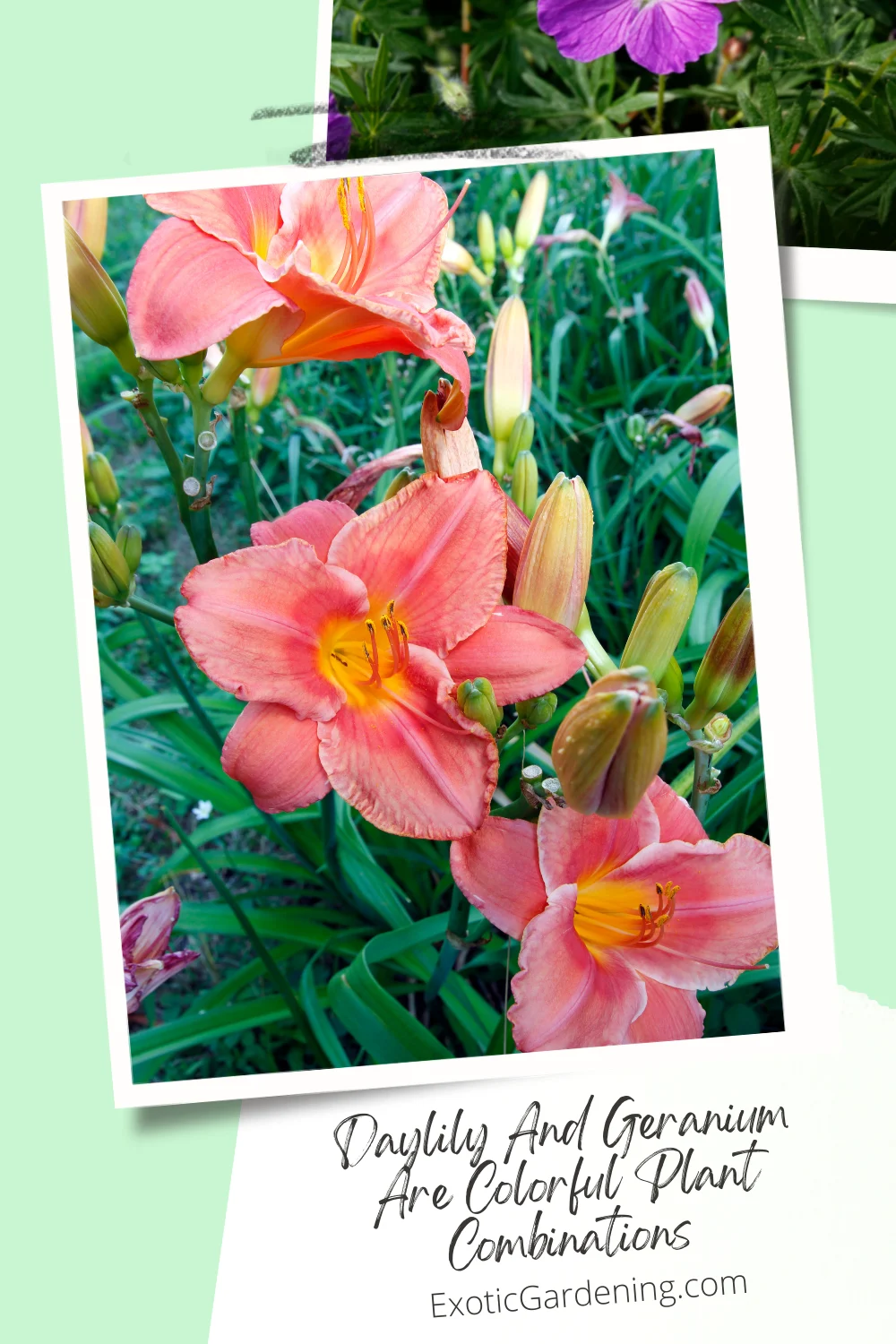 Daylilies Are Colorful
Now I will agree when the daylilies are in bloom, the colors and the bloom sizes are wonderful.
Daylilies come in vibrant colors such as red, orange and yellow – so, yes, they do make a statement.
However, the darn flowers only last a day and when they are done blooming you have nothing but green foliage left to look at.
Possibly the fact that the perennial Geranium 'Blushing Turtle' helps to hide the green foliage of the daylily and provide gorgeous rose-pink blooms even when the daylily is not in bloom is part of my love of this plant combination.
For those looking for a blooming flower that attracts bees, butterflies and hummingbirds,
Daylily 'Growing Bananas' is a must for your garden.
Daylily 'Going Bananas' Is A Game Changer
Daylilies, botanically known as Hemerocallis,  don't seem to mind dry conditions and even perform well during droughts – which I guess makes them useful in a lot of situations but they still don't make my favorite list – that is, until I grew 'Going Bananas.'
Daylily 'Going Bananas' is very drought tolerant and blooms her little head off.
'Going Bananas" produces masses of gorgeous lemon yellow blooms all summer long.
Best of all, the blooms are lightly fragrant.
This daylily is going to convert me into a daylily fan – especially if more like her are introduced into the trade.
I planted this particular daylily in a raised bed filled with compost and sandy soil, but it would also work great as part of a container plant combination.
Daylily 'Going Bananas' is a Proven Winners introduction that is a continuous bloomer, salt tolerant and ideal for erosion control plus it has fall interest.
Growing Conditions For Daylily 'Growing Bananas'
Daylilies truly are adaptable to many growing conditions and Daylily 'Growing Bananas' is no exception to the rule.
These tough, adaptable perennials survive in part shade, although for those wanting maximum blooms, full sun is best.
Regardless of the soil type, they will grow in it – dry, moist, sand, clay, you name it.
Daylilies 'Growing Bananas' reaches a height between 19 and 22 inches.
The spread of this plant is between 18 to 24 inches, so I recommend planting it at least 24 inches away from other plants so it has room to grow without your garden becoming overcrowded.
The blooms begins in early summer and continue into early fall making this a long season garden plant.
It is hardy in USDA hardiness zones 3a through 9b.
Plus for those of you with critter issues, it is rabbit resistant.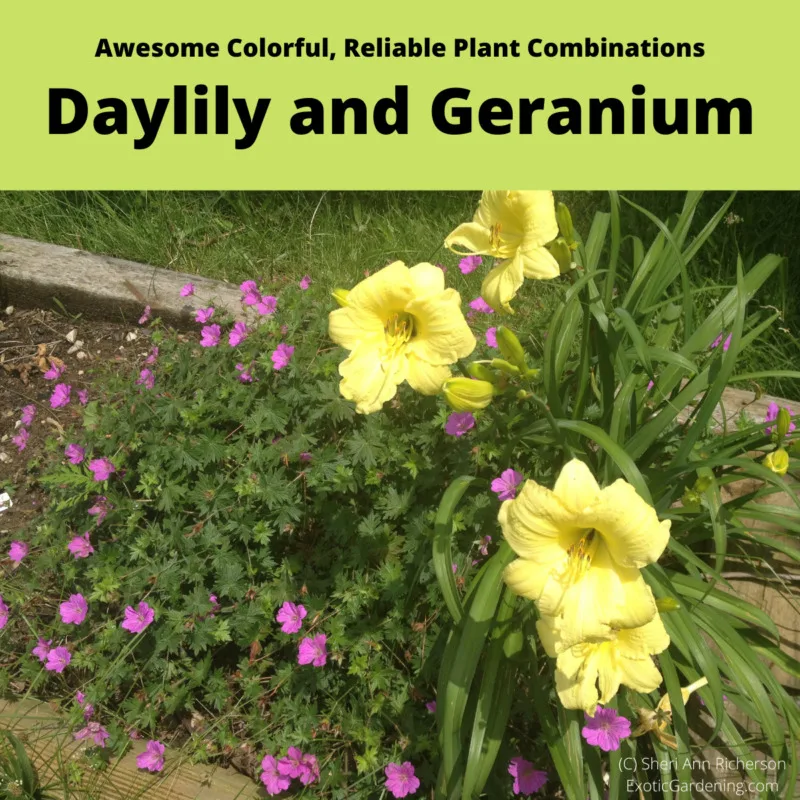 Geranium 'Blushing Turtle' Makes A Perfect Growing Companion
I planted a perennial geranium named 'Blushing Turtle' beside the Daylily.
Yellow and rose-pink seemed like a good combination and I thought maybe the geranium would grow rapidly enough that the daylily wouldn't be noticeable after it stopped blooming.
The geranium has grown rapidly and I have moved some of the stems so they lay under and around the daylily instead of covering it up.
I absolutely love the combination of these two plants together and best of all, they start blooming at the same time so I get a mass of color in the one corner of the raised bed.
Geranium 'Blushing Turtle' is a Blooms Of Bressingham introduction that blooms right up to the first frost and has fragrant foliage.
Growing Conditions For Geranium Blushing Turtle
Geranium 'Blushing Turtle' is a perennial geranium with a mounding habitat and has unlimited 1 to 2 inch rose-pink flowers from June through September.
It is drought tolerant, needs to be planted in well draining soil and hardy in USDA Hardiness zones 5 through 8.
Geranium 'Blushing Turtle' reaches a mature height and spread of 18 to 24 inches.
Best of all, it is deer resistant.
It grows best in full sun 0r in hotter climates, partial shade.
Here in Indiana, I planted it in partial shade, even though we are not a hot southern climate and it has performed quite nicely.
I also chose to plant this in a raised bed to make sure it received good drainage as Indiana has clay soil.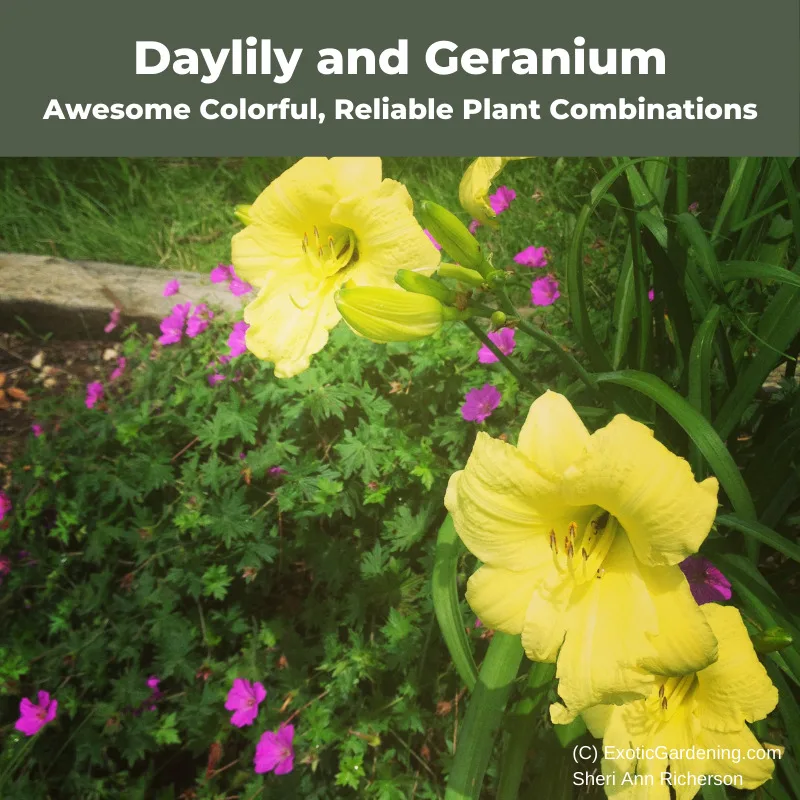 This Daylily And Geranium Makes An Awesome Colorful Plant Combination
If you haven't grown either of these two plants, do get them.
Plant them together and let me know how they do for you.
Both of these plants are real winners when it comes to outstanding perennial plants!