Disclaimer: I did receive some of the items mentioned in this article including the Culti-Cave for free in exchange for my honest review. All opinions are my own.
Successfully gardening in cold climates in early January is about tricking Mother Nature – and choosing the right plants.
Creating an artificial environment in which plants will thrive is not hard – nor does it have to be expensive.
A simple structure covered in clear plastic can raise the inside temperature enough to grow plants year-round.
Now the question is how far are you willing to go to grow what you want to grow all year long?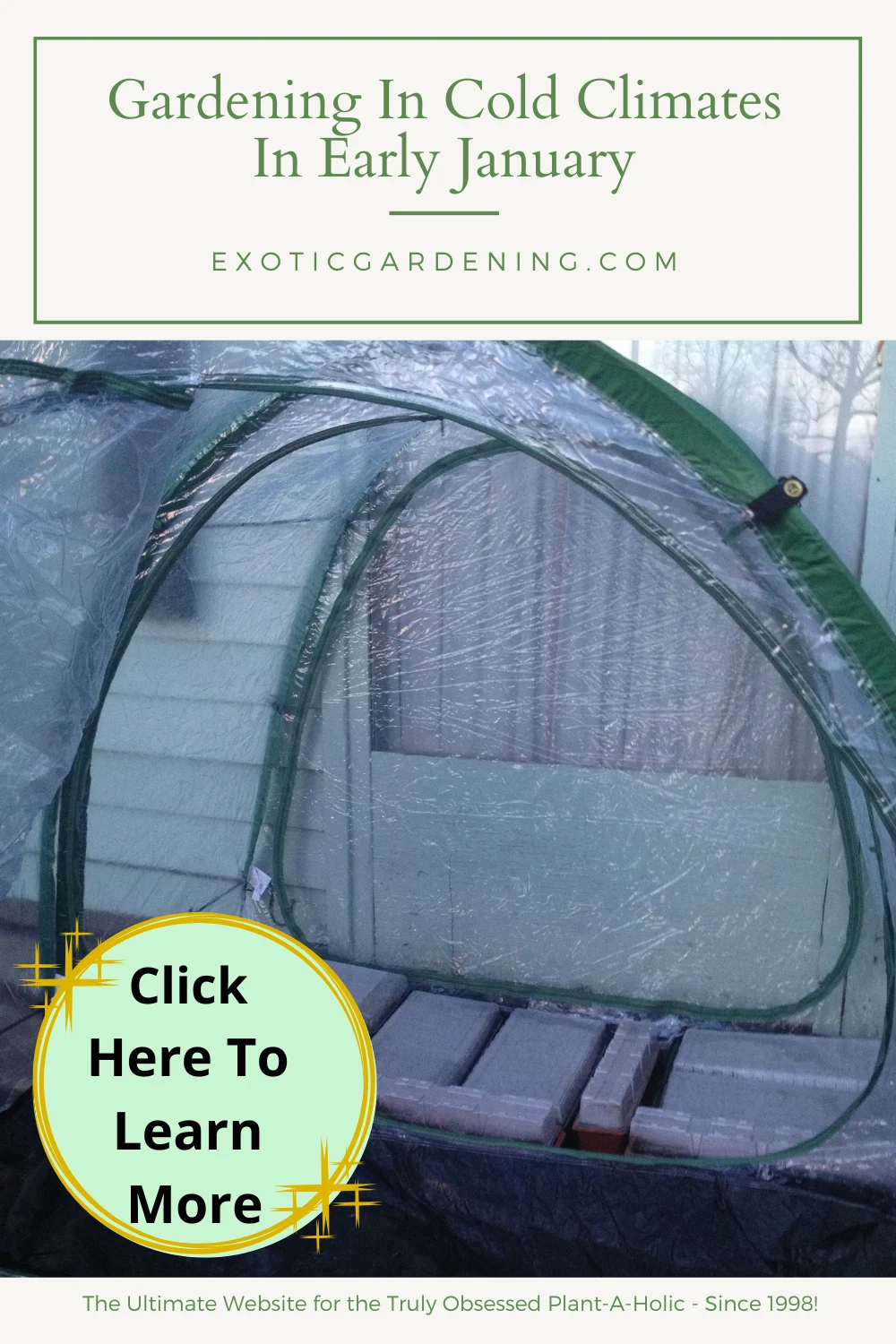 Cold Climate Gardening
As you may know, I live in Indiana which used to be a USDA Hardiness Zone 5, but the new AHS Heat Map has moved us up to a USDA Zone 6.
I could argue with you all day about the fact that many USDA Hardiness Zone 6 plants won't survive the winter here without protection, but that's not the point of this article.
The point of this article is to teach you about cold climate gardening and share with you what will grow fairly easily without a lot of expense or work on your part.
So, with that said, I am going to share with you my own experience here in my garden.
Cold Climate Seeds That Germinate Without Heat
It's already the middle of January and let me assure you, I have been busy planting seeds – indoors and out since late December.
I've done a bit of winter sowing – mostly perennials, although a few half-hardy annuals snuck into the mix.
This year I did my winter sowing in flats and put those outside in my new Culti-Cave Mini Greenhouse.
This made it super easy – and since there is just one seed per pot, transplanting is going to be a breeze.
Normally I winter sow using all kinds of clear milk jugs and two liter bottles with the labels torn off.
But this year I wanted to see what would happen if I did things a bit differently, especially since I had the Culti-Cave Mini Greenhouse.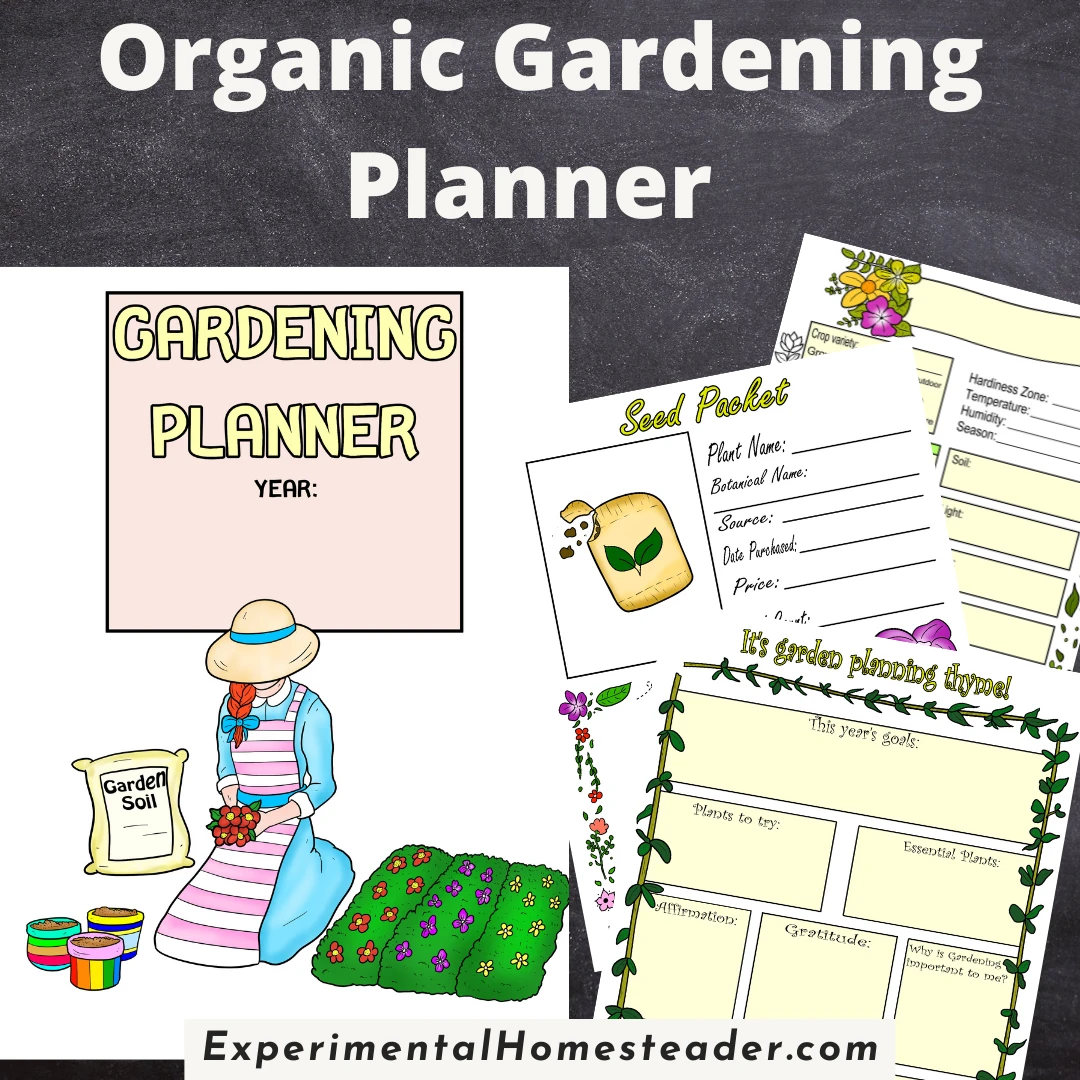 Indoor Seed Sowing Is A Thing This Time Of Year
Indoors I planted seeds of tomatoes, Aristolochia, Eucalyptus, hibiscus, olive tree, banana, jojoba, kenaf, starfruit, American licorice, aloe, Telopea, Abutilon, Callistemon, Epipactis, Puya, Hypocalymma and kangaroo paw.
I love tropical plants and of course warm weather vegetable crops such as peppers and tomatoes.
January might seem a bit early to plant those crops, but I prefer larger plants that are already flowering come May.
I also often tuck a few tomatoes into the garden in mid-March, under cover of course, but that helps those get established by May and they take off even better than the larger plants I've cared for in my heated greenhouse.


Cold Climate Vegetable Gardening
Normally I grow vegetables year-round here in my Indiana garden, but come January some of those plants are starting to look less than stellar.
So what I have done is come up with a timeline of what vegetable seeds I can sow undercover that will sit through the winter and germinate come early spring.
In the garden, I direct sow seeds of carrots, cabbage, celery, onion and parsley.
Be sure to sow these inside of a cold frame or tunnel house for best results.
You can also use an unheated greenhouse if you prefer or even just cover the seeds with elevated row or frost cover or even 6 mil. plastic.
What you are doing is giving the seeds a little protection from severe weather and protecting them from being eaten by birds or other hungry seed eating animals.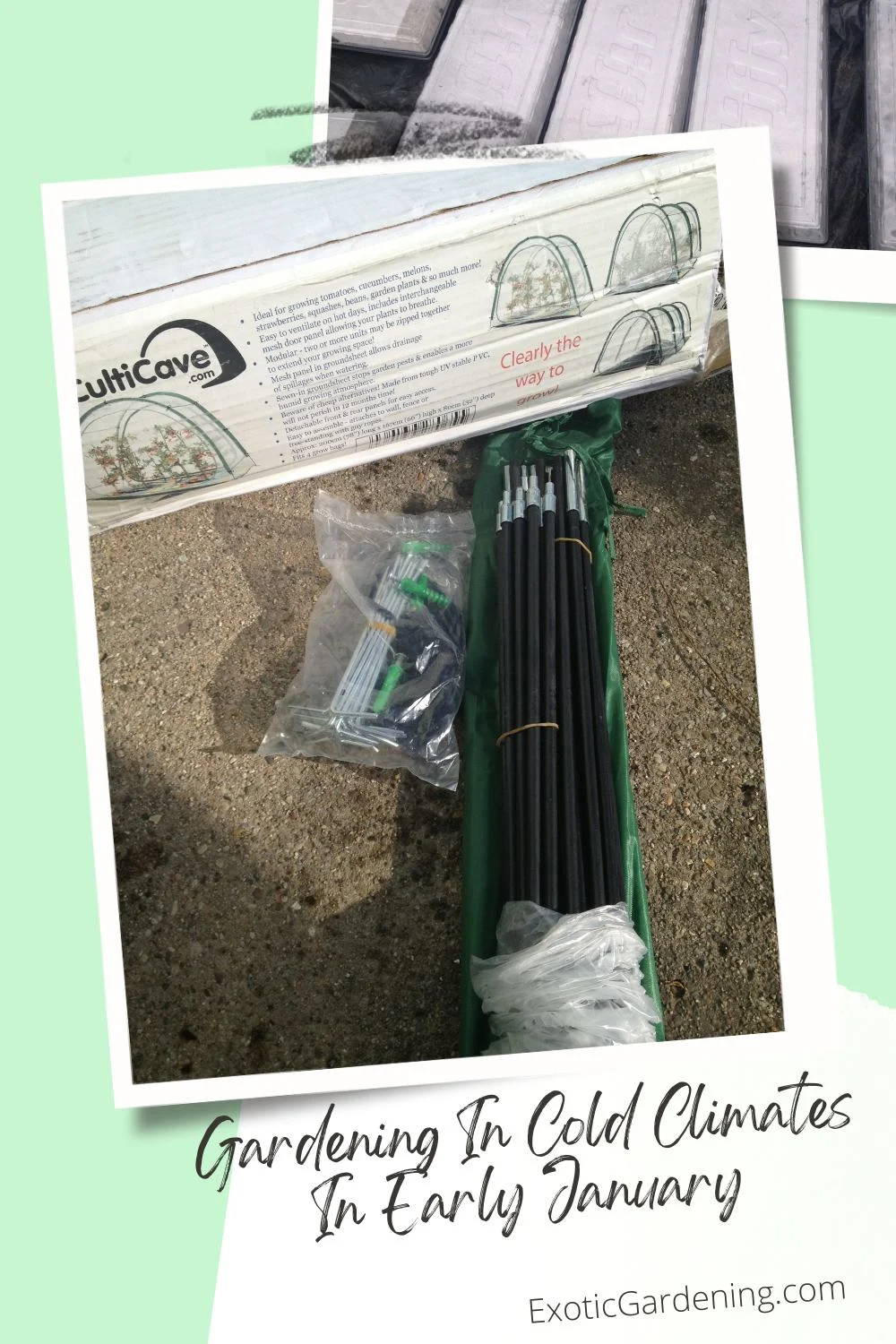 Flower Seeds You Can Direct Sow In January
Other seeds you can sow now include pansy, snapdragon, statice and dianthus.
Again it is best to sow these inside of a cold frame or use the winter sowing technique.
One of the advantages of winter sowing perennials or half-hardy annuals is that nature does the stratification so you don't have to worry about figuring that out.
Many seeds require cold stratification in order to germinate and the fluctuating temperatures this time of year are ideal for that.
January Is The Time To Plant Bulbs, Corms And Tubers As Well
For those of you seeking information on planting bulbs, corms and tubers, there are quite a few that you can plant in a heated greenhouse this month.
Remember the earlier you plant them, the earlier they will flower.
This is especially important if you sell your flowers.
Iris, anemone, Triteleria and crocosmia are good choices for the cut flower market. 
Choose a variety of colors and remember to alternate your planting dates so they aren't all in bloom at the same time.
Also, for those of you who still have tulips or other bulbs, corms or tubers that you should have planted in the fall, but didn't, if the ground can be worked, get those in the ground this month!
If the ground is frozen solid, plant them in pots and put those pots in protected areas.
Come spring those hardy bulbs will grow and bloom, then you can plant them out in the garden.
The Backside Of The Gardening Calendar