Make a citrus theme garden using a combination of citrus trees and citrus scented herbs such as lemon balm, lime balm and lemon mint.
Herbs are easy enough to grow.
For those who do not live in a warm climate, certain varieties of citrus trees grow in containers and will in fact fruit.
Here are a few ideas to get you started creating the citrus theme garden of your dreams.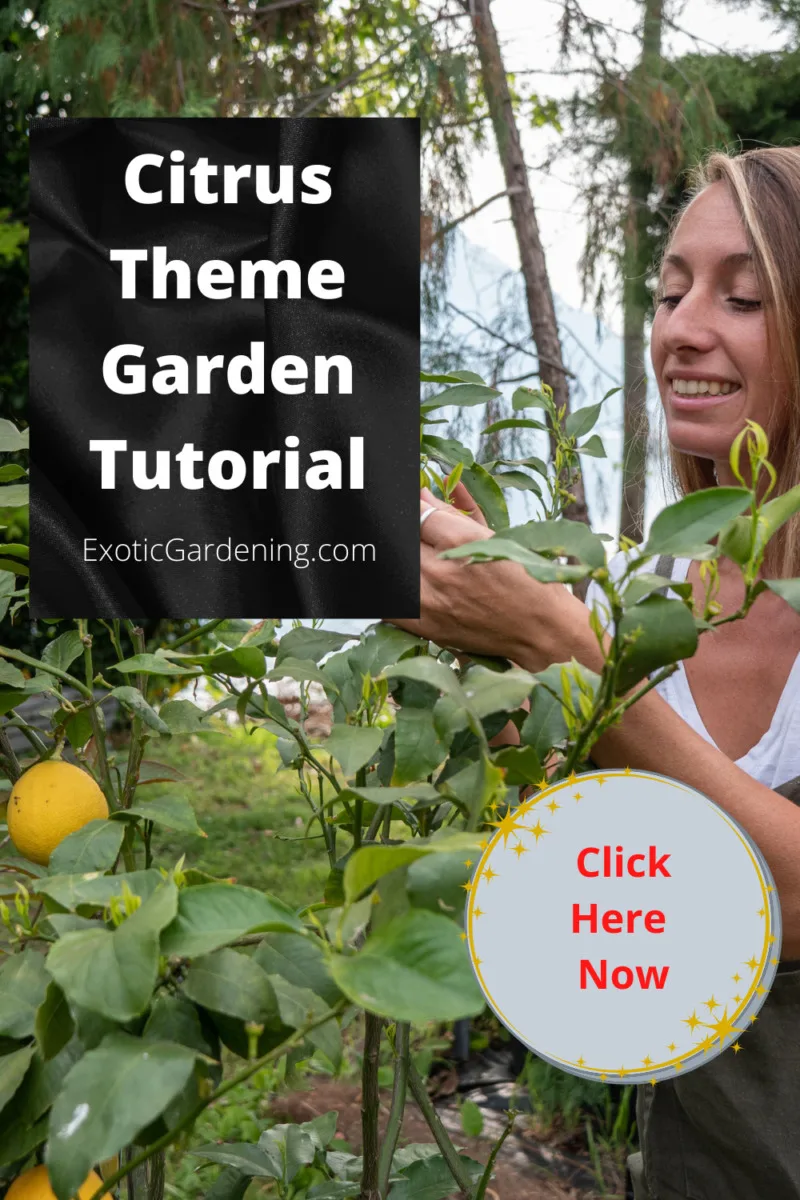 First Decide The Purpose Of Your Citrus Theme Garden
Are you looking to design a garden that is appealing and functional?
What about a garden with therapeutic benefits and practical applications?
That garden should contain plants bursting with flavor and scent as well as a nice place to sit and relax or maybe even entertain.
A citrus theme garden, full of energy and inspiration, may be just the ticket.

Vibrant Oranges And Yellows Belong In A Citrus Theme Garden
Color, a variety of herbs as well as citrus trees are important features of a citrus theme garden.
When creating a citrus theme garden, it is important to use more than just citrus trees.
Citrus colored flowers in vibrant yellow and oranges, unquestionably make a delightful, vivid statement and set an optimistic mood.
Aromatic herbs, such as lemon mint, orange mint, lemon verbena, lemon balm and lime balm, with citrus scented foliage, can add the energizing fragrance of citrus to the air even when your citrus trees are not in bloom.
First Decide Where To Plant Your Citrus Theme Garden
The first step in creating a garden with a theme is to decide where the garden will be planted and what the space surrounding the garden will be used for.
For example if you want a tranquil spot to meditate near a healing water garden you will not need as extensive of an area as you would if you planned to entertain in the area.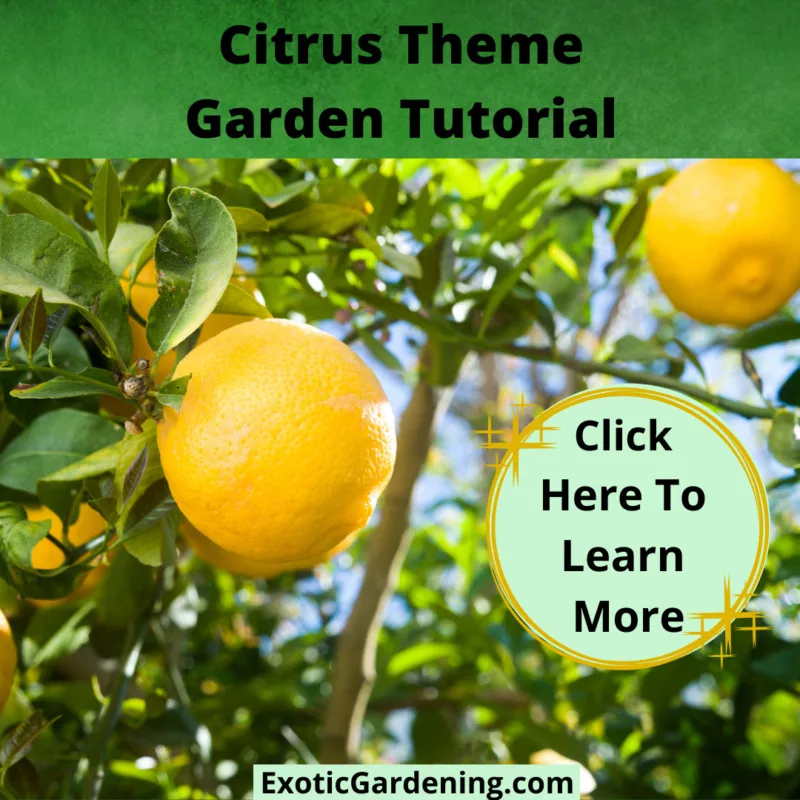 Choose The Right Plants For Your USDA Hardiness Zone
Choose plants that are hardy for your USDA growing zone.
If you intend to plant your citrus trees in the ground make sure you buy ones that are hardy for your zone.
For example, Poncirus Trifoliate 'Flying Dragon,' is hardy to zone 6.
The oranges from this plant are best used for marmalade as they are small and bitter.
If you are in zone 7 and above there are quite a few hardy citrus cultivars to choose from.
The best way to know if the plant you are choosing will survive a winter in your zone is to read the plant tag.
The tag should also tell you if the variety you are choosing needs a pollinator or if it is self-fertile.
Plant Tender Plants In Containers
You can choose to grow your citrus theme garden in containers.
An alternative choice to planting in the ground is to plant in pots.
Potted plants offer many choices that conventional gardens do not.
If you are growing plants that are not hardy in your zone, simply take the containers in during the winter and place them in sunny windows.
You can group plants in pots.
For example, if you plant a dwarf navel orange tree in a pot you can place some brightly colored citrus scented marigolds (Tagetes tenuifolia) and a Sweetheart Lime Ornamental Sweet Potato Vine (Ipomoea batatas) in with the citrus tree.
This way you have a moveable instant arrangement with vivid colors that resonant the citrus theme.
When it comes to choosing containers, you can buy containers in vibrant citrus colors, lemon, lime, even orange.
If you can't find pots in the colors you want, buy terra cotta ones and paint them yourself with latex paint.
You could also purchase some citrus shaped stamps or even cut up a few oranges, lemons or limes to make your own stamps so you can add interesting citrus shapes to the outside of the pots.
By selecting just a few plants you can create a theme garden that is pretty as well as practical.
This unique garden can be a great place to entertain as well as a place to relax and refresh.