Instead of the usual pond plants this year, try a floating water garden.
One of the most popular water garden accessories to hit the marketplace is been the Floating Planters and Pools.
The Floating Planters made their debut at the 1999 Chelsea Flower Show.
Their unique design which was conceived by Paul Cooper won a Royal Horticultural Society Award.
Cooper wanted to create a water feature with a difference.
The interest level in his western red cedar planters was so high that he teamed up with QualCraft to develop the floating garden range of products which now includes a variety of planters and pools.
It has only been in the past year that these products have made their way into the hearts of American gardeners.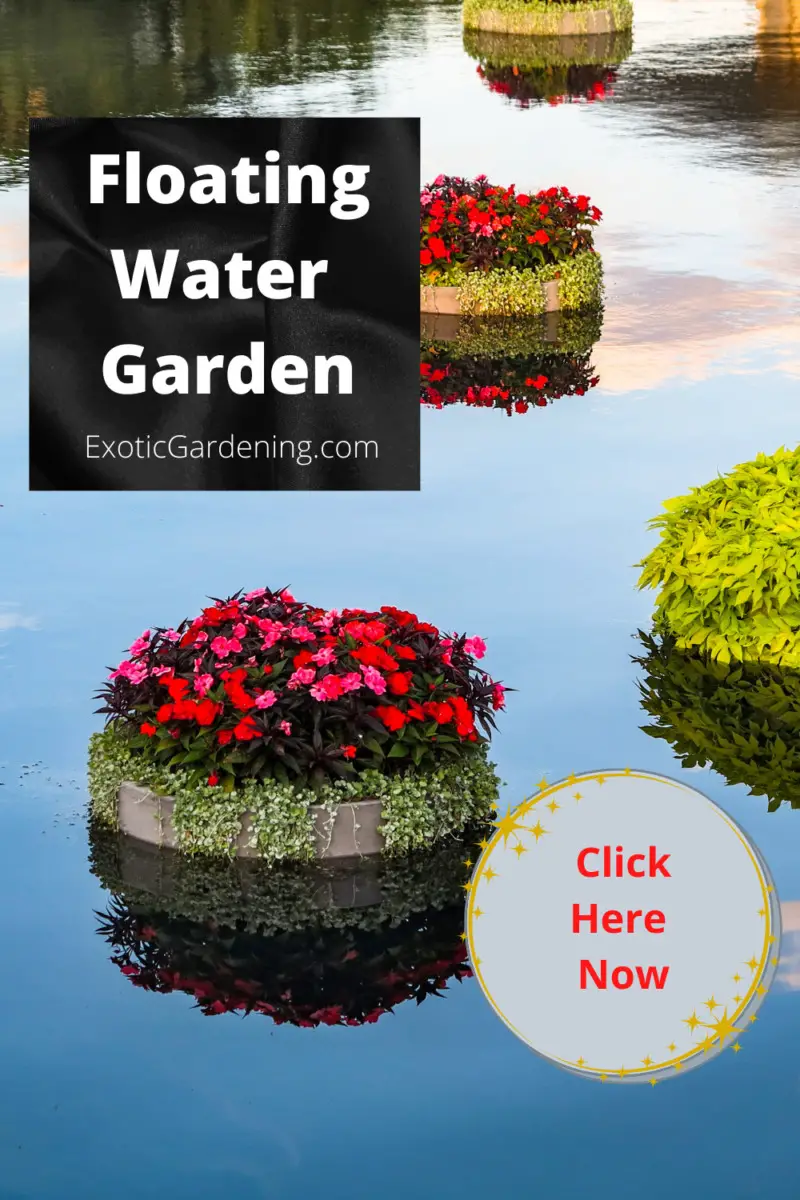 Advantages Of Floating Water Gardens
Floating Gardens offer several advantages over more traditional methods of growing water garden plants.
For one, the planters freely drift across the water's surface which creates a spectacular display of color and movement.
The continual drifting allows visitors to the garden to see many different views from the same angle which traditionally had not been possible because of the permanent position that is typical of standard plantings.
However, should the grower prefer the plants to remain stationary, the floating planters can easily be attached to a fixed point so that they maintain a permanent position on the waters surface instead of float freely as they were designed to do.
A teetering point is attached to the filter unit specifically for this option.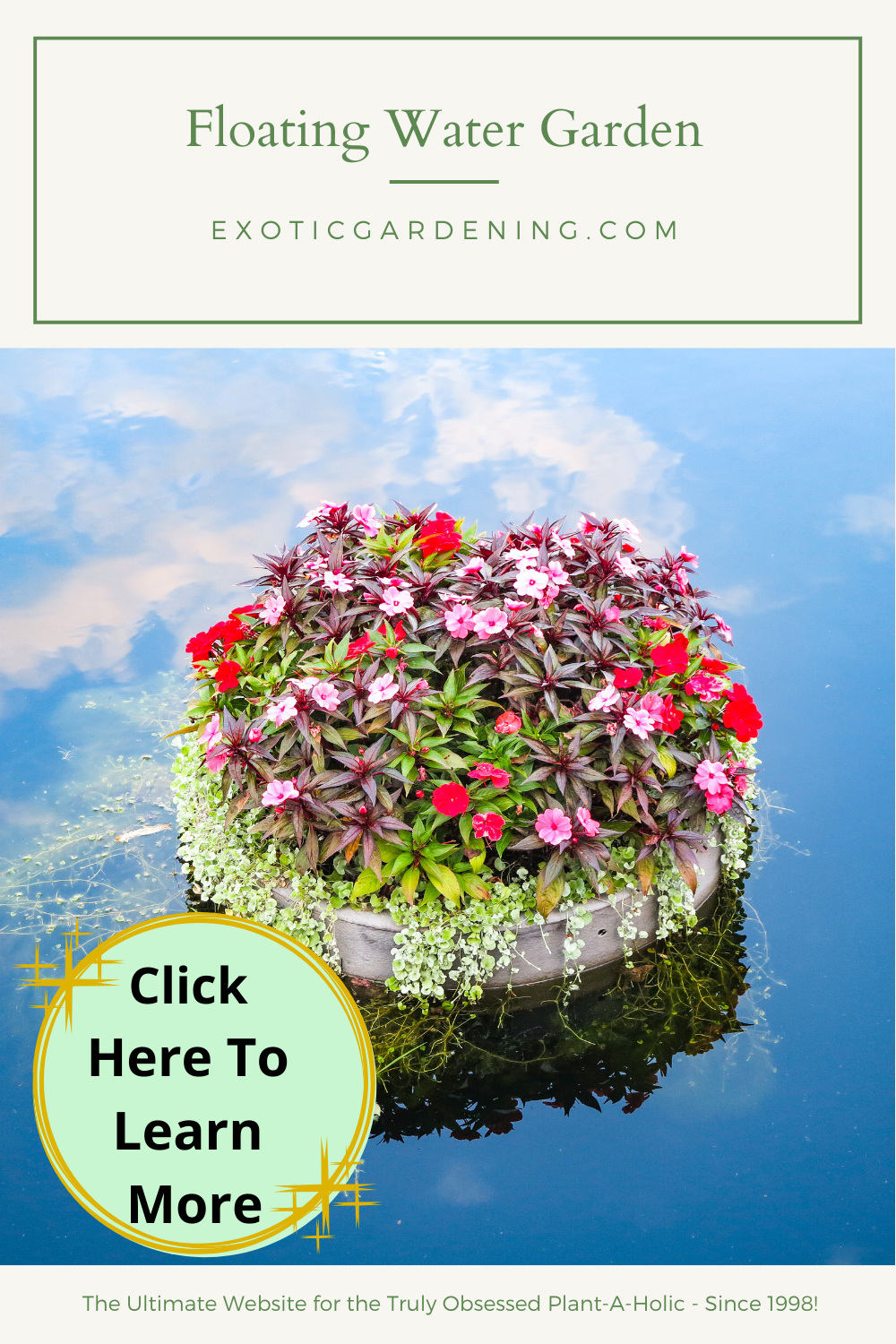 Plants That Do Well In Floating Water Gardens
There is a variety of plants that can be grown in the floating planters, some of which may not fair quite as well if they were fully submersed in a pond.
The level of submersion determines which plants the planter can successfully grow.
This task is accomplished by loading the planters with the correct amount of gravel which in turn allows the grower to adjust the depth at which the planters float.
Typically the planters depth in the water will range anywhere from three to five inches.
The real advantage to this is that plants that prefer different conditions can be grown in the planters.
From plants that prefer dry or normal conditions which would require the planter to be submersed three inches deep, to bog plants that prefer to be half an inch lower to aquatic plants which would require the planter to be submersed five inches deep.
The wide variety of plants that can be successfully grown in the floating gardens makes the overall effect more stunning.
This is especially true when visitors see non-traditional pond plants growing in water.
Plants that have been successfully grown in the Floating Gardens include Heucheras, Lamiums, Phormiums, Heathers, ornamental grasses, Cannas and Bamboos.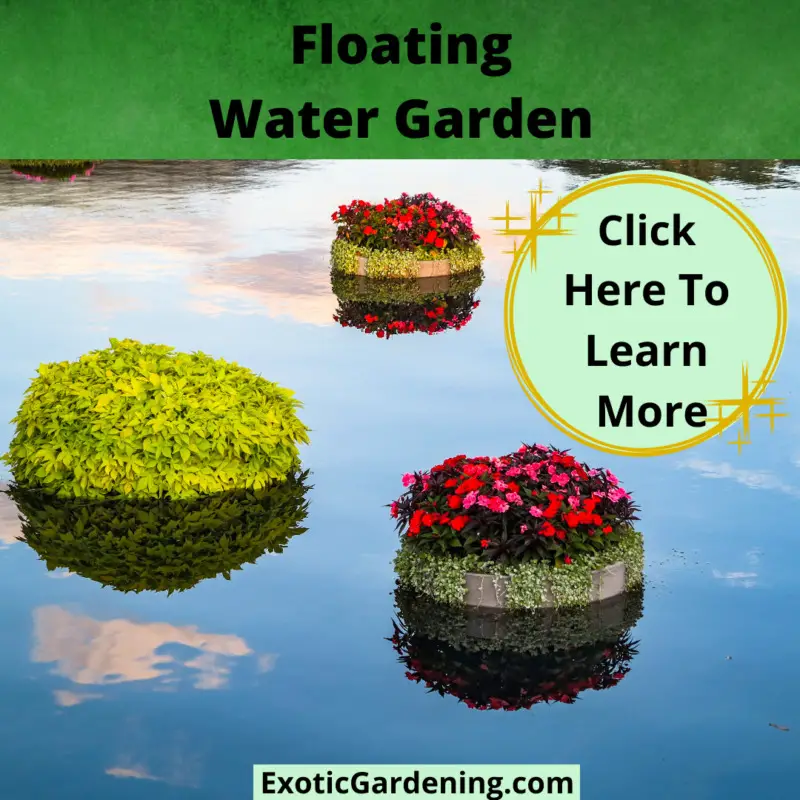 How Floating Water Gardens Work
The overall design of the floating planters allows for minimal care.
The floating planters draw water from the pond which allows them to be self-watering.
However, this does require the grower to be more observant of their plants to make sure they are positioned at the proper depth at all times.
Considering water conservation is at an all time critical high, allowing plants to take up just what they need can be a real plus for consumers.
Placing individual pots of plants inside of the larger floating garden container allows for ease in changing the arrangement as the flowers fade or you simply want a change of scenery.
It is also far easier and less messy to remove individual containers and store them for winter if the gardener chooses to place non-hardy plants in it than to dig plants or remove pots from the pond.
Floating Water Gardens Protect Plants From Damage
Another advantage is that the floating planters protect the plants from damage by fish.
Since the fish never actually see the roots of the plants there is no chance that the fish will eat the plants or that they will be harmed by plants that may be poisonous to them.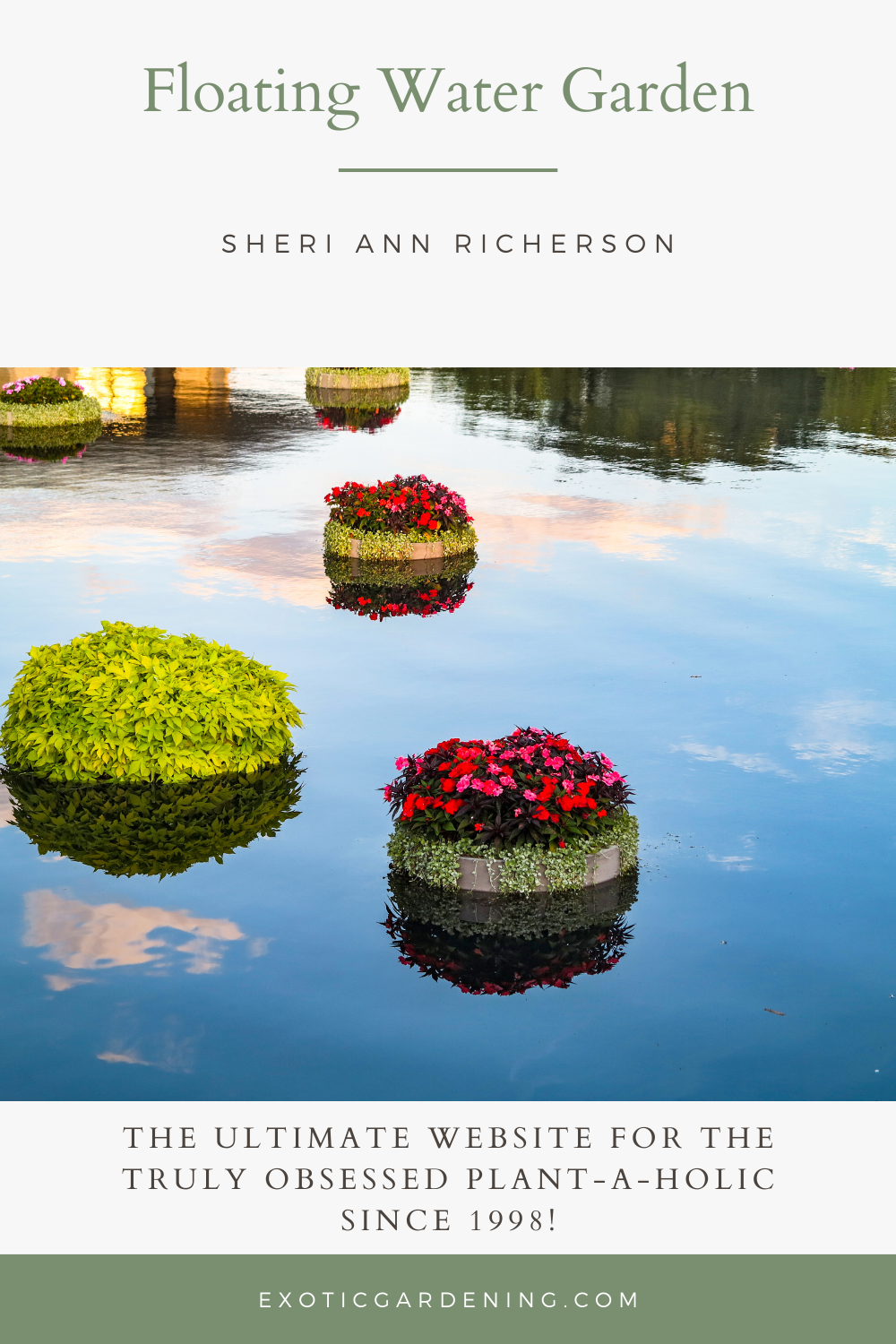 No Pond For A Floating Water Garden? No Problem!
In addition to the floating planters, there are also several varieties of pools that can be sold to display the planters in.
The pools are octagonal in shape and easy to assemble.
They can be used indoors or outdoors and come in a wide range of sizes and finishes including Oak, Cedar and Stainless Steel.
The are designed to hold a depth of eleven inches of water and can accommodate fish.
The pools can be used in combination with the floating planters or as a stand alone water garden feature.
They do come equipped with a small electric pump that imparts a gentle movement to the water.
Floating Water Gardens Work Indoors Or Outdoors
The floating garden kits can easily be placed in reception areas, patios, lawns, conservatories or anyplace where a water garden feature would be appropriate.
The advantage to this is that the pools require no digging and can easily be moved to another area.
Drawing consumers' attention to these to floating garden kits should be a piece of cake.
Since they are simple to set up, easy to move and able to be displayed indoors or out my suggestion would be to set one up so that the first item they see upon entering your place of business is the floating garden.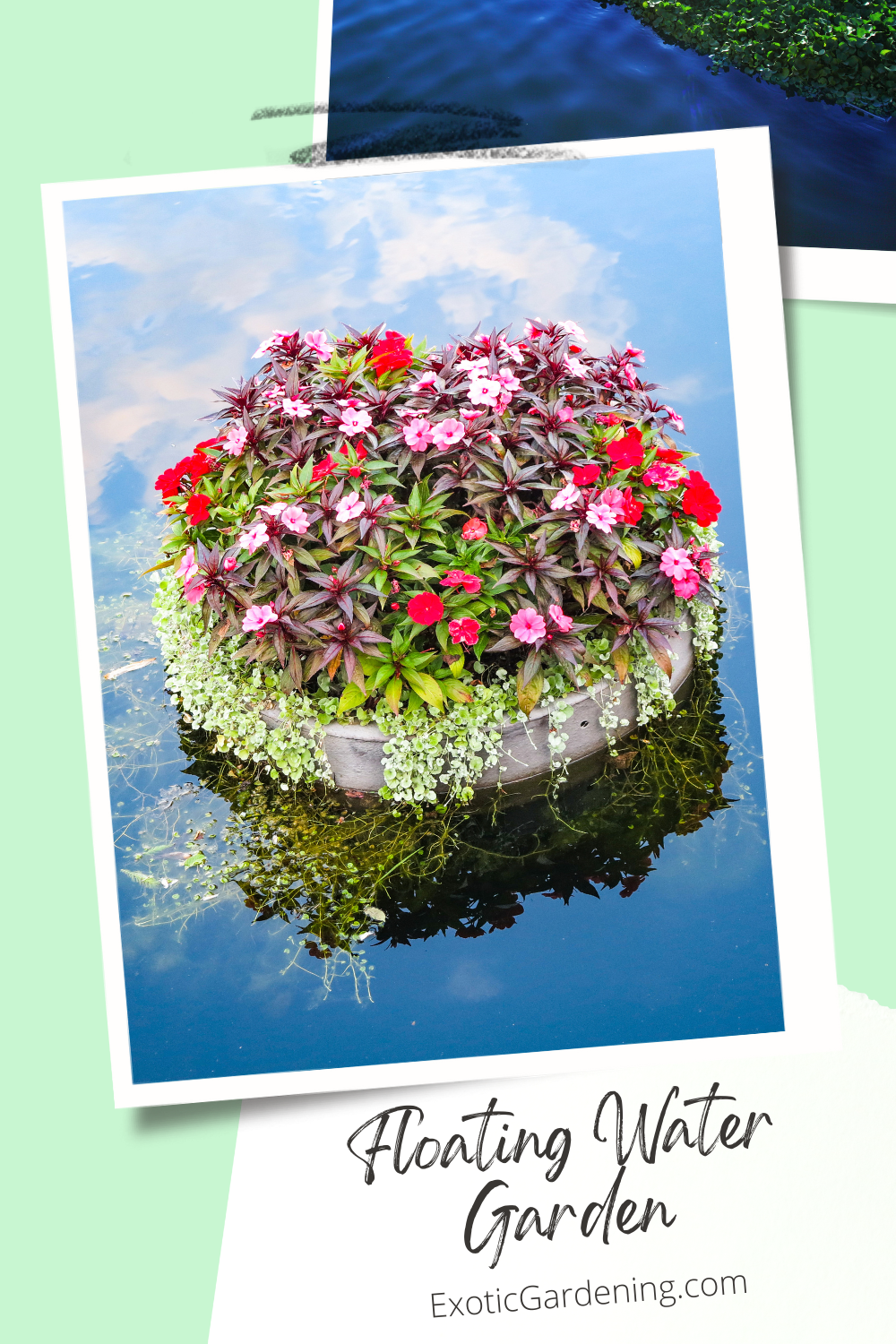 How To Display Floating Water Gardens In Retail Shops
Instead of simply setting boxes around for customers to purchase, take some of the planters out of the boxes and strategically plant them.
If possible, set up several floating gardens throughout your shop.
Fill one with perennials and don't forget to add some of those great annual plants that are often overlooked.
Design the area around the displays with natural looking filler plants such as small shrubs or standards.
This is another great way to draw customers' eyes to plants that blend in when they are among all the other ones.
Don't forget the heat loving tropical plants.
They look great around a water feature and don't really mind the hot summer heat.
Make this season your best one yet by featuring the floating garden kits, floating planters and pools.
Be sure to change the displays frequently and possibly even make the theme match the month.
For example, June is National Rose Month, make a rose garden.
For July dress your Floating Garden kit up in red, white and blue.
This is sure to increase sales of both the product and the accessories throughout the growing season.
The sound of moving water can help relieve stress and relax people which is why so many people create healing water gardens in their yard.