Boswellia sacra is technically classified as an herb, however I found it difficult to acquire either a start or seeds of this plant. 
I have been on the hunt for seeds or starts of this plant for over three years. 
After a very long search for either a live Boswellia sacra plant, or seeds I found that Living Stones Nursery in Tucson, Arizonia had some small plants for sale. 
Learning how to grow this plant and keep it was happy was not easy.
I lost the first two before I figured out how to successfully grow it.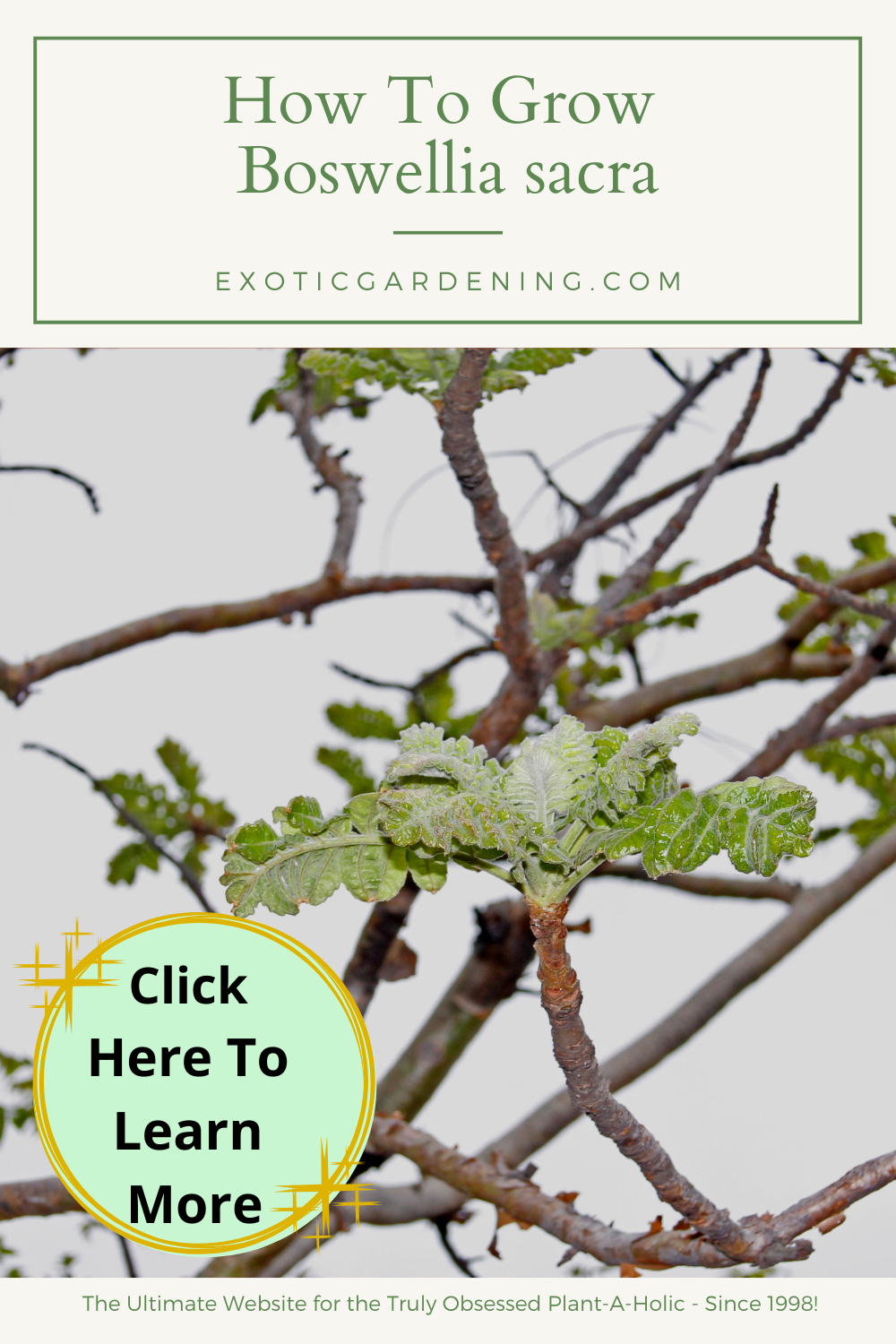 Frankincense Tears
The botanical name of this leafy forest tree is Boswellia sacra, and it hails from the Burseraceae family.
The tree is most commonly known for the highly scented gum resin that it gives off.
This resin is obtained by making a deep, longitudinal incision in the trunk of the tree.
Just below this incision, a narrow strip of bark that measures approximately five inches long is peeled off allowing the milk-like juice to run out.
Once air touches this juice, it hardens and the incision is deepened.
It takes approximately three months for this substance to harden into the yellowish "tears" that we purchase.
Sap from the Frankincense trees can be gathered from May until about the middle of September when rain showers end the harvest season.
Although young trees yield the best harvest, the older trees will also yield fluid which is more of a clear, glutinous fluid that resembles coral varnish.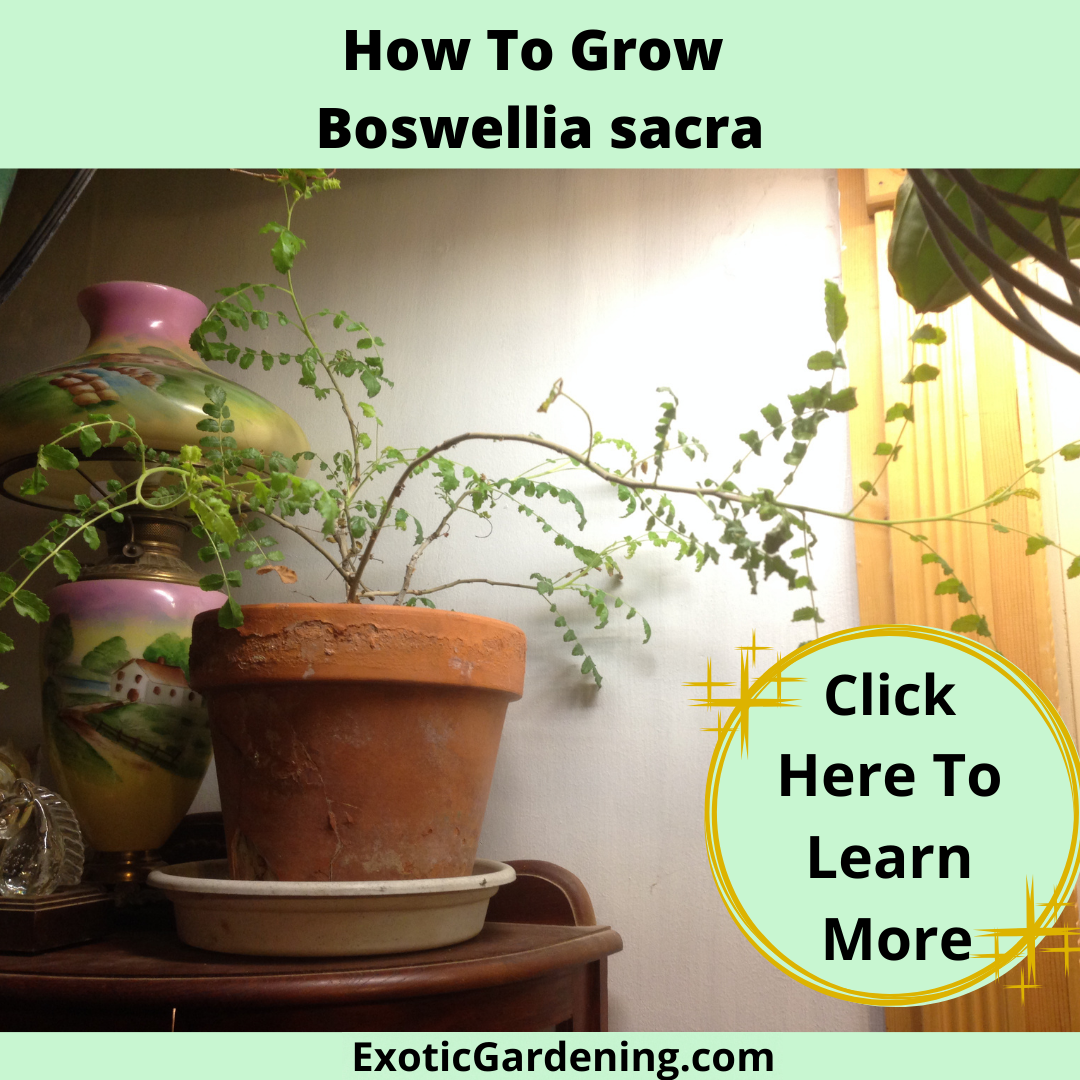 Boswellia sacra Native Enviroment
Grown on the Somali coast line, without soil, these trees seem to grow out of polished marble secured by thick oval masses of substances that resemble lime and mortar.
They produce white or pale rose flowers on short pedicels in single axillary racemenes that are shorter than the leaves.
Frankincense can also be found on the coast of Southern Arabia where the Somalis make yearly visits to collect the resin of the Frankincense.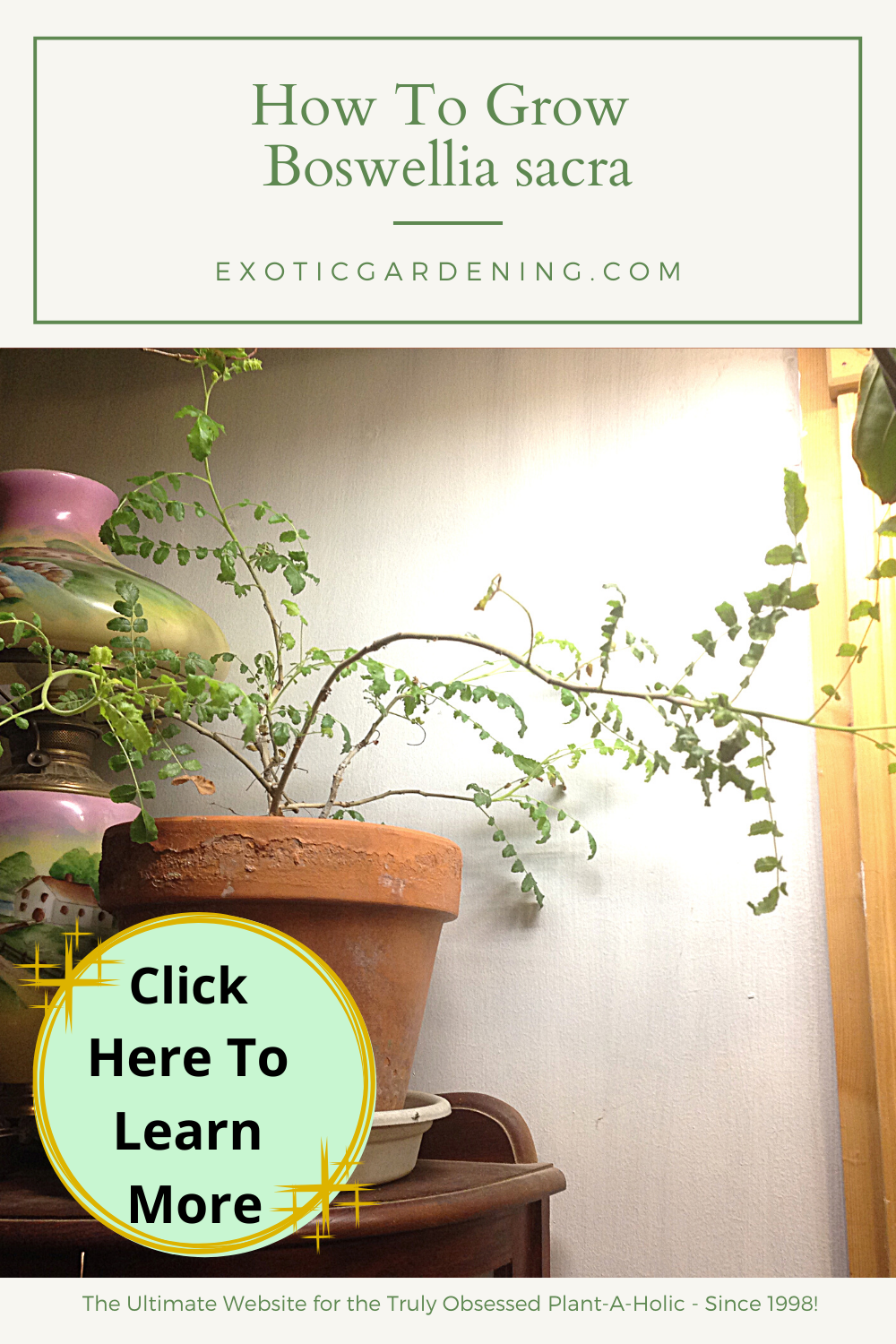 Medicinal Uses Of Boswellia sacra
Although Frankincense is a stimulant, it is seldom used internally anymore although at one time it was in great demand.
It was thought to be an antidote to Hemlock, as well as during the tenth century it was used for tumors, vomiting, ulcers, fevers, as well as dysentery.
The Chinese were also known to use it for leprosy.
The most common use these days for the Francinsense resin is incense and pastilles.
It is also commonly substituted for Balsam Of Peru or Balsam Of Tolu in the manufacturing of plasters.
Another modern day use of Frankincense is steam inhalation which is supposed to aid in relieving bronchitis and laryngitis.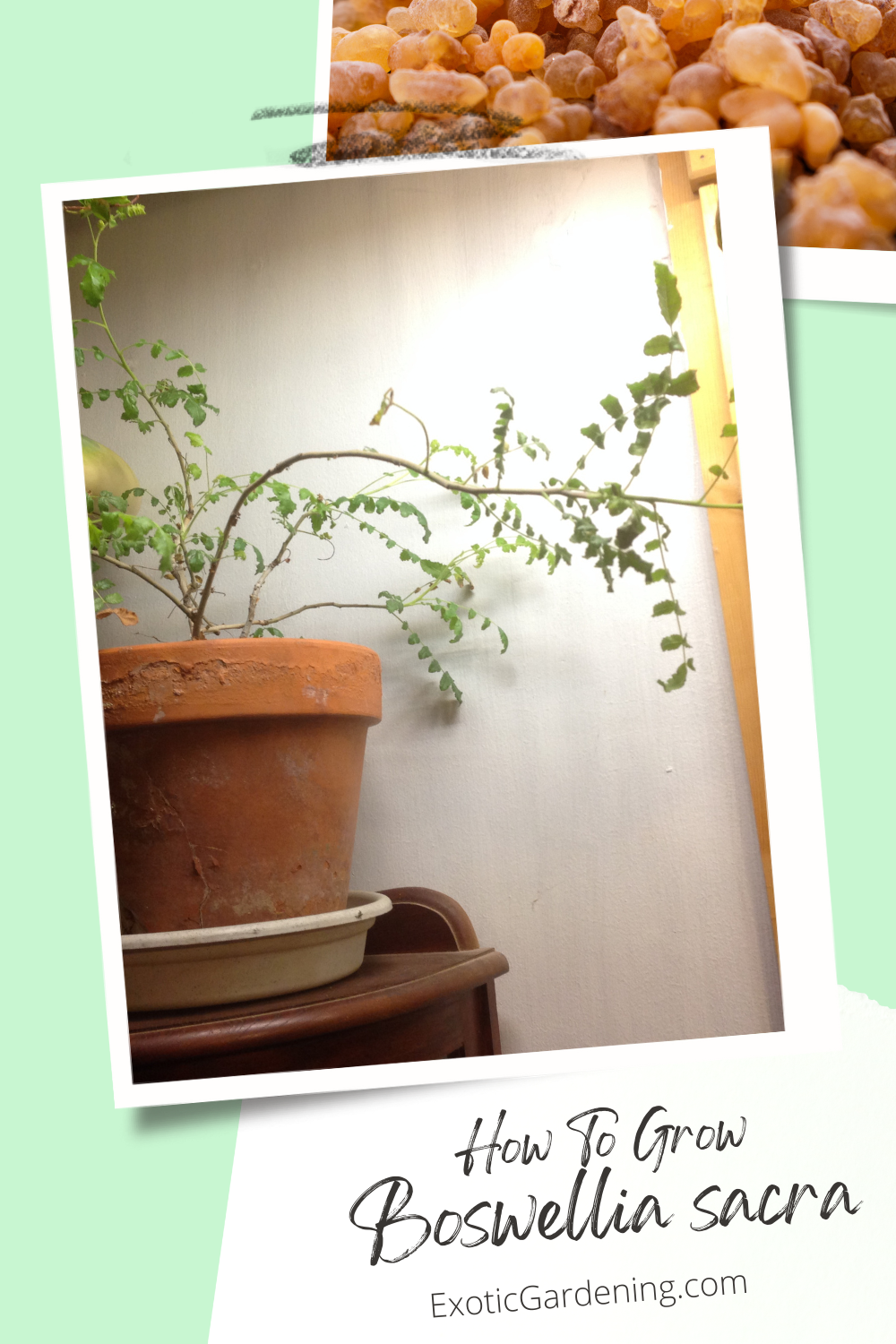 Religious Uses Of Boswellia sacra
Religious use of Frankincense can be found among the Jews, Greeks, at the feast of Bel, Among the Egyptians and of course, it was a gift to Baby Jesus and is used among modern day Christians, and other religions.
Most commonly associated with spiritualiy, it is easy to see that Frankincense has many other useful properities.
If you have not yet tried the resin of this plant, I would definitely reccomend getting some and trying it, I find the odor very pleasing.

How To Grow Boswellia sacra
As far as growing Boswellia sacra, I have learned from hands on experience. 
The first time I found them I ordered two small seedlings.
As soon as I received them,  I potted them up using my regular potting mix which is a combination of peat moss, perlite and vermiculite.
I also used plastic pots.
I noticed they did not grow much over the summer which I thought was odd, but I figured maybe they were just slow growers.
That winter when I lost both seedlings even though they were in the greenhouse among other cacti and succulents that were thriving.
The second time I ordered a larger one and potted my plant up in a pre-made cactus potting mix as soon as it arrived.
I chose to grow it in a clay pot the second time around and it did much better than what it did in the plastic pot.
I noticed immediate growth. I also noticed it grew pretty fast during the summer months.
The cooler temperatures above freezing did not bother my plant – nor did the higher ones my greenhouse experienced during the summer months.
I also tried growing it indoors one winter and it did fine without needing any additional light.
Boswellia need evenly moist, well drained soil.
Do not allow this plant to sit in water.
This plant does not like wet soil – nor does it like being completely dry.
I found the plant preferred indirect sun.
When I move it outdoors I put it in a shady area that receives a little bit of sunlight as the sun goes down in the evening.
Indoors I put it in a window where it gets similar sunlight in the evening.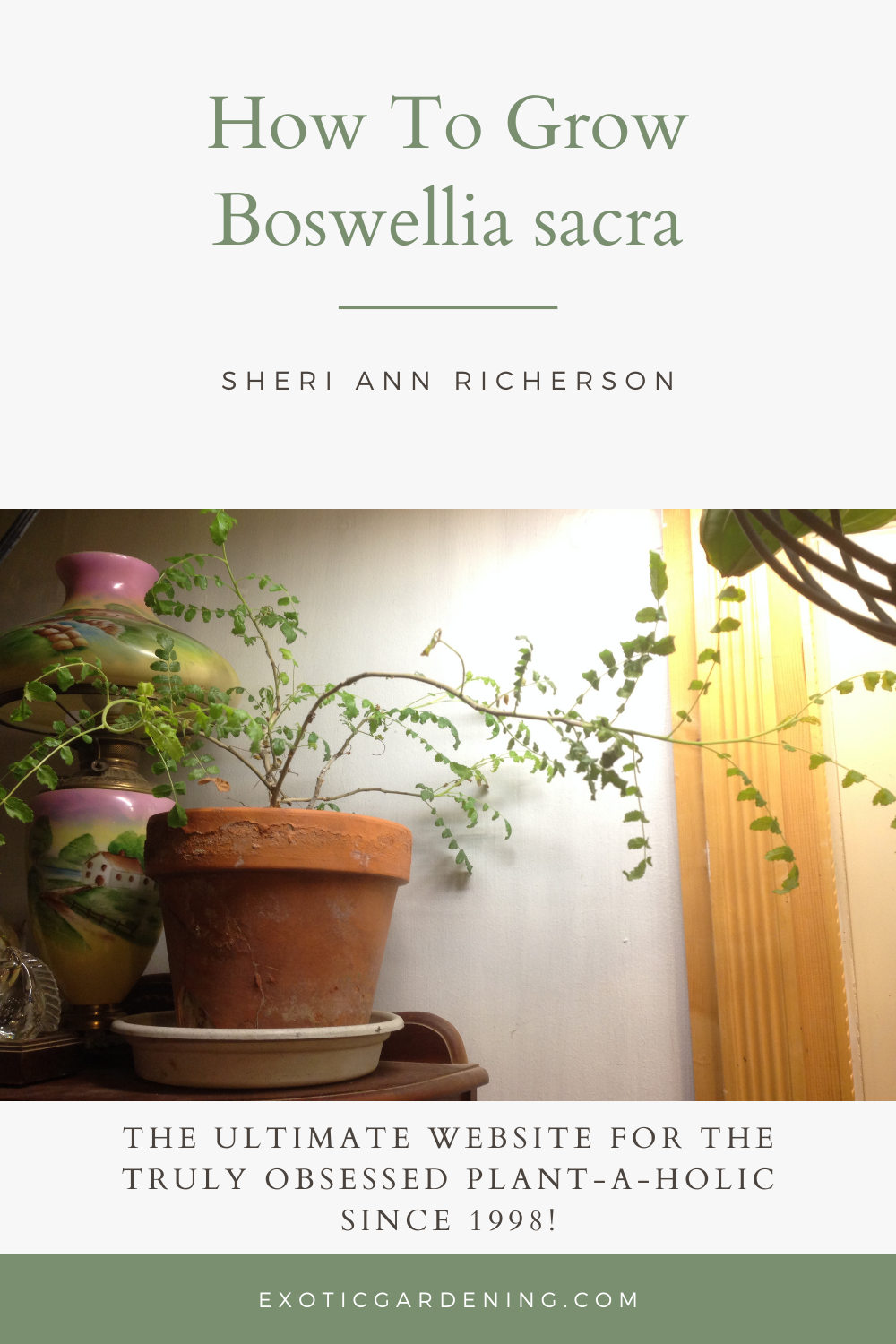 Tips On Planning A Medicinal Herb Garden
Check out these tips for planning a medicinal herb garden. Learn how to choose what herbs to get started with, how to choose the right site and more.