Growing popular medicinal herbs for natural health is gaining traction.
While some popular medicinal herbs are a bit harder to grow, there are three that are quite easy to grow.
In this article, you will learn about the properties and uses of three popular medicinal herbs – St. Johns Wort, ginseng and ginko biloba.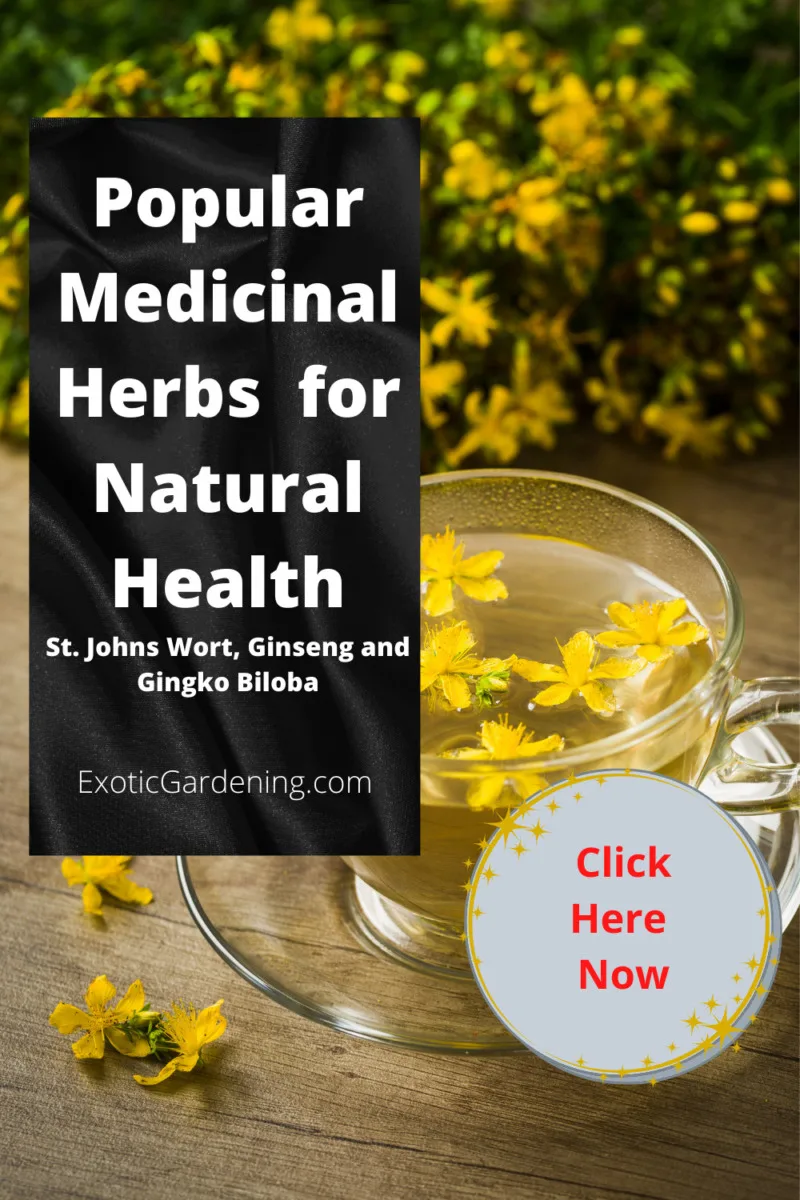 Why These Three Popular Medicinal Herbs?
St. Johns Wort, Ginseng, and Gingko Bilobo all have one thing in common and that is why I chose them.
They are medicinal herbs that you can grow in your garden.
They have some properties that are alike and some that are quite different.
Let's explore each of these herbs and what medicinal properties they have.
Then you can make a decision which one of these popular medicinal herbs you want to grow.
Or for that matter, you can grow all three!
St. Johns Wort Is One Of The Most Popular Medicinal Herbs
St Johns Wort is a diuretic, which is often used for depression or nervous conditions.
The seeds of this plant develop without fertilization.
The oil helps speed the healing of minor wounds and sores.
To make an infusion of St. Johns Wort oil, soak one cup of flowers in a jar of olive oil.
Cover the jar and infuse in the sun shaking daily for two to three weeks.
Strain the mixture and place in a dark, cool place.
The oil applied externally is good as a treatment for swollen breasts, wounds, ulcers and burns.
Using a tea made from St. Johns Wort with a bit of aloe powder added will help the liver, uterine cramping and is also beneficial for bed wetting problems.
St. Johns Wort was named for John the Baptist because early Christians believed that the flowers released blood-red oil on August 29, the anniversary of the saint's beheading.
The plant is also used as a talisman to protect the wearer from demons.
According to legend, if this herb is harvested on June 24 and placed under your pillow, St. John will appear in a dream and bless the dreamer for another year.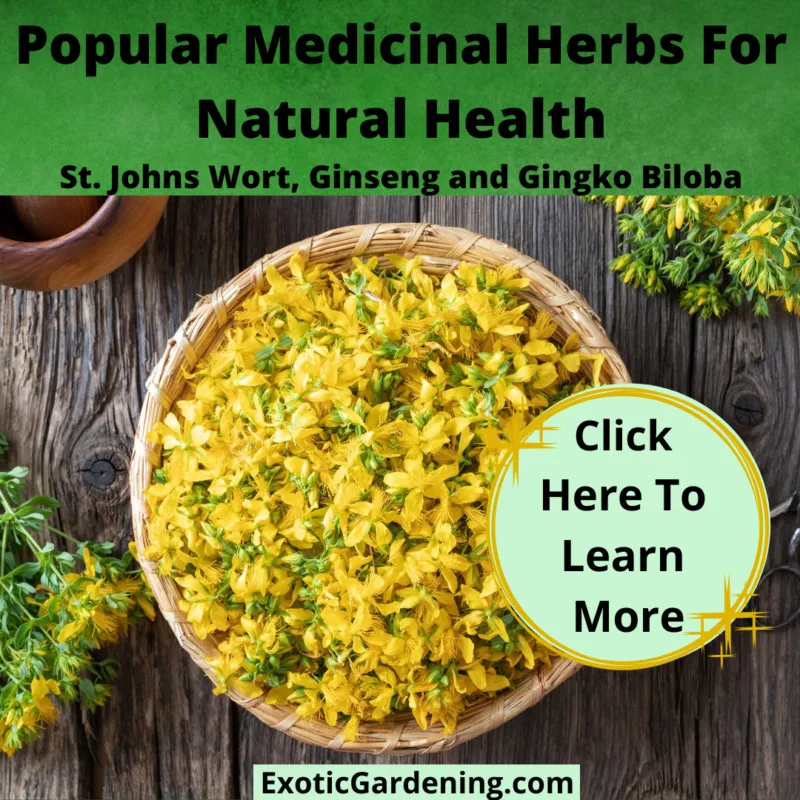 Ginseng Is Another One Of The Popular Medicinal Herbs On The Market
Ginseng must be used continuously or it won't help much.
Mostly used as a tonic, Ginseng is a stimulant, and a stomach aid.
It affects the heart and circulation.
It is a general tonic that affects the whole body, as well as stimulates the appetite.
Ginseng tea taken hot is effective for colds, chest troubles, and coughs.
It helps to normalize blood pressure, as well as reduce cholesterol, tones the heart, and lowers blood sugar.
It is a nutritive tonic used for anemia.
Do not use large amounts on elderly or weak persons during fevers or inflammation.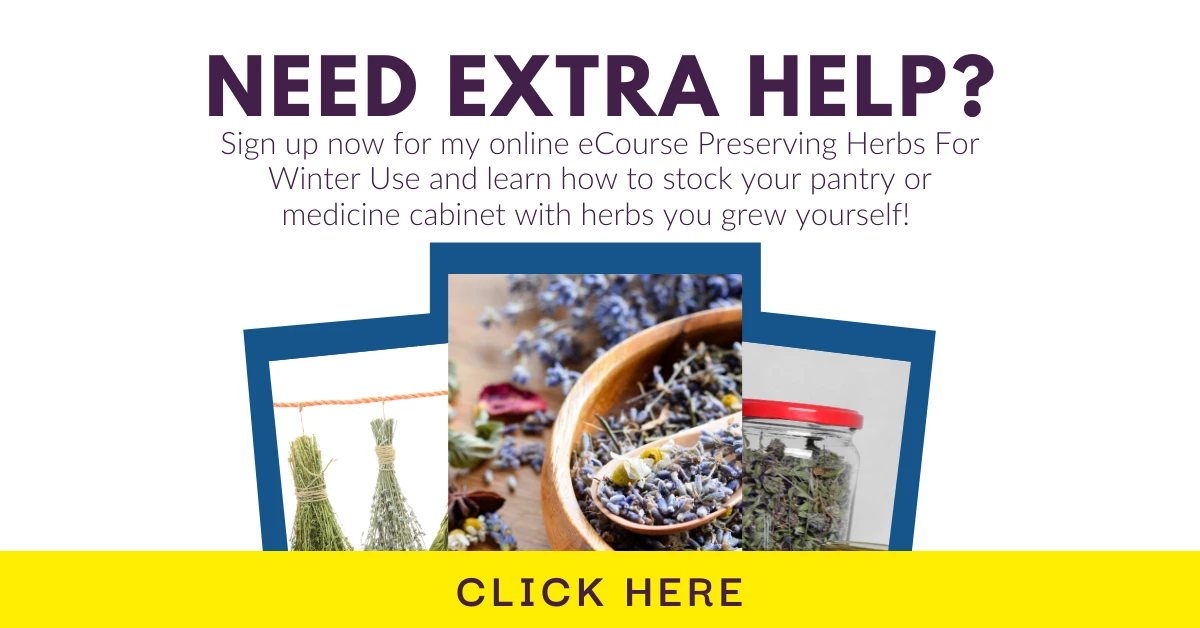 Ginkgo Biloba Is Another One Of The Popular Medicinal Herbs You Can Grow
Researchers speculate that an extract from the leaf of Ginkgo Biloba may improve microcirculation of blood to the extremities as well as providing antioxidants that help joint inflammation.
This plant is also used for memory enhancement, and some research has shown that ginkgo may help in the early stages of Alzheimer's disease.
It has been found to improve short-term memory, as well as to aid in absorption and metabolism of oxygen, and to protect the brain from oxygen deficiency, among other things.
Besides growing your own herbs for pleasure, it is a safe way to oversee that no pesticides enter your body.
As you can see, medicinal herbs have many beneficial properties, which is another great reason to grow them.
Remember that this is not meant to be medical advice, and a local physician should see to severe or long-term problems.
Many physicians today are willing to use herbal as well as more traditional forms of treatment.