Disclaimer: I did receive some items for free in exchange for my honest review. All opinions are my own.
BROOMFIELD, CO – Gardeners are generally a calm, even contemplative, group of people.
Their passions are ignited by a sweetly scented flower or a great-tasting tomato variety.
But one recent issue has turned their passion into vitriol and turned the calm of the garden into a brewing storm of controversy.
That issue is GMOs – or, more precisely, genetically engineered (GE) seeds.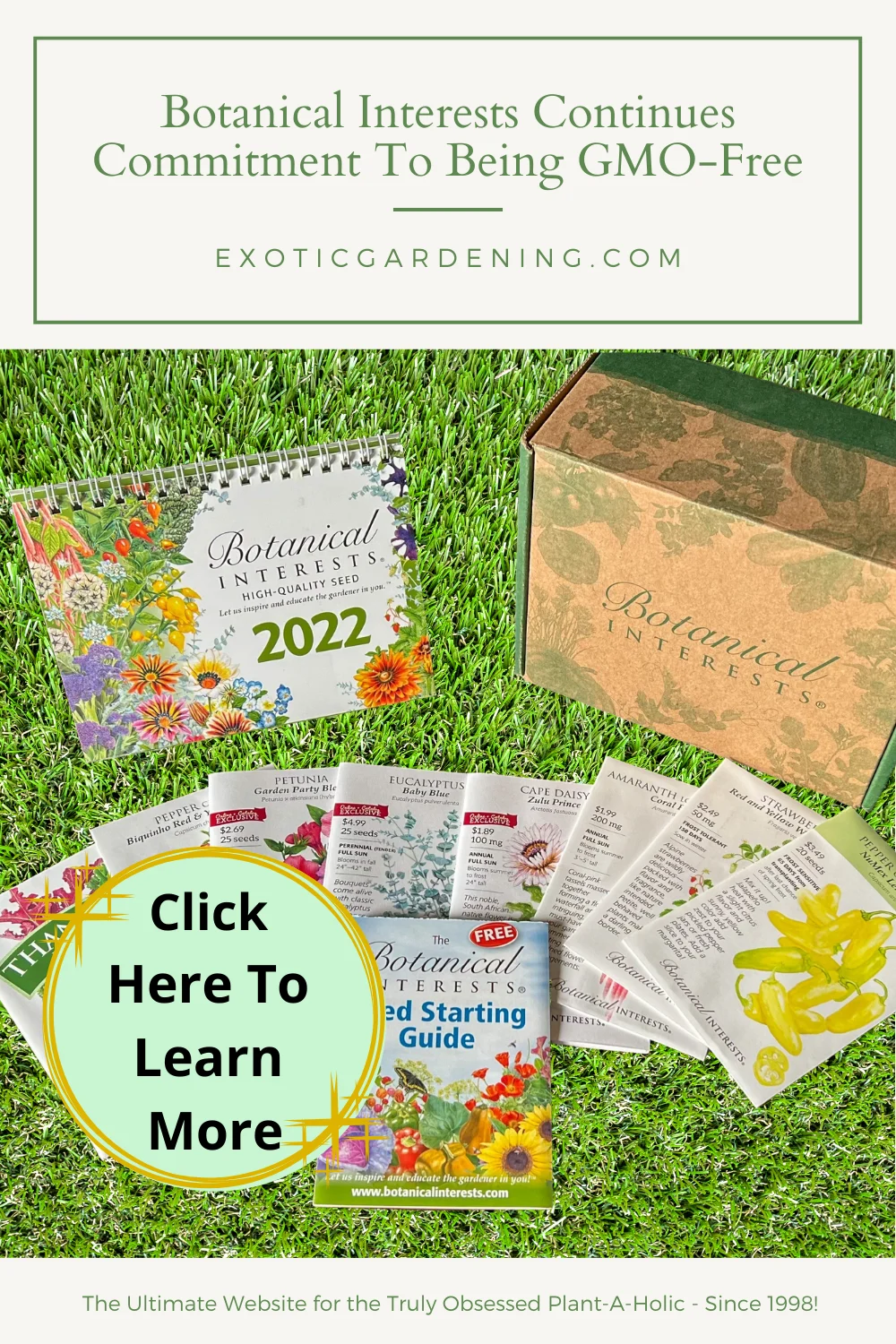 What Are GMO's?
The term GMO, or genetically modified organism, is a broad term that includes GE seed, the ones causing all the controversy.
They have their DNA manipulated in a laboratory, in ways that nature could not likely reproduce, and are often a mix of two incompatible species that couldn't breed naturally.
The effects and consequences of these genetic changes are not fully understood. Judy Seaborn, co-founder of Botanical Interests seeds stated, "We have always believed that informed and educated people make decisions they feel good about and with GMOs the jury is still out, so we steer clear of them."
Judy Seaborn and Curtis Jones built Botanical Interests on foundations vital for any business: customer service, ethical business practices, and great products.
And, because Seaborn and Jones have spent their lives in the green industry, from university to garden center and from shopper to salesperson, they know that people appreciate having all the information they need to make good choices.
Why Botanical Interests Commits To Being GMO-Free
It was this belief that led them to create the most informative seed packet in the industry and to continuously provide a selection of the best home gardening varieties available.
It also led them away from GMOs.
"The GMO issue is highly charged and the available information seems incomplete, confusing, or misleading. It's hard for people to fully understand everything involved," said co-founder Curtis Jones.
"We want our customers to have all the information they need to make the best choices for their gardens, their families, and the environment," said Judy Seaborn.
Providing seeds that have unknown or unintended consequences contradicts the core principles of Botanical Interests.
These same principles guided them to join the Safe Seed Program and sign the Safe Seed Pledge from the Council for Responsible Genetics, which states, in part, "We pledge that we do not knowingly buy or sell genetically engineered seeds or plants."
Jones and Seaborn take the pledge one step further and state that they do whatever it takes to be sure they don't ever buy or sell genetically engineered seeds.
According to Seaborn and Jones, "The choice to steer clear of GMOs was more than a business decision, it was a personal one. We are a company of gardeners. We all try to do what is sustainable, natural, and environmentally responsible. GMOs don't fit with the way we want to live and our customers have told us they agree. So, we are committed to being GMO free."

The Calendar In The Box From Botanical Interests
I have to tell you first, I did receive this item for free in exchange for my honest review, and of course, all opinions are my own.
This is a lovely box from Botanical Interests.
Now I am an affiliate, so I have their ads on my.
I do get paid if people click on their ads and purchase items.
However, I love botanical interests because they are committed to being GMO-free.
So that is really, really important to me and that is why I support them.
That is why I chose to be a part of their affiliate program.
That is why I am so excited to share with you this box of seeds that I received.
Inside the box is a 2022 desktop calendar and several packets of seed.
Not only is this calendar really cute and desk sized, if you flip it upside down, you have information on some of the different seeds.
Plus there is a place for garden notes so you can keep track of what you are growing and what your thoughts are.
The photos of the plants in the calendar are truly gorgeous and if you watch the accompanying video, you can see the calendar for yourself.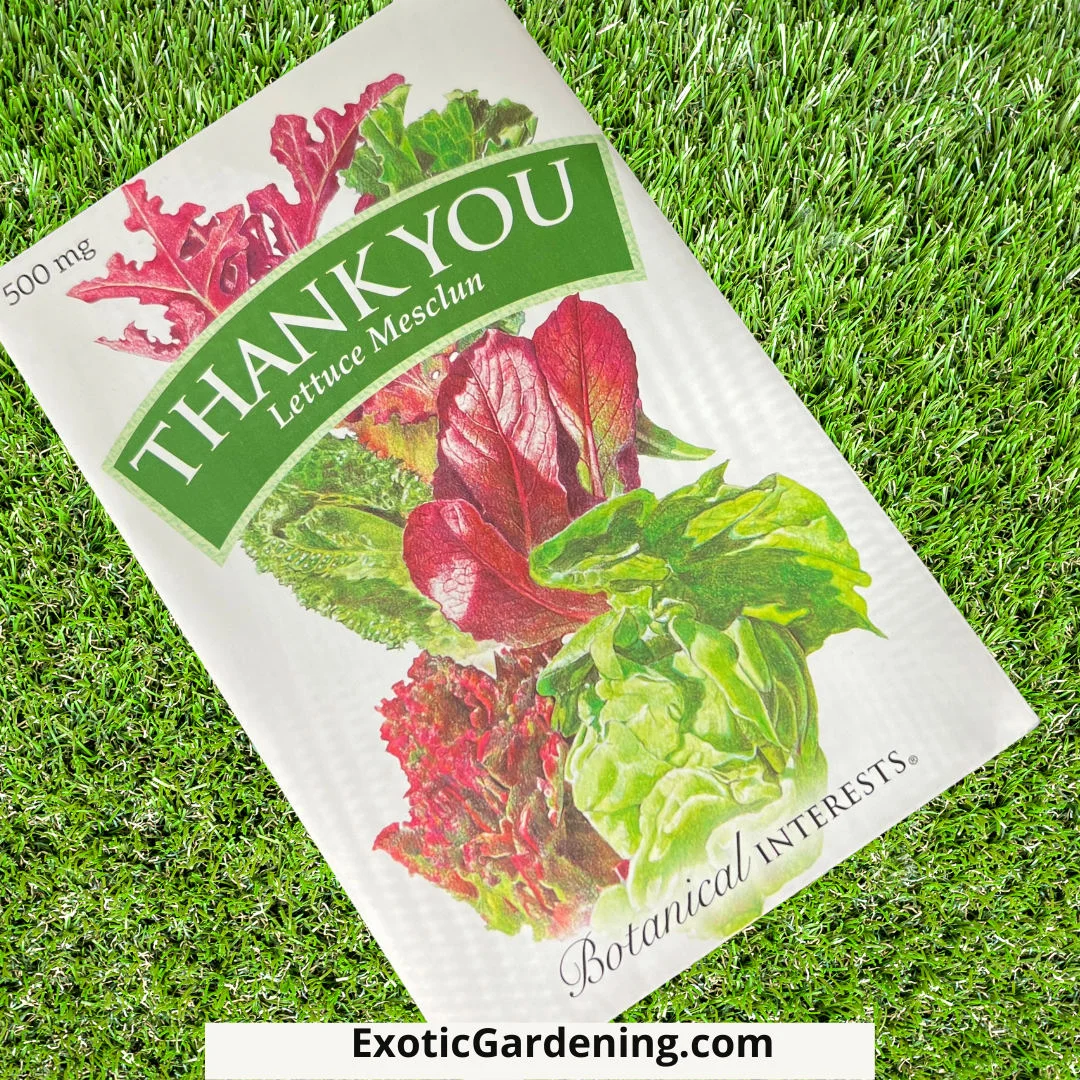 Botanical Interests Seed Packets
The thing I'm most excited about is the seeds.
The first packet of seeds says thank you and is a packet of Mesclun Lettuce.
If you aren't familiar with this type of lettuce, it is ideal for cool temperatures, so I could sow it in my fall garden and it would overwinter inside a cold frame or tunnel house outside in my USDA Hardiness Zone 5 garden.
They also included a nice seed starting guide with it that folds out
Some of the information includes how to read the back of a seed packet.
Most seed packets have a lot of information on the back of them, everything from when to plant the seeds inside and outside, the number of days for the seedlings to emerge, the seed spacing, how to thin the seedlings and of course the date to expect flowers or fruit to start appearing.
This date is the date of maturity.
Then there's usually a little bit of information about the plant itself.
That is on the back of every single seed packet.
I know for some reason, a lot of people don't realize that, but it is something that you should look at, read and understand.
This information is very important.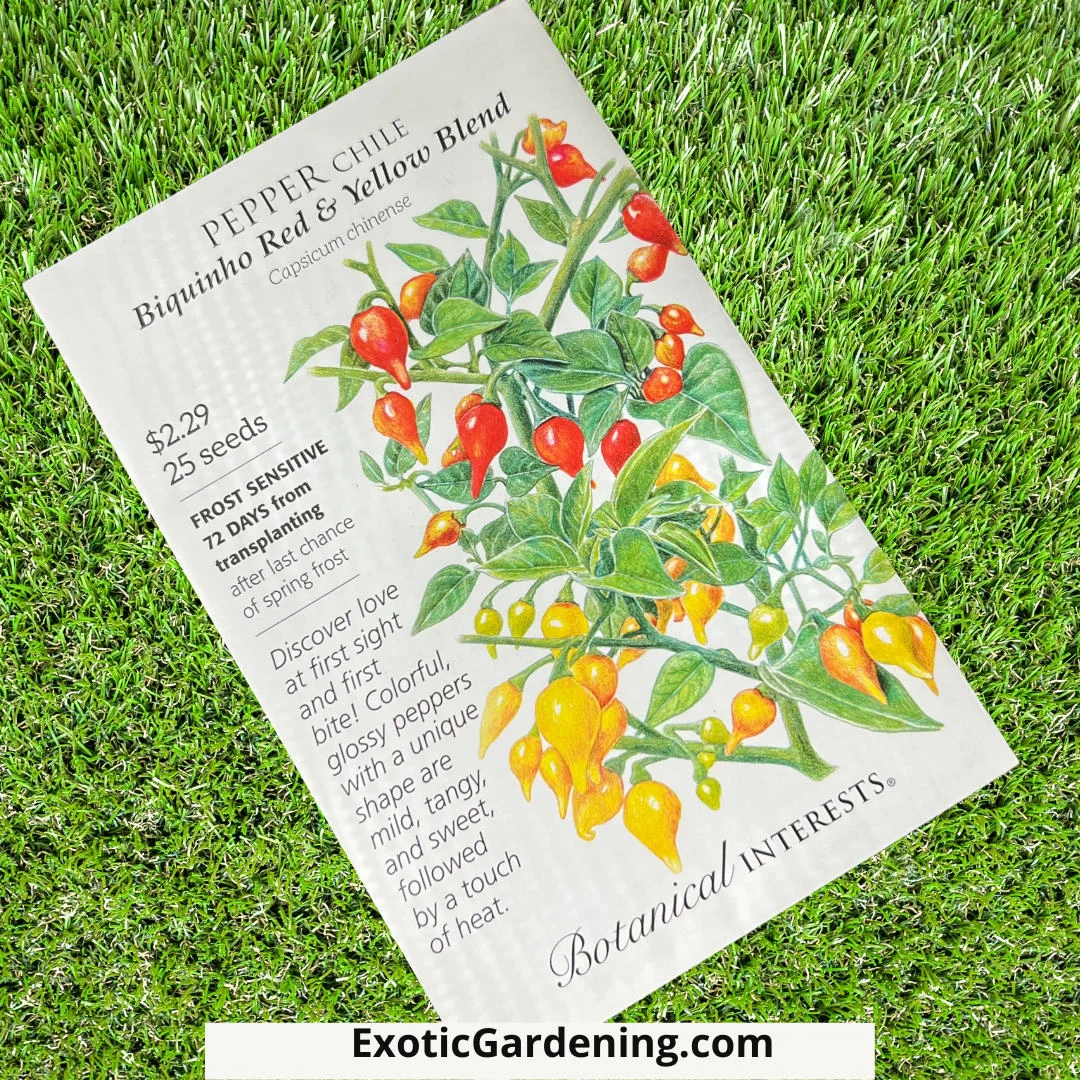 Edible Seeds I Received From Botanical Interests
First up is the Biquinho Red and Yellow Blend Chile Pepper.
These are Brazilian peppers that are tangy sweet and smoky with a touch of heat.
So those sound pretty good and they look like they are going to be really pretty.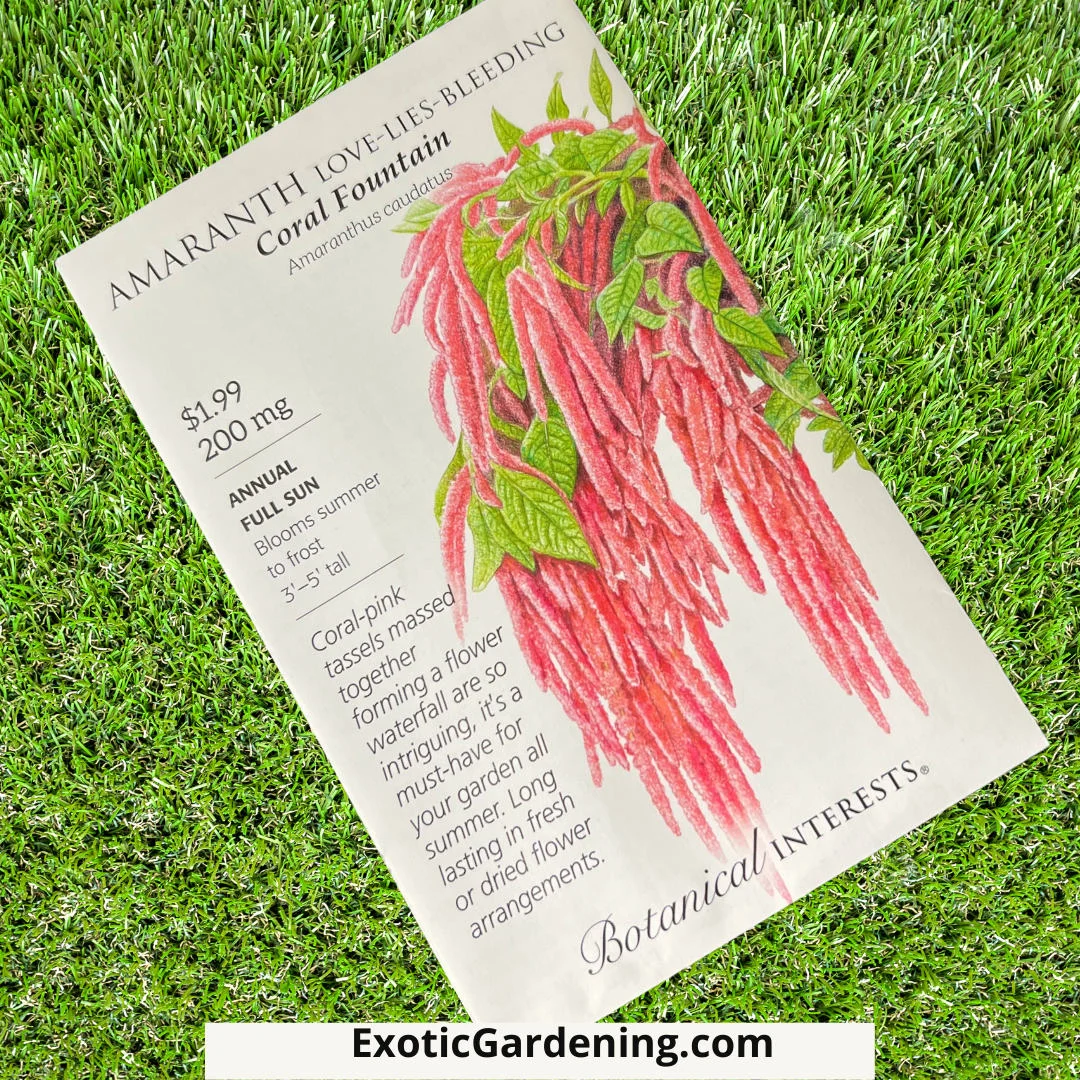 Then there a seed packet of Amaranth Coral Fountain commonly known as Love-Lies-Bleeding and this is a cool plant.
If you have not grown this, it is definitely something that you might want to try to put in your garden, especially if you like the tropical look and you like really big plants.
I usually grow Amaranth because it is edible, but I have not grown Amaranth Coral Fountain, which is the one they sent, so I look forward to growing it.
It is great for crafts, the plant attracts pollinators and it will produce protein, rich edible seeds that you can harvest for yourself or leave for the birds. 
The seeds are delicious put on top of homemade breads.
You do need to be aware that some varieties of Amaranth will self sow even here in Indiana.
I have literally ended up with a quarter of my vegetable garden in self sown amaranth before, so be aware of that.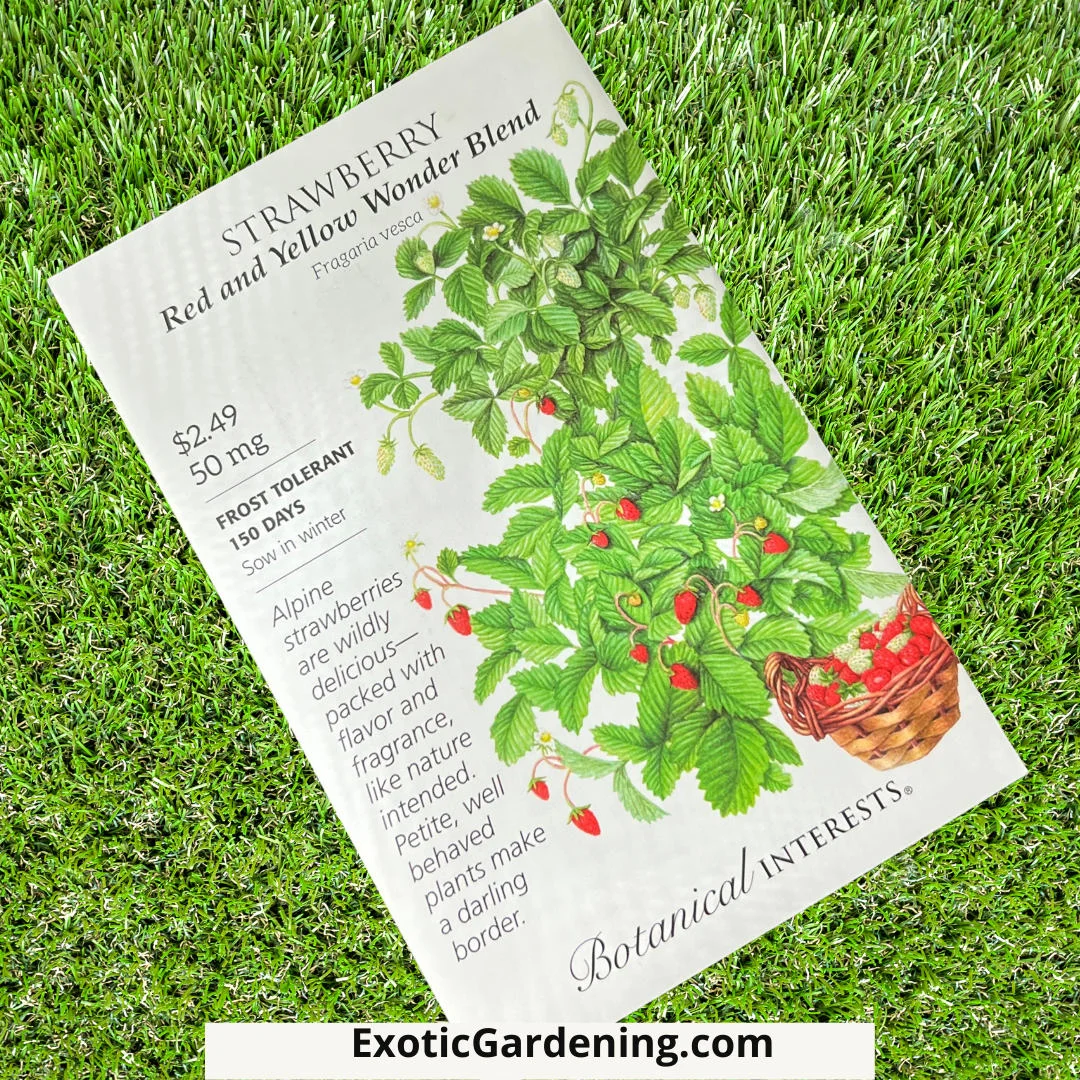 The next seed packet is a Strawberry Red and Yellow Wonder Blend.
Yes, you can grow strawberries from seed.
These are Alpine strawberries and they have the non-GMO verified seal on the seed packet.
In fact, all of the seed packets have that seal.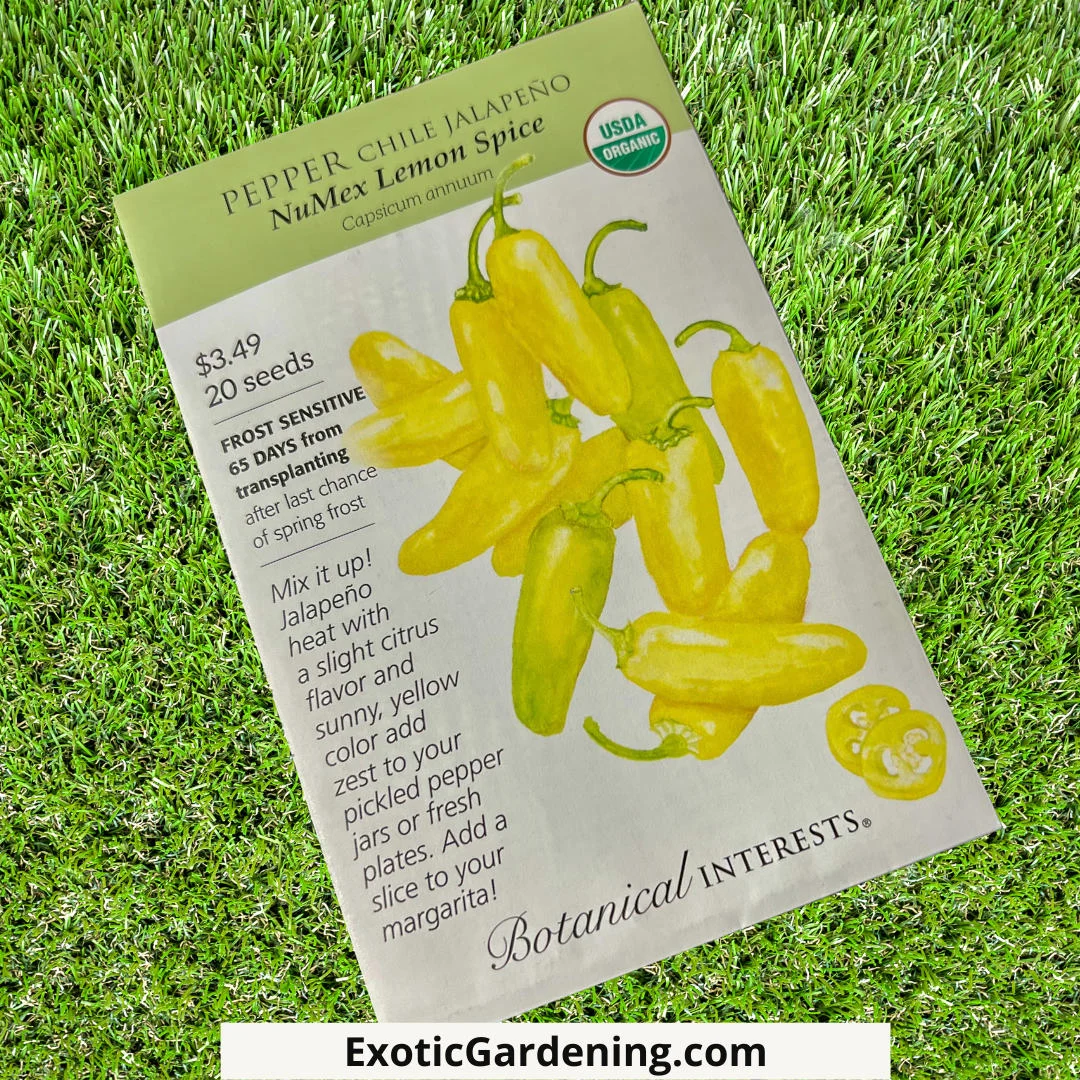 The last edible seed packet they sent is NuMex Lemon Spice Jalapeño Chile Pepper.
It was created by the Chili Pepper Institute In New Mexico to have all the heat of a green Jalapeño with a citrus undertone. 
This Jalapeño rates around 2,500 to 5,000 Scoville heat units so it's a medium hot Chile pepper.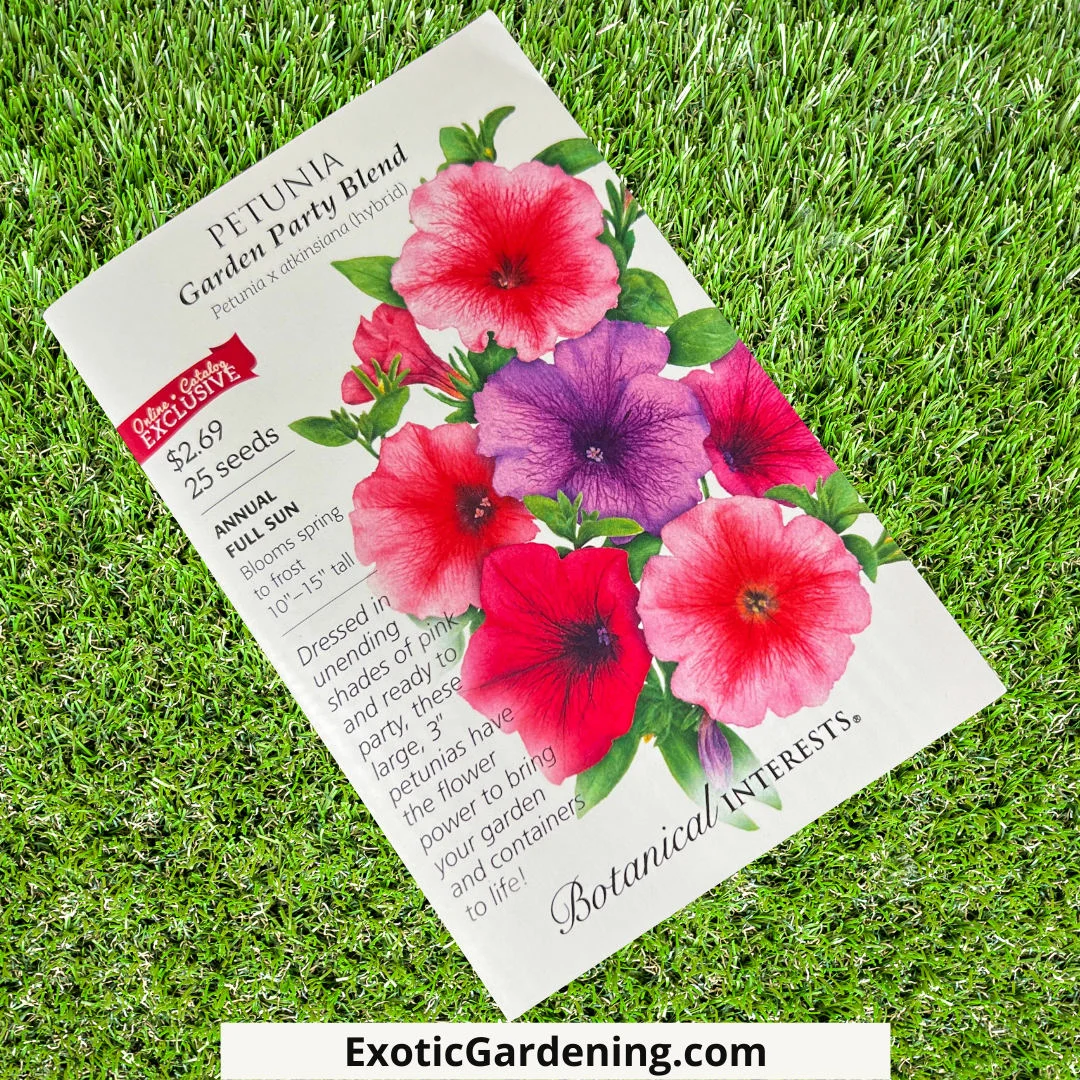 Ornamental Seeds I Received From Botanical Interests
Next we have a Petunia Garden Party Blend.
This looks like a mix of pinks that are really pretty. 
The seed packet itself is interesting because it opens up and inside of here it has a lot of additional information such as historical information for these petunias.
Sometime in the late seventeen hundreds, two species of petunia were discovered in south America.
European breeders began crossing them in order to produce larger flowers and more colors.
In the early 1950s, the first red petunia came on the market and the first yellow one in the late seventies.
In the eighties, larger flowers on larger plants with even more colors were developed, including bicolors and tricolors.
This is when the popularity of petunias blossomed.
There is also some pest control information here, some hardening off information and the average last day of frost information.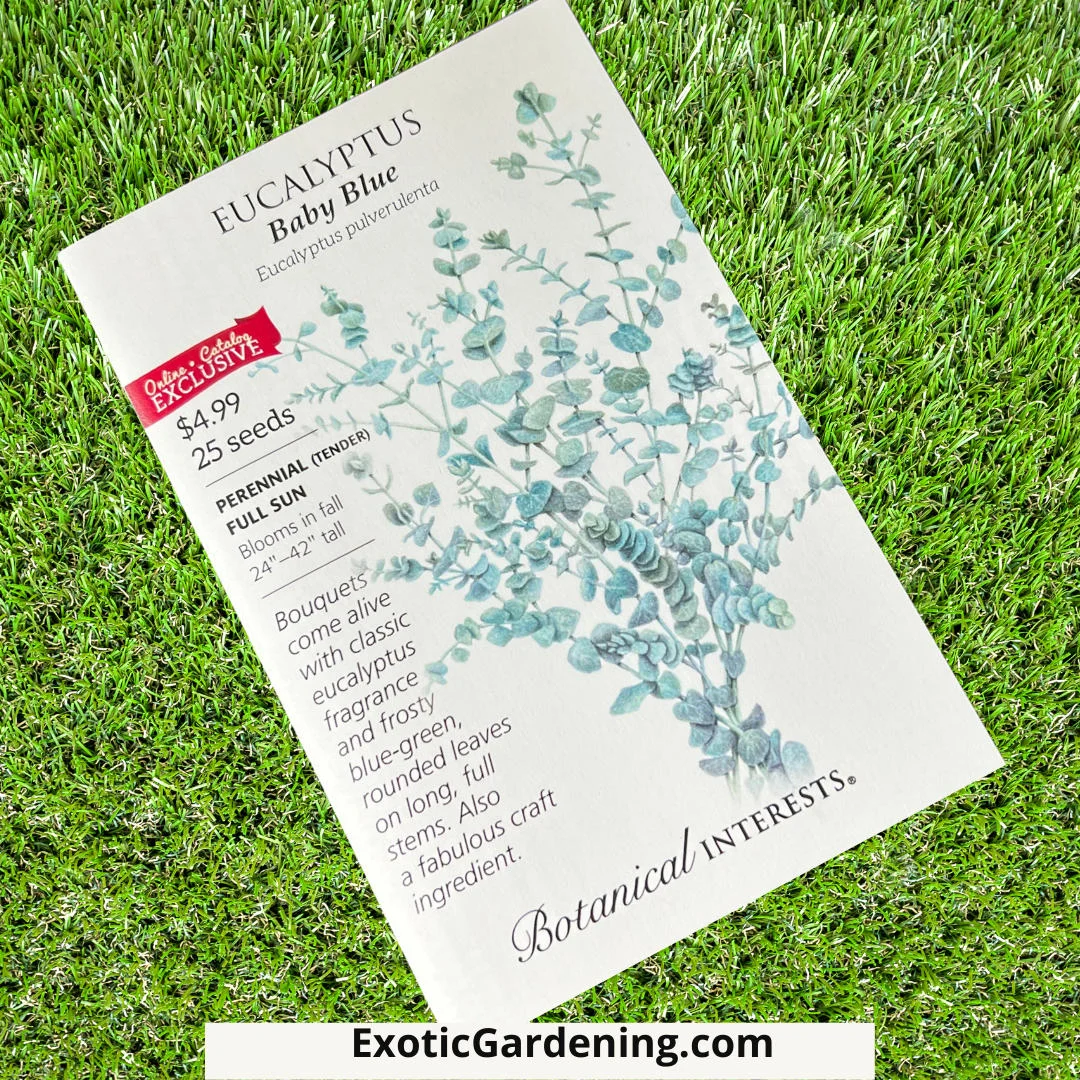 The next seed packet is Eucalyptus Baby Blue, and I am super excited about this because I love growing eucalyptus.
This one does not have any historical information on the inside of it, but it does have special germination instructions. and it also has design ideas.
So that's, that's really cool and quite a bit different.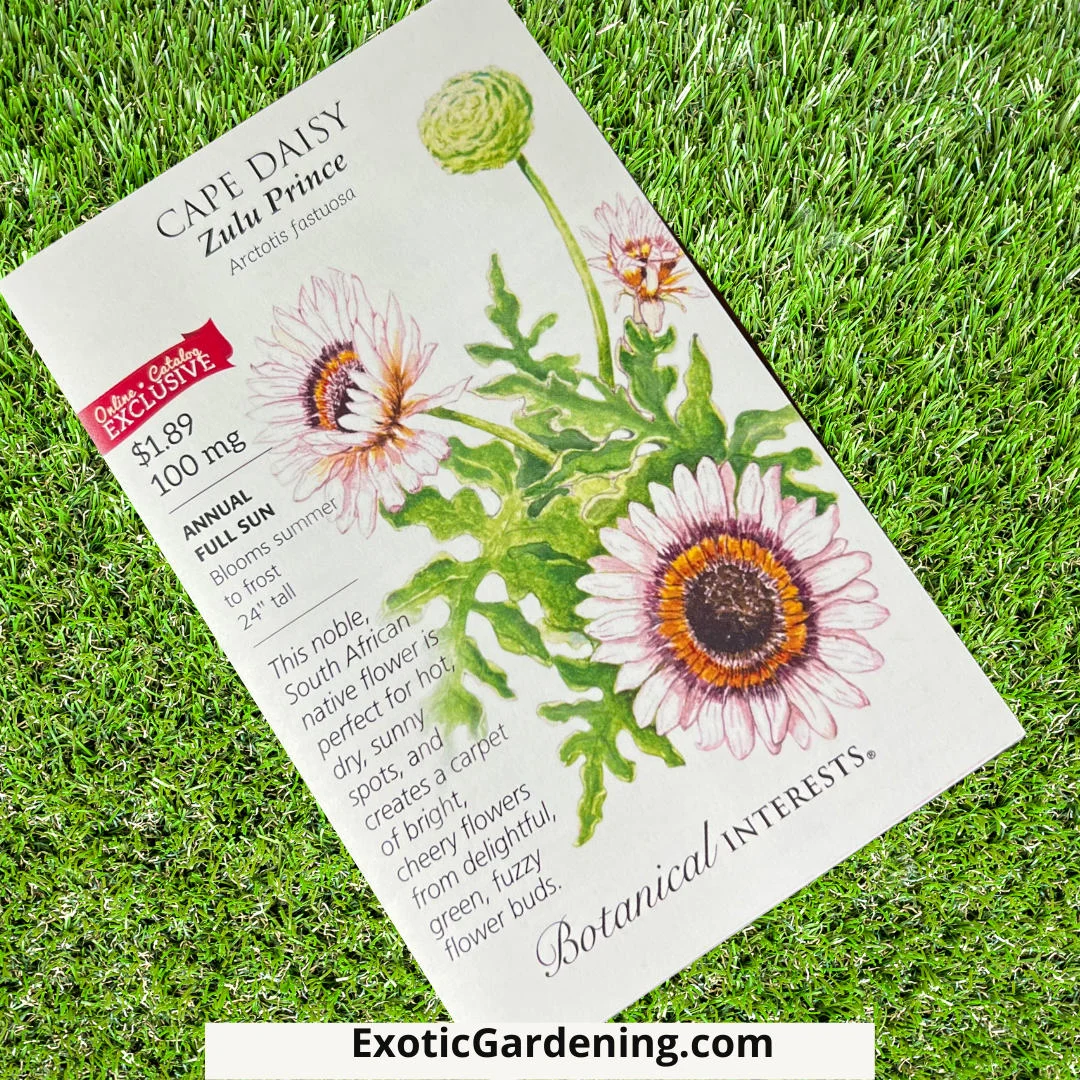 Cape Daisy Zulu Prince is the next type of seed they sent.
I've never grown this, but I am excited to give it a try.
That was what was in the box from Botanical Interests.
I will definitely be growing these out next season, of course, and letting you know which ones we actually like.
I think we'll like all of them, but of course we always have our favorites every year.
Finally, I would like to thank Botanical Interests for sending this wonderful box of seeds that I get to try and share with all of you.