Commonly called the "Empress Of Brazil," Worselya rayneri boasts a flower color that is a deep blue-mauve or violet blue fading to almost white in the center and the flowers may also be soft pale lavender with lots of blue spots.
Worselya rayneri grows on the side mountains in South America, especially Brazil and is considered an endangered plant.
Worselya rayneri grows on ledges clinging to the rock with fleshy thong-like roots that penetrate deeply into the crevices.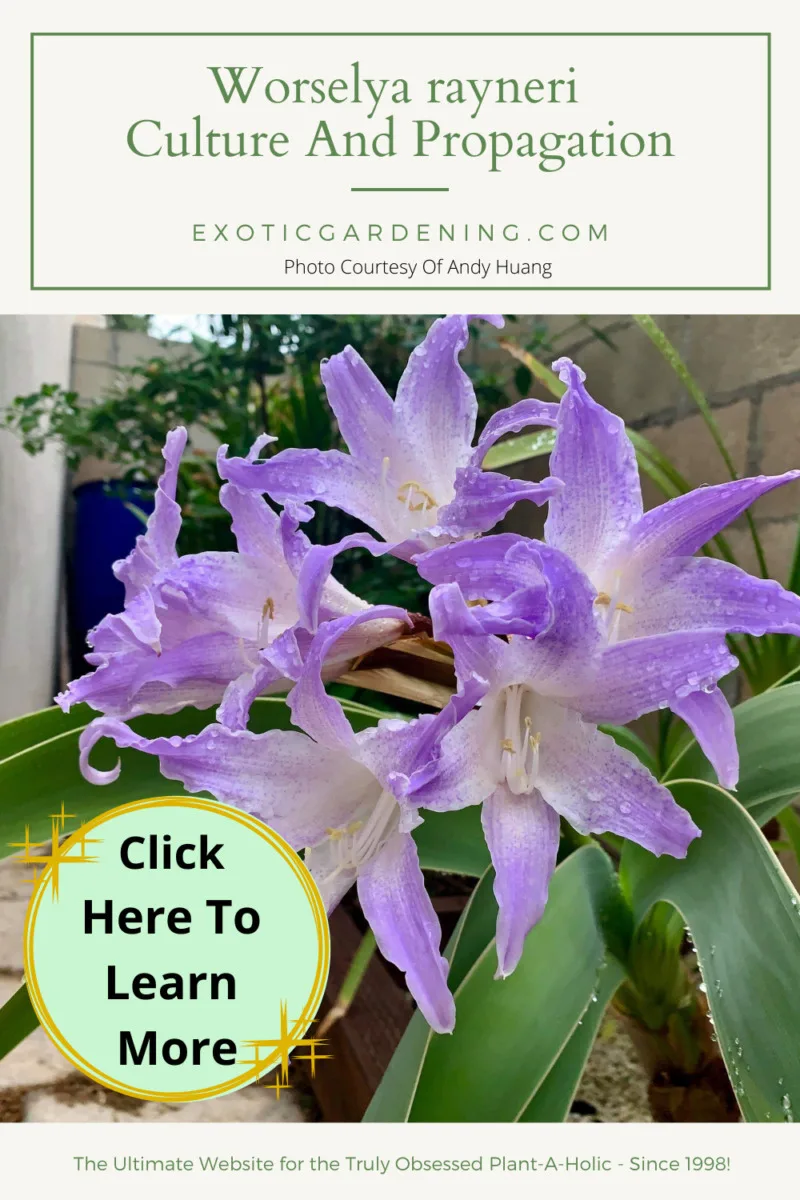 Propagation Of Worseyla rayneri
The seeds have a good germination rate and generally germinate in three to ten weeks at temperatures of 18 C to 24 C.
They require light to germinate, and the seeds of this plant should be sown on the soil surface.
The shelf life of Worselya rayneri seeds is a good nine to ten months or longer.
It may take up to six years before the first flowering when sown from seed, but they will usually flower every year there after.
Worselya rayneri must be cross pollinated with an individual of another clone.
Worselya Rayneri multiplies vegetatively.
Worseyla rayneri Lighting And Watering Requirements
This plant requires no dormancy period, and prefers to be grown in full sun.
The soil should be well-drained, fibrous and acidic with no lime.
The plants should be watered with rain water only, and allowed to dry between waterings.
They must receive plenty of water in the summer.
Do not disturb the roots by frequent repotting.
Here in Indiana, my Worseyla rayneri grew happily in a clay pot filled with small pieces of scoria inside my greenhouse.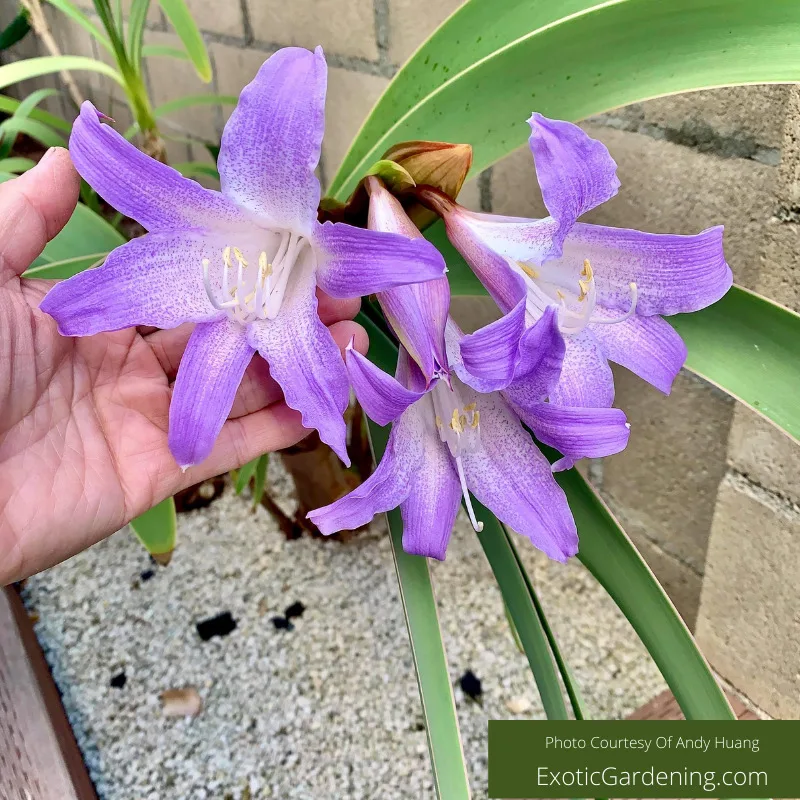 Getting Worseyla rayneri To Flower
On mature plants, false stems can range anywhere from two to five feet tall.
These stems are made of tightly folded bases of leaves which may be up to three feet long.
Average daytime temperatures are 40-45 Fahrenheit during the dry winters, but they are subject to an occasional ground frost.
During the summer temperatures seldom exceed 80 Fahrenheit with many brief evening thunderstorms.
History Of Worseyla rayneri
The genus is named after Arthington Worsley who was a mining engineer who traveled South America extensively and in his retirement became a bulbous expert.
According to Worsley, successful flowering can be achieved by planting the bulb "in nine inch drainpipes filled with rock, charcoal, and chippings of stone covered with a little oak leaf mold and bits of live moss (not sphagnum)."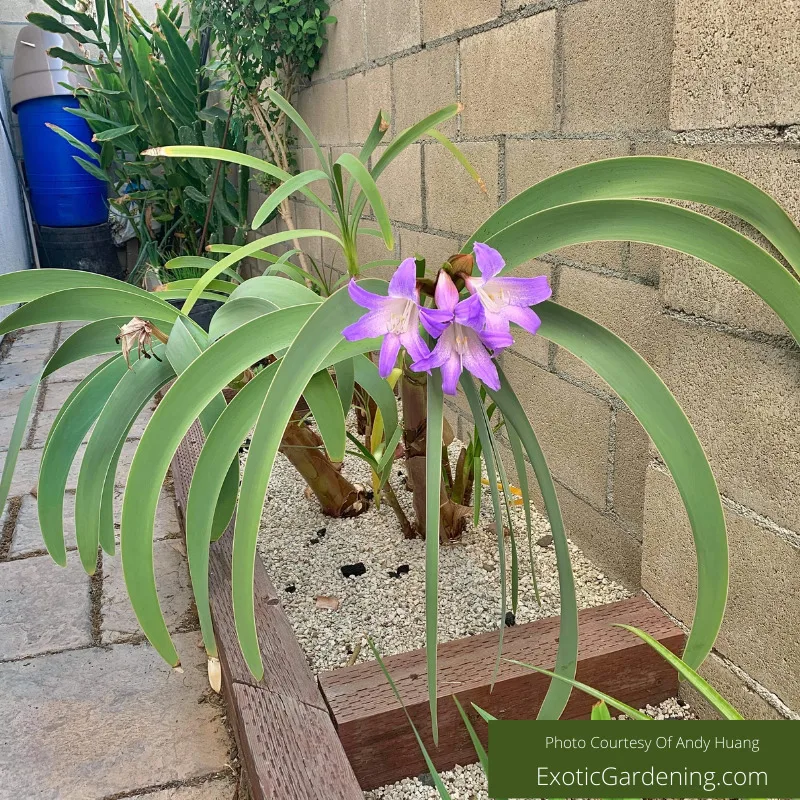 Successfully Growing Worseyla rayneri
According to Major Albert Pam, who also successfully got Worselya to flower, he used sharply drained compost, mixing fibrous loam with the soil shaken out of Osmunda fiber and adding plenty of charcoal.
He grew the bulb in a "warm pit" in full sun in his greenhouse with frequent overhead syringing and watering to keep the compost constantly moist.
His plant flowered regularly in August after that.
The bulbs show no warning signs of sickness and require constant attention to their cultivation requirements if you intend to be successful with them.
In the summer, feed them with dried blood.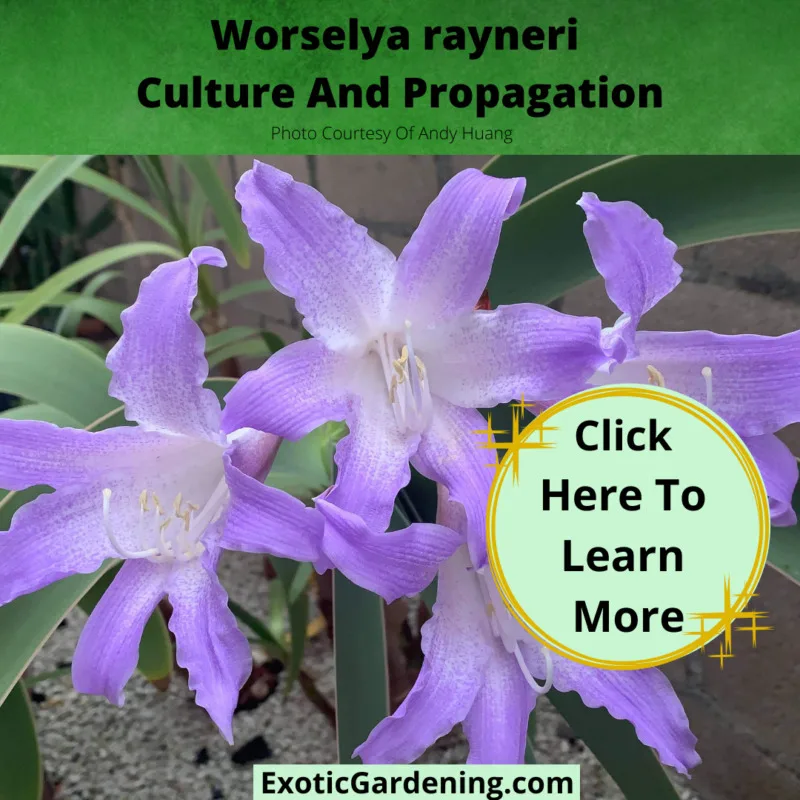 My Experience Growing Worseyla rayneri
 I have had three bulbs sent to me from Australia.
All three times the bulbs developed black spots and died off.
I tried orchid bark mix and soil both without success.
This time I was able to get my hands on six seeds.
They arrived right before Christmas.
I put them in a container filled with water and ordered 100% horticultural pumice.
Yesterday I decided to remove the seeds from the water.
These plants do not like being disturbed once they begin to grow so I thought I would pot them up now that they had a nice soak.
One small seed had a tiny root coming out.
I potted all of the seeds in peat pots filled with pumice.
They did continue to germinate and were thriving with no signs of black spot at all.
Sadly my greenhouse was damaged by hail and I lost the bulbs.
Worseyla rayneri Plant And Seed Sources
Some known sources for bulbs or seeds of this plant include Park Seed, Dirk Wallace, Thompson & Morgan, Tropical World Nursery and Terry Hatch.
Although some of these sources may not have Worselya Rayneri in stock, they should be able to direct you to a source.
I will be happy to pass any contact information that I have along to anyone who requests it.