Grow more tomatoes that are the healthiest and most delicious you ever tasted this gardening season!
It's easy to grow tomatoes organically and get a bumper crop.
To key is to follow the easy-to-implement tricks and tips below.
Once you find out how well they work, you will use them year after year to consistently grow bumper crops of succulent tomatoes.
By implementing the organic gardening tips outlined below your tomato plants will deliver the biggest and healthiest yield possible.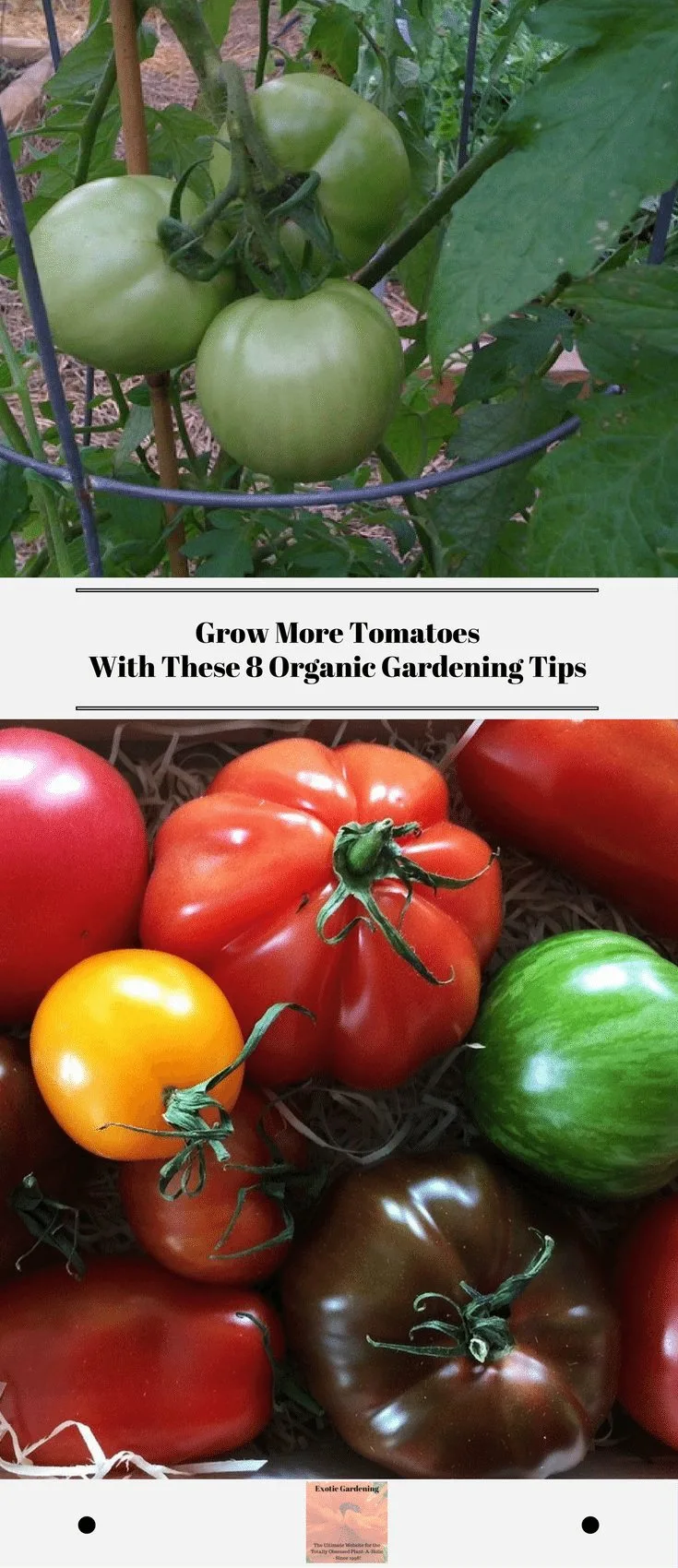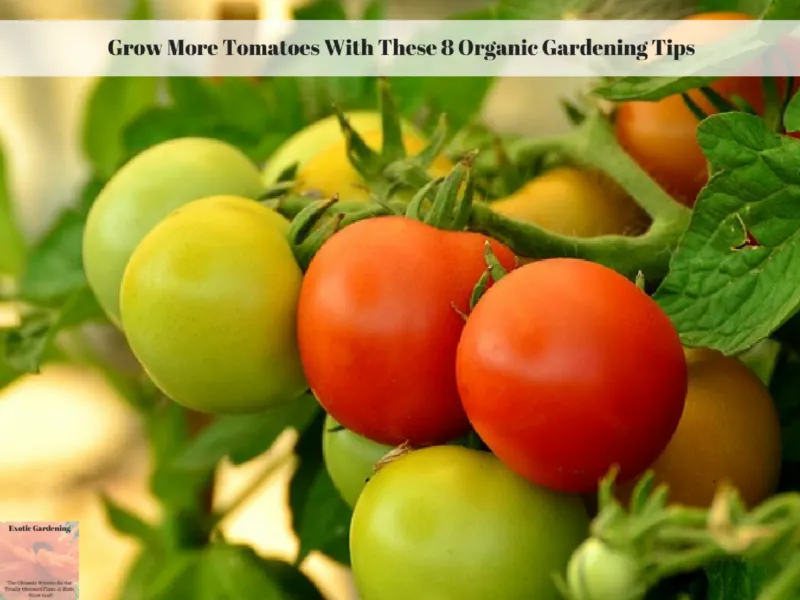 Whether growing in containers or in the ground, make sure you select a bright, well ventilated, airy location for your tomatoes. Your plants should receive at least 10 hours of natural light in the summer. Also, make sure you have enough room between your tomato plants to provide for adequate air circulation. Burpee recommends to space tomato plants 30 to 48 inches apart in a row.
Make sure you plant your tomato plants deep for the best possible results, I recommend starting to plant them deeper when you start to transplant the seedlings. Burying the stem of a tomato allows the plant to sprout new roots which helps improve strength and vitality. This also provides better absorption of the nutrients your tomato plants need to grow faster and healthier. To do this, remove the bottom sets of leaves and bury the stem up to just below the bottom of the remaining leaves.
Another option is to plant your tomatoes horizontally in a long trench with just the top leafy part exposed. The plant will correct itself and start growing upward instead of along the ground. Doing this helps your plants establish the strongest root structure possible, because all those little fibers along the plant stem are little roots waiting to develop.
Testing your soil is important for proper tomato growth. Whether you take a sample of your soil to a nearby gardening or home improvement center that offers lab testing, or you purchase a DIY pH level testing kit, this step is crucial. After you discern your ground's alkaline and acidity levels, you can add the appropriate soil amendments to reach the recommended 6.0 to 6.8 pH for tomatoes. Most garden centers can tell you just what you need to do to get your soil perfect. Another place to turn to for help is your local extension office.
Trick your tomatoes into being stronger by plucking the first flowers that appear. This allows your tomato plants to grow more extensive root systems, as well as a mature and developed leaf canopy, before any fruit is produced. Remove any suckers as well.  Suckers are the little offshoots of the main stem below your first fruit-producing branch.
Use cages or fencing to grow your tomatoes vertically. When you allow tomato vines to lay on the ground, your plants are susceptible to pests and diseases. Sprawling vines takes up valuable space in your garden, never mind the backbreaking process of bending over to harvest the fruit is no fun. When you provide vertical support, pests and disease have a harder time attacking your plants plus it is easier to pick the fruit and you save space in your garden.
When the first fruit of the season begins to appear, add three inches of organic compost, either your own or store bought. This will encourage new, healthy growth and a bigger yield. Scratch compost into the ground around the stem, and at the same time, trim a few of the upper leaves on each plant.
Whether you decide to plant determinate or indeterminate varieties, consider planting new tomatoes three weeks after your original plants are in the ground or container and growing. This will extend your harvest season and guarantees that if you run into any weather or pest problems, you still enjoy multiple, healthy tomato harvests. This means you won't need to harvest and use your entire crop at once which is great for those who prefer to eat their tomatoes fresh.