It's so easy to create a festive Christmas terrarium.
Plants add a touch of elegance to indoor decor and when you add them to a terrarium, they add a bit of nostalgia to your decor.
During the winter months, and especially during the holidays, incorporating plants into your decor is – simply put – a great way to help clean the air in your home or office.
Making this festive terrarium is super easy and you might even have everything you need already on hand.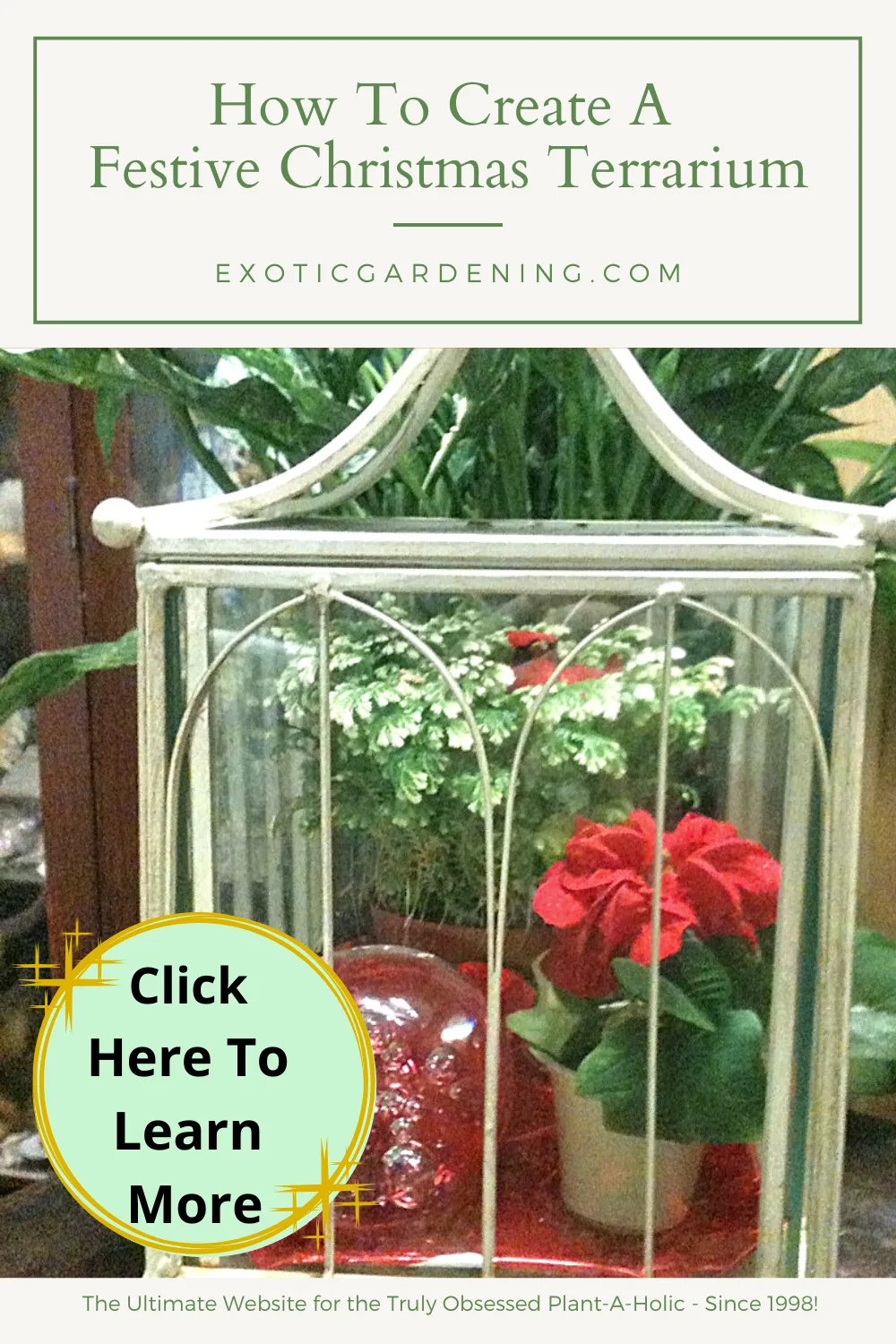 Create A Year Round Display In Your Festive Christmas Terrarium
Plants make ideal centerpieces which is one reason why so many people include plants in their holiday decor.
Many people use plants to liven up a corner of a room that otherwise is dull and lifeless.
The key is to make sure you have enough light for the plants you choose – and don't forget to mist or water them as needed to keep them looking good.
For plants that prefer a bit more humidity or higher temperatures, a terrarium is ideal.
Terrariums can look modern or have an old-fashion look, which I love.
Not to mention, even after the holidays are long gone, the terrarium and the plants inside it will continue to bring you joy.
A Poinsettia Is A Must For A Festive Christmas Terrarium
Poinsettia are a typical holiday plant.
They come in all colors, shapes and sizes.
My personal favorite is the rose poinsettia because the bright red flowers – which are really bracts – resemble a rose.
Unfortunately the poinsettia is not fragrant, however placing a few cinnamon scented pinecones throughout the room is a great way to add some holiday fragrance.
These days you can find poinsettias in all sizes from miniatures that will grow into full size plants over time, to large plants that make a statement on their own.
For a terrarium, choose the size that best fits inside the terrarium you plan to place it in.
My terrarium is rather small so a miniature rose poinsettia was the perfect size for it.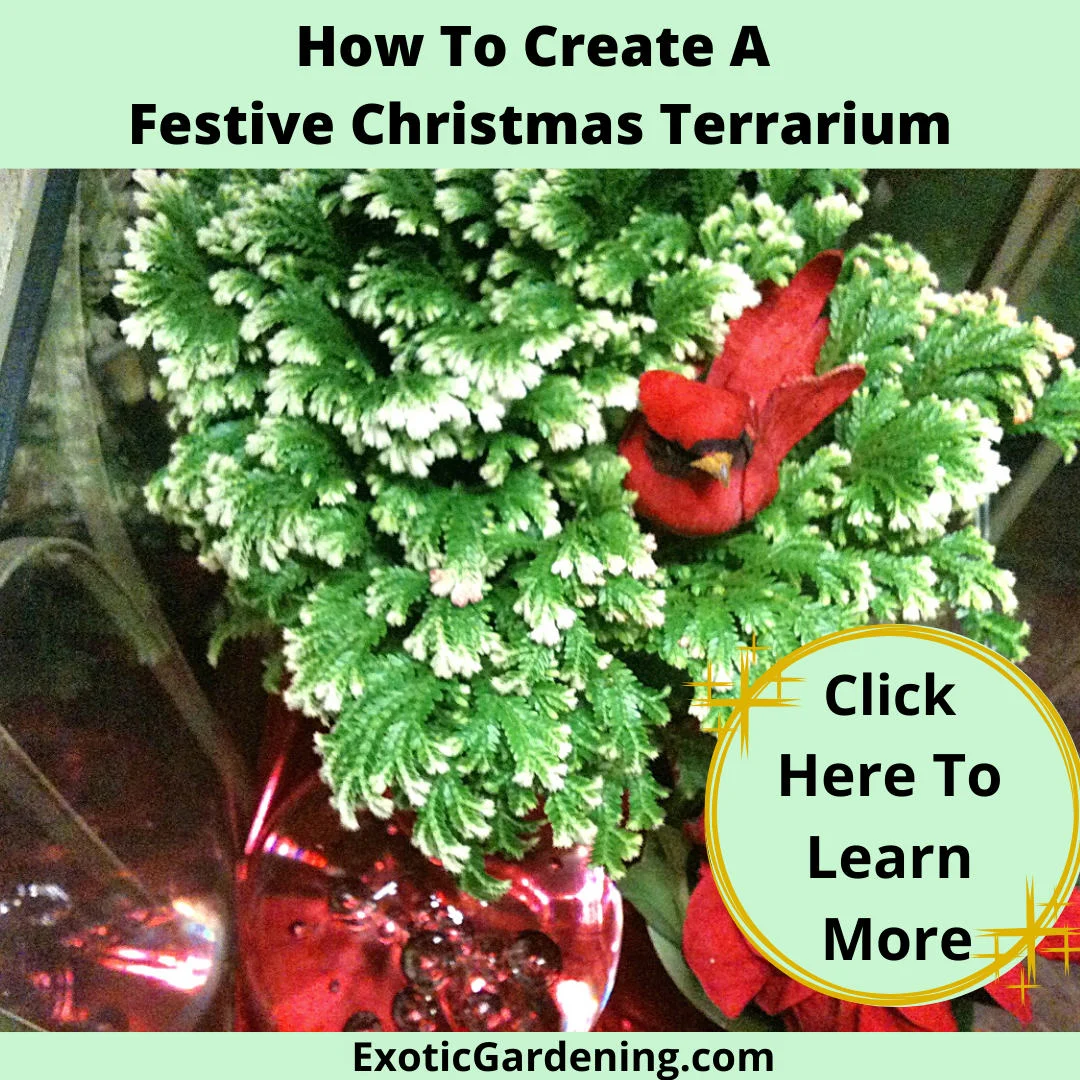 Choose Plants That Compliment One Another
A single plant typically isn't enough to make a grand statement in a terrarium, so you will need to choose a second or even a third plant that compliments the first one.
I chose the frosted fern, Selaginella krausianna variegatus, because I loved the cream and pink "frosting" on the edge of the green leaves.
To me, the variegation added a very festive look and complimented the rose poinsettia perfectly.
Plus it had that wow factor and really drew the eye to it.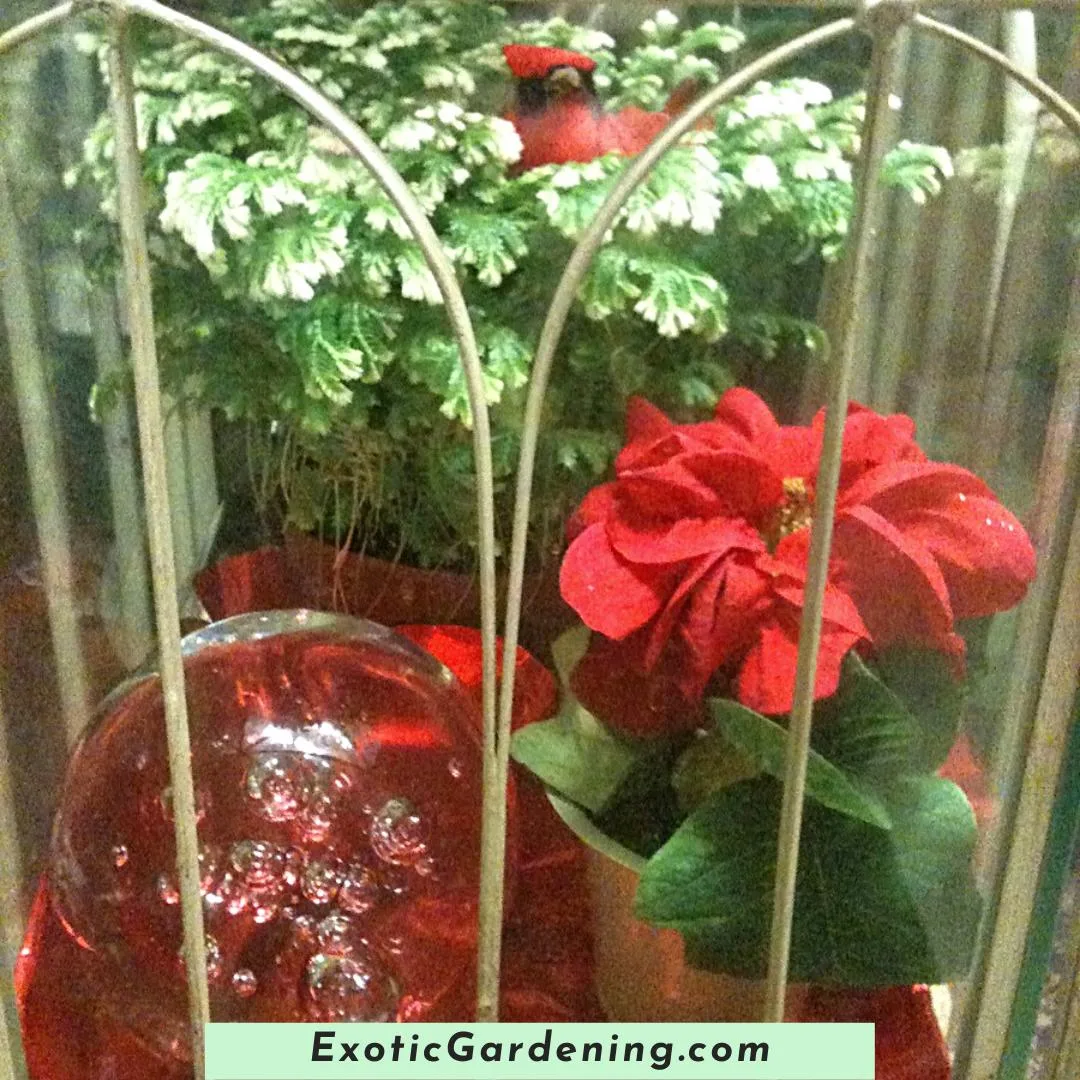 Add Some Decorations To Your Festive Christmas Terrarium
Once the plants were in the terrarium it seemed something was missing.
Holiday decor!
That was it!
Colorful balls in shades of silver, gold or even blue would have worked perfectly.
However since I didn't decorate the house for the holidays this year I did not have any Christmas ornaments to pick and choose from, so I chose the next best thing – a crystal ball from my curio cabinet.
The clear color picked up the red and silver from the foil that I removed from the plant pots and then used to line the bottom of the terrarium with.