Many flowers fade after the heat of the day has passed; moon flowers, or flowers that begin to bloom as the sun goes down, are at their peak during this time.
The evening garden is ideal for people who work during the day and for those who like to relax or entertain in their garden during the evening.
There are many types of bedding plants to choose from for your night blooming or moon garden.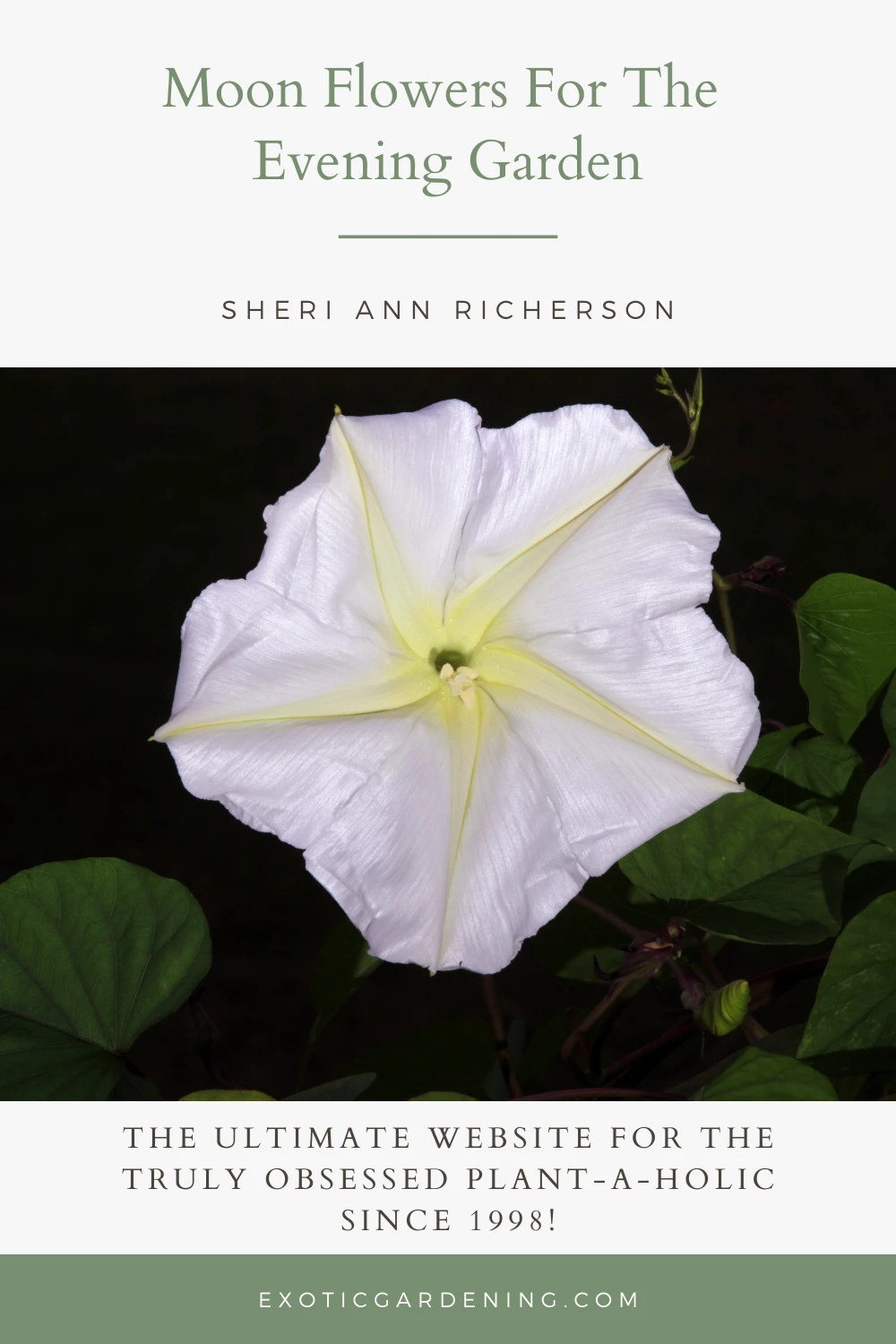 Moon Flower Characteristics
Most types of moon flowers do not bloom until the sun begins to set.
The highly fragrant blooms remain open all night, attracting bats, moths and other night flying insects for pollination, then close at sunrise.
Regardless of what USDA zone you live in, there are types of moon flowers that will grow for you.
Start most types of moon flowers from seed and expect blooms the first summer.
Moon Flower Vine
Ipomoea alba, commonly known as moon flower vine, is related to the morning glory.
Instead of the flowers opening in the morning, however, the large white or pink flowers of the moon flower vine open at night.
These types of moon flowers are hardy in USDA zones 8 to 11.
Grow this plant as an annual in colder climate zones, where it will perform much like a morning glory.
You can expect your moon flower vine to flower and set seed before the first killing frost.
In some areas the moon flower vine will re-seed, however it is always a good idea to save some seed from your plants.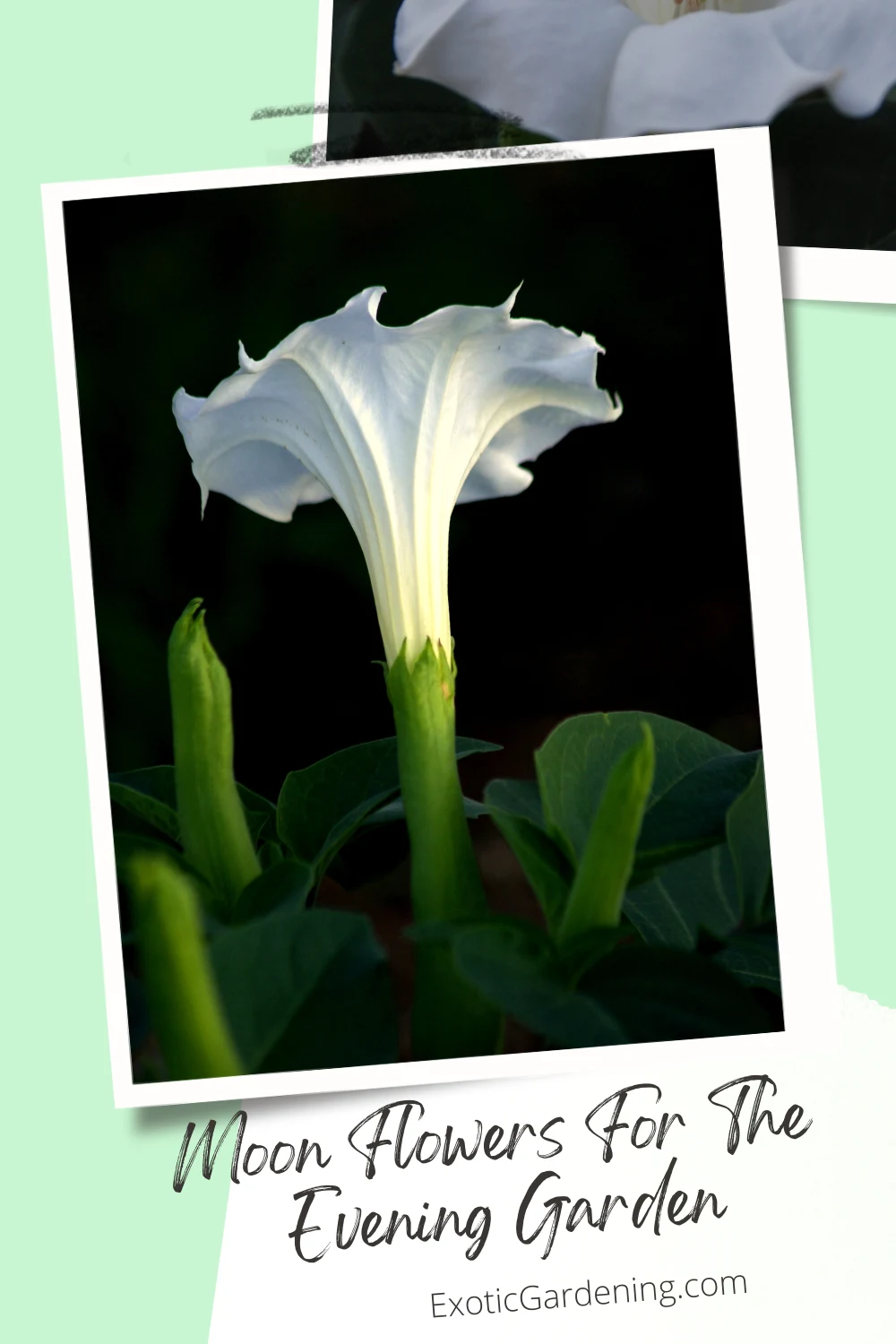 Datura and Brugmansia
Both Datura and Brugmansia are types of moon flowers, however it is more common to hear them referred to as angel trumpets or even devil trumpets.
These toxic plants are a highlight of the moon garden due to their huge trumpet shaped flowers that are highly fragrant.
They are hardy in USDA zones 8 to 11.
Datura, commonly known as jimson weed, is easy to start from seed and may re-seed itself, even in climates colder than USDA zone 8.
The upward facing trumpet shaped single, double or triple blooms of Datura come in a variety of colors including purple, white and yellow.
The flowers may be a single color or they may be a mix of two colors.
Brugmansia blooms hang down towards the ground.
Most blooms are single but there is a shredded variety.
The blooms come in a variety of colors including white, yellow, pink and red.
Most blooms are single colored.
A few rare varieties have blooms with more than one color on them.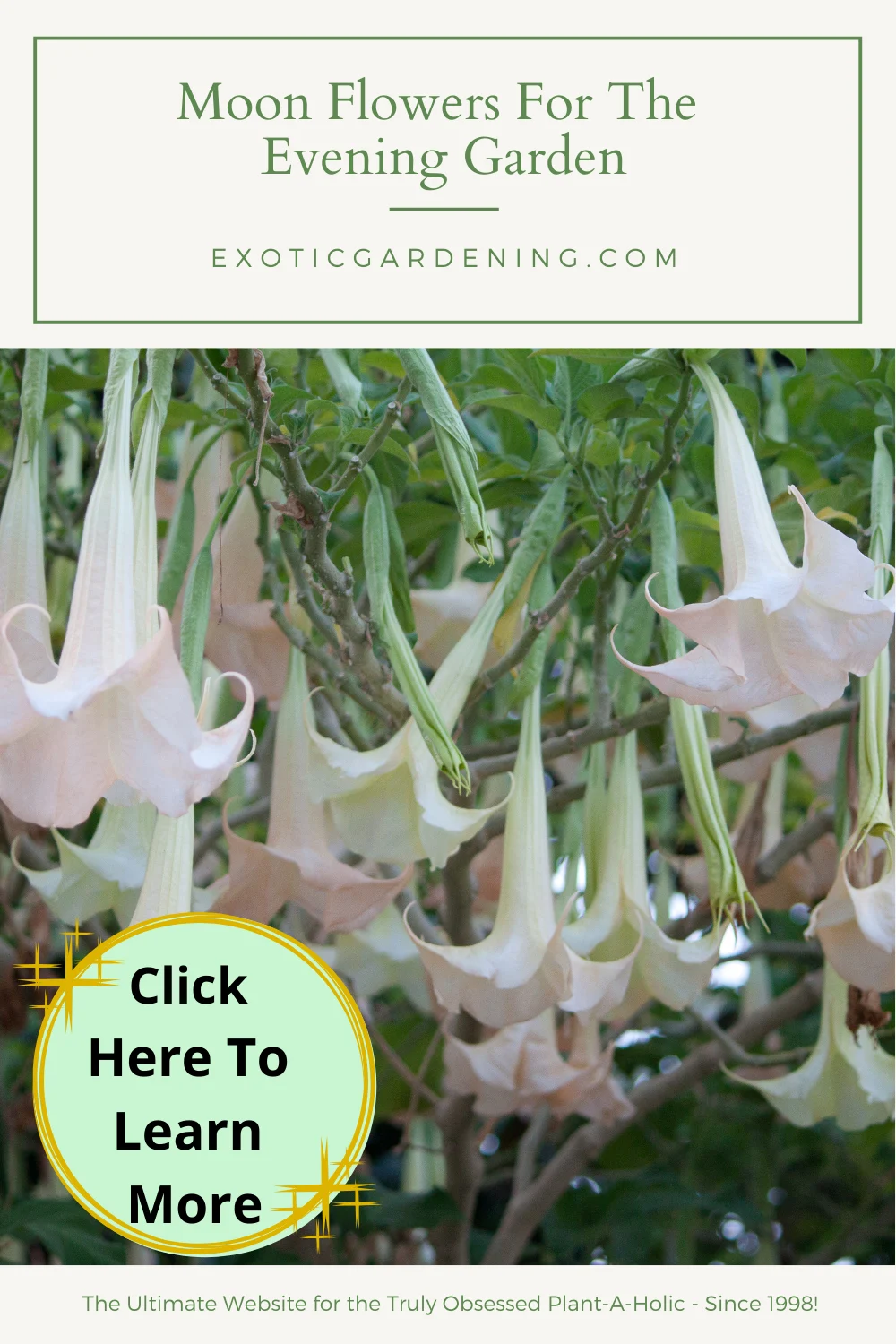 Other Plants For The Evening Garden
Of course these are not the only plants that work great in an evening garden, but they are three of the most popular ones.
Plants with white flowers or grey foliage are other popular options – and many plants open their flowers as the sun begins to go down or sometime during the evening or early night.
Other plants that fit well into an evening garden include Nicotiana, lamb's ears, Magnolia, daylilies – yes, some open in the late afternoon – and old-fashion petunias which often release their fragrance at night.
Plants For The Evening Garden